Professional News
Honors and Highlights from Duke Faculty, Staff, Students and Alumni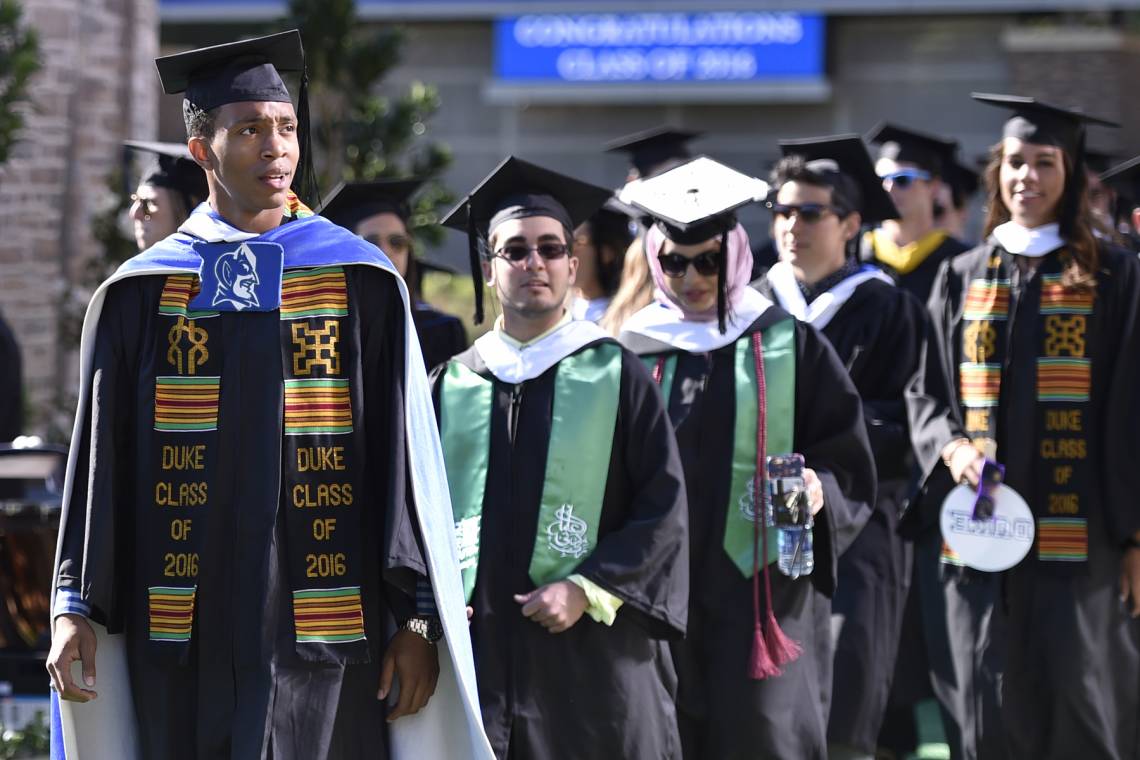 For the latest grants and contracts awarded to Duke faculty, click here.
Assistant Physics Professor Anselm Vossen is one of 84 U.S. scientists selected to receive significant research funding as part of the Department of Energy's Early Career Research Program. These awards are granted to outstanding tenure-track faculty who have completed their Ph.D. within the past 10 years. The award includes at least $150,000 a year in research funding for a five-year span. 
Vossen, who joined the Duke faculty in January 2018, was chosen for his work creating new tools to understand the fundamental forces that hold the nuclei of atoms together. Read More.
Duke University professor Ingrid Daubechies  is the first female recipient of the William Benter Prize in Applied Mathematics.  Given every two years, this prestigious award recognizes outstanding mathematical contributions that have had a direct and fundamental impact on scientific, business, finance and engineering applications. Read More.
Andra James, MD, MPH edited the June edition of Clinical Obstetrics and Gynecology, and many Duke Ob/Gyn colleagues and residents contributed. Attendings Jeffrey A. Kuller, MD; Beverly Gray, MD; and Elizabeth Deans, MD; and residents Benjamin Harris, MD, MPH; Katherine Bishop, MD; and Andrew Rivara, MD, all contributed to the publication.
Fuqua School Dean Bill Boulding has been named chair of the Graduate Management Admission Council (GMAC), a leading non-profit association of global business schools. "It will be an honor to serve as the chairman of GMAC," said Boulding. "We are in a time of great disruption and transformation in graduate business education. It is essential we maintain relevancy for the world we live in today and I'm excited about the innovations ahead for the industry. I firmly believe in the power of business education in developing leaders who can use business to transform the world for the better." Read More.
Center for Documentary Studies senior research scholar Timothy B. Tyson has won the 2018 Robert F. Kennedy Book Award for The Blood of Emmett Till. Tyson's book reexamines the 1955 lynching in Mississippi of fourteen-year-old Emmett Till and that event's seismic impact on the civil rights movement.
Each year the nonprofit advocacy organization Robert F. Kennedy Human Rights presents prestigious awards in journalism and to the book that "most faithfully and forcefully reflects Robert Kennedy's purposes." In its first year, the award went to CDS cofounder and Duke professor emeritus  William Chafe for his 1980 book Civilities and Civil Rights. Tyson and other winners will be honored at a May 22 ceremony at the Newseum in Washington, D.C. Read More.
Economics Professor V. Joseph Hotz has been named a fellow of the Society of Labor Economists(SOLE). The honorary title is given to those who have made "contributions of unusual distinction" to the field of labor economics.
Among these contributions are Hotz's work with former colleague Robert Miller (Carnegie Mellon University) on methods for modeling dynamic, discrete choice phenomena. This line of research is one which Hotz said he is very proud, and it has impacted not only labor economics but also other fields, most notably industrial organization. Read More.
Duke Professor Kenneth Rogerson has been selected as a GVI inaugural sustainable development fellow for 2018. These fellowships are awarded to academic specialists who can advise and assist with social development and environmental conservation programs, as well as take initiative in the form of providing impact driven solutions to community-wide problems within their respective research hub of choice.
Rogerson, whose research area is technology, media and politics, with a primary focus on social mobilization and poverty alleviation, will focus on the area of Kerala in India for the duration of the fellowship. "My summer visit to GVI's hub in Kochi as a faculty adviser for [DukeEngage] really helped me to better understand the organization's mission," he said. 
GVI tackles local and global issues by operating education and training programs on sustainable development projects around the world.
Five School of Medicine faculty members have been selected to receive 2018 Physician-Scientist "Strong Start" awards. The School of Medicine created the awards program in 2016, funded with a gift from the Duke Endowment, to support promising, new physician-scientists at Duke as they develop independent research programs. Each recipient will receive $70,000 annually for three years to support their research programs. (Read More)
2017 Strong Start Award Recipients
Andrew Barbas, MD, Assistant Professor, Department of Surgery
Sidney Gospe, MD, PhD, Assistant Professor, Department of Ophthalmology
Gentzon Hall, MD, PhD, Assistant Professor, Department of Medicine
Grace Lee, MD, Assistant Professor, Department of Medicine
Yvonne Mowery, MD, PhD, Assistant Professor, Department of Radiation Oncology
Edward Balleisen, professor of history and public policy and vice provost for interdisciplinary studies, has been elected president of the Business History Conference for the 2019-20 academic year. An international organization of scholars with more than 30% of its members based outside North America, the BHC fosters research and teaching about "business history and the environments in which businesses operate," in all eras and parts of the world. The organization owns the refereed journal, Enterprise & Society, awards prizes for excellent scholarship in business history and provides a variety of online resources to those interested in the history of enterprise and business culture. 
Balleisen's most recent book is "Fraud: An American History from Barnum to Madoff" (Princeton University Press, 2017). Since 2016, he has served as the director of the annual BHC Doctoral Colloquium, a position that dovetails with his work as vice provost to strengthen interdisciplinary doctoral education at Duke. He has previously served on the BHC board of trustees and chaired its grants and prize committee, its print media oversight committee and the program committee for the group's 2014 annual meeting. Balleisen will become BHC president at the conclusion of the 2019 annual meeting in Cartagena, and will preside over the 2020 annual meeting in Charlotte.
Joseph Heitman, M.D., Ph.D., chair of the department of molecular genetics and microbiology in the Duke University Medical School, has received the Stanley J. Korsmeyer Award from the American Society for Clinical Investigation (ASCI).
The prize recognizes Heitman's key contributions to understanding how microbial pathogens evolve, cause disease and develop drug resistance, and for his seminal discovery of the signaling and binding proteins TOR and FKBP12 that are targeted by the immunosuppressive drug rapamycin. His work on pathogenic fungi has discovered that they have a unisexual form of reproduction and has traced their evolution and exploitation of RNA interference.
Duke associate professor of mathematics Lillian Pierce has been awarded a 2018 Sloan Research Fellowship.
Open to early-career scholars in eight scientific and technical fields -- chemistry, computer science, economics, mathematics, computational and evolutionary molecular biology, neuroscience, ocean sciences and physics -- the Sloan Research Fellowships are awarded each year on the basis of a candidate's research accomplishments, creativity, and potential to become a leader in his or her field. 
Pierce was selected from among more than 800 nominees in the United States and Canada. She is among 126 researchers to receive the 2018 award, which includes a two-year, $65,000 research fellowship.
Senior Associate Dean Judith Kelley received an Albie Award from The Washington Post, for her book Scorecard Diplomacy: Grading State to Influence Their Reputation and Behavior. The book lays out the case that national do care about their reputations and that rankings on issues such as human trafficking can motive them to make policy and legal changes. Read more.
DCRI Executive Director Dr. Eric Peterson has been named one of the nation's top 27 cardiologists, as chosen by the medical technology company Grand Rounds.
The list was published online today by Forbes.
Early-career scientists Hye Ri Kang and Adrian Pickar have been chosen for the inaugural class of the Pfizer-NCBiotech Distinguished Postdoctoral Fellows in Gene Therapy.
Kang is a postdoc in Dwight Koeberl's lab in pediatrics and medical genetics. Pickar is a postdoc with Charlie Gersbach's molecular and genetic engineering lab. Read More.
Duke Palliative Care has announced the 2017 winners of the first annual Palliative Care Advocacy Award, a new award established to recognize palliative care excellence outside of specialist palliative care services and advocacy for palliative care throughout DUHS.
The recipients of this year's award are:
Jordan Komisarow, MD — Critical Care
Roberta Caraher, RN, CNIV, CHPPN — Pediatrics
Amy Gregorio – Case Management
Jennifer Rose – Performance Services
Hope Uronis, MD — Oncolocgy/DCI
Venice International University (VIU) has created a graduate student scholarship to honor of Srinivas Aravamudan, an English professor and former Duke dean of the humanities who died in 2016 at the age of 54. Read more.
Duke Performances is pleased to announce the 2017/18 faculty recipients of its inaugural curriculum enrichment awards: Marcia Rego (Thompson Writing Program), Chris Sims (Center for Documentary Studies), and Laurent Dubois (History, Romance Studies). Rego and Sims' awards are offered as part of a joint initiative between Duke Performances and the Duke Language, Arts & Media Program (LAMP), which supports faculty in teaching students to think critically across media and to conduct research in old and new media alike. Read more.
Tom Taylor, Professor of the Practice of Public Policy at the Sanford School of Public Policy, received the Office of the Secretary of Defense Medal for Exceptional Public Service in a ceremony in Arlington, Va., on July 26. The award recognized his service on the Judicial Proceedings Panel, established by the Secretary of Defense in June 2014. Read More
Duke University has received a grant from the National Endowment for the Humanities for our Summer 2018 Institute for Advanced Topics in Digital Humanities. Led by Victoria Szabo, Associate Research Professor of Visual and Media Studies, and hosted at the Franklin Humanities Institute, the Virtual and Augmented Reality for the Digital Humanities Institute (VARDHI) integrates humanities teaching and scholarship with artificial and virtual reality. Philip J. Stern, Sally Dalton Robinson Associate Professor of History, is project co-director. Read More
The National Endowment for the Humanities has announced an award in the amount of $188,974 to Duke University to support a Summer Institute hosted at the Franklin Humanities Institute and directed by Robert Korstad, Professor of Public Policy and History, titled "The Civil Rights Movement: Grassroots Perspectives." Read More.
Duke's doctoral programs in religion and theology have received a two-year $30,000 grant from the Wabash Center for Teaching and Learning to promote pedagogical formation. The Ph.D. program, known as the Graduate Program in Religion (jointly administered by the Department of Religious Studies and the Divinity School), and Th.D. program (offered by the Divinity School) will share this funding and combine efforts to enhance their teacher training initiatives. Read More.
The Duke University Superfund Research Center has been awarded a five-year grant for nearly $10.2 million from the National Institute of Environmental Health Sciences (NIEHS).
The renewal grant will support five Superfund Center research projects investigating the later-life consequences of early-life exposures to hazardous chemicals. It will also fund six outreach and training programs designed to augment and support the center's research. Read more.
Duke assistant professor of mathematics Lillian Pierce has been awarded the 2018 AWM-Sadosky Research Prize in Analysis for her outstanding contributions to harmonic analysis and analytic number theory.
Established in 2012 in honor of mathematician Cora Sadosky, past president of the Association for Women in Mathematics, the award aims to recognize exceptional analysis by women early in their careers. Read more.
Fifteen doctoral students and two master's students at Duke's Graduate School received Graduate Student Training Enhancement Grants (GSTEG) for 2017-2018 from the Office of the Vice Provost for Interdisciplinary Studies. Read more.
William "Sandy" Darity Jr., founding director of the Samuel DuBois Cook Center on Social Equity and Samuel DuBois Cook Professor of Public Policy, African and African American Studies, and Economics, was honored for his research related to racial inequality and the racial wealth gap in the United States at the 2017 Future of Wealth Summit: Technology, Inclusion and Social Change April 27 in Washington, D.C. 
Darrick Hamilton, associate director of the Cook Center and associate professor of Economics and Urban Policy at the New School for Social Research, was a co-recipient along with Darity. Read more.
Krishnendu Chakrabarty, the William H. Younger Professor of Engineering in Duke University's Department of Electrical and Computer Engineering, has won the Charles A. Desoer Technical Achievement Award from the IEEE Circuits and Systems (CAS) Society. Read more.
The Office of the Vice Provost for Interdisciplinary Studies has awarded Duke Support for Interdisciplinary Graduate Networks (D-SIGN) grants to six graduate student groups for the 2017-2018 academic year.
The groups are Desarrolla Mexico; Global Energy Access Network; the Global South after 2010; the Lowndes County Sanitation Access Network; Modeling Health & Environment Graduate Working Group; and the Network to Enrich GALS Summer Science Program.  Read more.
Owen Astrachan, professor of the practice of computer science and director of undergraduate studies for the Department of Computer Science, has received the Karl V. Karlstrom Outstanding Educator Award from the Association for Computing Machinery.
Astrachan was honored for for three decades of innovative computer science pedagogy and inspirational community leadership in broadening the appeal of high school and college introductory computer science courses. Read more.
Warren S. Warren, the James B. Duke Professor of Physics, Chemistry, Radiology and Biomedical Engineering, has won the prestigious 2017 Liversidge Award from the Royal Society of Chemistry for outstanding contributions in the field of physical chemistry. Warren will receive £2000, a medal and a certificate. Read more.
Duke's Chief Information Officer (CIO), Tracy Futhey, has been accepted into the CIO Hall of Fame. She is one of 20 CIOs selected in 2017. The publication, CIO Events, selected the Hall of Famers from a record number of nominations. Other prominent CIOs accepted this year include those from Harvard University, NASA Jet Propulsion Laboratory, Merck and the San Francisco Giants. CIO Events is celebrating its 20th anniversary of the Hall of Fame Program.
The publication said it takes a "combination of career achievement, reputation and demonstrated business leadership to get the nod from our Hall of Fame alumni judges."
CIO's digital magazine will feature coverage of this year's Hall of Fame class in its July/August issue. The CIO Hall of Fame induction ceremony and gala will be held at the CIO 100 Symposium in August in Colorado Springs, Colorado.
Darla K. Deardorff, executive director of the Association of International Education Administrators, an international leadership organization based at Duke, recently received the Martha Fitch Trigonis Individual Award at the 2017 N.C. Association for International Educators annual conference.
The award is presented annually to an individual who has shown excellence in the field of international education. Read more.
Art professor Beverly McIver is the 2017-18 winner of the Joseph H. Hazen Rome Prize from the American Academy in Rome.
McIver, a contemporary American artist, is the Esbenshade Professor of the Practice in Duke's Department of Art, Art History and Visual Studies. She is among a group of talented Italian and American artists, scholars, writers and composers to be honored by the academy.
Duke second-year medical student Joshua D'Arcy, M'19, has been chosen as the inaugural recipient of the new Barr-Spach Medicine and Engineering Scholarship.
The scholarship was created by a gift from Maynard Ramsey III, M'69, G'75, who established an endowment to honor his Duke mentors, biomedical engineering professor and associate professor of pediatrics Roger C. Barr, BS'64, PhD'68, and pediatric cardiologist Madison S. Spach, T'50, MD'54, HS'54-59. Read more.
Thomas F. DeFrantz has won the 2017 Award for Outstanding Scholarly Research in Dance from the Congress on Research in Dance. The award recognizes an exceptional scholar for sustained contributions to dance research.
In making the announcement, the awards committee scholarship by DeFrantz has contributed substantially to understanding of aesthetics and race politics and has inspired a reevaluation of race and dance history. Read more.
Philip Napoli, James R. Shepley Professor at the Sanford School of Public Policy, and Christopher Bail, Douglas and Ellen Lowey Assistant Professor of Sociology at Duke, were named 2017 Andrew Carnegie Fellows, the Carnegie Corporation of New York announced April 25.
They are among 35 scholars selected for the prestigious fellowship, which includes a $200,000 award. Read more.
Damon Tweedy, MD, has been named the Solomon Carter Fuller Award recipient for his pioneering work in addressing disparities in the medical profession. Tweedy, assistant professor of psychiatry and behavioral sciences at Duke School of Medicine, is a New York Times bestselling author of the book Black Man in a White Coat: A Doctor's Reflections on Race and Medicine.
Tweedy graduated from Duke University School of Medicine in 2000 and subsequently graduated from Yale Law School in 2003 before returning to Duke to complete his medical and psychiatric training in 2007. Read more.
Beth Holmgren was recently honored for her scholarship in Polish history. Holmgren, a professor of Slavic and Eurasian Studies, received the Wacław Jędrzejewicz History Award from the Jozef Pilsudski Institute of America in recognition of her work in Polish history. Read more here.
Nathaniel Mackey, Reynolds Price Professor of Creative Writing at Duke, has been tapped to receive another of poetry's top honors. Mackey will receive the 2016 Rebekah Johnson Bobbitt National Prize for Poetry from the Library of Congress in honor of his lifetime achievement.
Mackey will receive the award and deliver a reading at the Library of Congress at 6:30 p.m. on Thursday, April 20. Read more here.
Laverne Myers, executive assistant to Elizabeth Merwin, executive vice dean of the School of Nursing, is the recipient of the 10th-annual Susan B. Clark Administrative Leadership Award.
The prestigious honor, established in 2007, is awarded annually to a Duke Health administrative professional who demonstrates the qualities exemplified by Clark during her sterling 33-year career: dedication to the institution, service to others, and personal strength of character. Read more here.
David Schaad, professor of the practice of civil and environmental engineering, has been elected a Fellow in the American Society of Civil Engineers (ASCE). Schaad joins the fewer than 3.5 percent of members to hold the prestigious honor recognizing those who have made celebrated contributions and developed creative solutions that have enhanced lives. Read more here.
The National Endowment for the Humanities (NEH) has awarded two grant fellowships to Duke University faculty members for their respective work in humanities-based advanced research programs —one focusing on post-apartheid mobility, while the other is digital catalog connected to an upcoming Duke exhibit.
Anne-Maria Makhulu, associate professor in the Department of Cultural Anthropology and African and African American Studies, and Kristin Huffman Lanzoni, instructor in the Department of Art, Art History & Visual Studies, were among university teachers and independent scholars who received the awards. The NEH recently announced it would help fund 290 humanities projects, including 86 instructor/scholar fellowships. Read more here.
David B. Dunson has been selected for the prestigious Carnegie Centenary Professorship, an award that enables senior scholars to contribute to the academic and scientific fields at 15 universities throughout Scotland. Dunson is an Arts & Sciences Professor of Statistical Science, and also holds appointments as a Professor in the Department of Electrical and Computing Engineering, and the Department of Mathematics.
The Carnegie Centenary Professorship is awarded annually to two distinguished international faculty members. Read more here.
North Carolina Campus Compact, a network of public and private colleges and universities committed to civic and community engagement, has named David M. Malone of Duke University the recipient of the 2017 Robert L. Sigmon Service-Learning Award.
The Sigmon Award, created in 2006, recognizes one faculty member in the state for significant contributions to the practice of service-learning, a teaching strategy that links community service to classroom study and reflection. Malone is a Professor of the Practice in Duke's Program in Education. Read more.
Five School of Medicine faculty members have been elected to the American Society for Clinical Investigation (ASCI) Class of 2017. Membership in this organization is a distinction recognizing excellence and outstanding achievement for physician-scientists representing a diverse range of disciplines and specialties. 
The honored faculty members are: Nicole Calakos, MD, PhD, Associate Professor of Neurology; Manesh Patel, MD, Associate Professor of Medicine; John Sampson, MD, PhD, Professor and Chair, Department of Neurosurgery; Stefanie Sarantopoulos, MD, PhD, Associate Professor of Medicine; and Dorothy Sipkins, MD, PhD, Associate Professor of Medicine. Read more.
Mary "Missy" Cummings, professor of mechanical engineering and materials science at Duke University, has been named to a new Federal Committee on Automation established this month by the U.S. Department of Transportation (DOT).
Focused on automation across a number of modes, the new committee includes 25 leading professionals and experts in their field, who will work on some of the most pressing and relevant matters facing transportation today. Read more.
For the fourth year in a row, Sanford professors Charles Clotfelter and Helen F. Ladd were in the top 100 of the most influential scholars in education in the list released by Education Week on Jan. 11. The 2017 RHSU Edu-Scholar Public Influence list was created by Frederick M. Hess, a member of the American Enterprise Institute (AEI) and blogger at the Education Week website, and a selection committee of 2 academics in the field. Read More.
Guglielmo Scovazzi, associate professor of civil and environmental engineering (CEE) and mechanical engineering and materials science (MEMS) at Duke University, has been named a recipient of the Presidential Early Career Awards for Scientists and Engineers (PECASE). The recognition is highest honor bestowed by the United States government on science and engineering professionals in the early stages of their independent research careers. Read More.
Emily Derbyshire, an assistant professor of chemistry at Duke, has been named one of five recipients of the 2017 Marion Milligan Mason Award for Women in the Chemical Sciences by the American Association for the Advancement of Science. The awards, granted every other year to leading early-career female scientists, provide $50,000 in research funding as well as leadership development and mentoring opportunities.
Derbyshire, who holds a secondary appointment in the Molecular Genetics and Microbiology Department, leads a research team that is harnessing a variety of chemical and biological tools to understand the biology of malarial parasites with the goal of identifying new treatments. Read More.
Phail Wynn, vice president for Durham and regional affairs, received the N.C. State University School of Education Distinguished Alumnus Award.
He was honored for his leadership inNorth Carolina's community colleges, providing "a deep and far-reaching impact for students and communities." As president of Durham Tech -- the first African American president in the state's community college system, Wynn "helped displaced workers connect to new jobs, give technical skills to those who struggle to find employment, help recent immigrants acclimate to a new society through ESL classes, and provide a platform for students to transfer to four-year universities." Read More.
Paula D. McClain, dean of The Graduate School, has been elected to a three-year term on the Council of Graduate Schools (CGS) Board of Directors, the organization's governing body.
McClain was one of three new board members announced at the CGS's annual meeting in Washington, D.C., on December 7-10. She will begin her term on January 1, 2017. Read More.
Walter Mignolo, William H. Wannamaker Professor of Literature and director of the Center for Global Studies and the Humanities at Duke, received an honorary degree (Dr Honoris Causa)  in the Humanities from the Facultad de Filosofía y Letras, National University of Buenos Aires, on Nov. 23 in Argentina.
The university cited Mignolo for his scholarship and teaching at Duke and elsewhere and as "an intellectual committed to social struggles and the expansion of human rights" and for his "theoretical contributions in the philosophical, political and literary fields, through innovative, challenging and provocative conceptualizations." Read more.
Xin Li, newly hired professor of electrical and computer engineering, was recently named a Fellow of the Institute of Electrical and Electronics Engineers (IEEE). Li was cited for his "contributions to modeling, analysis, and optimization of variability of integrated circuits and systems." For more, click here.
Professor Jian-Guo Liu has been named a member of the 2017 Class of the Fellows of the American Mathematical Society (AMS). The fellows of the AMS program recognizes members for their outstanding contributions to the creation, exposition, advancement, communication and use of mathematics.
Liu, a professor of mathematics and physics, is the 14th AMS fellow from Duke. 
Kenneth A. Dodge, the founding director of the Duke Center for Child and Family Policy, has received the 2017 Distinguished Scientist Award from the Child Mind Institute, a nonprofit dedicated to transforming the lives of children struggling with mental health and learning disorders. Read more here.
Inderdeep Chatrath, assistant vice president for affirmative action and equal opportunity at Duke's Office of Institutional Equity, has been selected to act as a representative to the U.S. Bureau of the Census' National Advisory Committee on Racial, Ethnic and Other Populations.
Chatrath, who has worked at Duke for 34 years, will represent the American Association for Access, Equity and Diversity, which nominated her to take part in the committee. Chatrath has held several leadership roles with the association, including acting on the Board of Directors. She was also instrumental in launching and continuing to teach in the organization's Professional Development and Training Institute. Read more.
Biomolecular chemist Emily Derbyshire has been selected as one of five women researchers to receive the 2017 Marion Milligan Mason Awards for Women in the Chemical Sciences. Derbyshire is an assistant professor in the Department of Chemistry and holds a secondary appointment in the Department of Molecular Genetics & Microbiology.
The awards, presented by the American Association for the Advancement of Science (AAAS), include $50,000 to each chemist for her research projects while continuing to mentor her own students. The awards are presented every other year. Read more.
Shannon Switzer Swanson, a 2015 Master of Environmental Management (MEM) graduate of the Nicholas School of the Environment, has been selected as one of National Geographic's 10 Adventurers of the Year.
The Adventurer of the Year program was launched 12 years ago by Nat Geo to recognize extraordinary achievement in exploration, adventure sports, conservation or humanitarianism. Read more here.
Economics doctoral candidate Kate Maxwell Koegel has been selected to receive the Kauffman Dissertation Fellowship, an academic recognition program established by the Kauffman Foundation to advance entrepreneurship research. She is one of 20 students to receive the $20,000 stipend to support the completion of her dissertation.
This program helps launch the careers of emerging world-class entrepreneurship scholars who are conducting research with immediate application for policymakers, educators, service providers and entrepreneurs. Read more here.
Eduardo Bonilla-Silva, Professor and Chair of Sociology at Duke, has been elected the 109th President of the American Sociological Association (ASA). Bonilla-Silva will serve as President -elect for one year before succeeding Harvard University's Michèle Lamont in August 2017. "I was humbled and honored by my election as ASA President," said Bonilla-Silva. "I was particularly excited because my brand of sociology — critical, change-oriented, and committed to making the world more democratic, inclusive, and equal — is viewed in some sociological quarters as 'political' and I still got elected." 
The President-Elect of the Southern Sociological Society, Bonilla-Silva earned his PhD in sociology from the University of Wisconsin-Madison. He has held several ASA leadership positions in the past, including Council Member, Member of the Committee on Nominations, and Chair of the Section on Racial and Ethnic Minorities. "ASA Presidents can help effect change in the organization and leave a historical imprint through the theme they choose and the program they put together for the Annual Meeting, as well as the special projects they work on," said Bonilla-Silva. Read more.
Kate Meyer, an assistant professor in the department of biochemistry in the medical school, has been named a regional finalist in the Blavatnik Awards administered by the New York Academy of Sciences.Three winners and six finalists are chosen from the fields of Life Sciences, Chemistry, and Physical Sciences and Engineering. Each finalist receives a $10,000 prize at the academy's gala in November. Meyer was nominated for her work on RNA biology while working at Weill Cornell Medical College.
The American Bar Foundation has appointed Laura F. Edwards, the Peabody Family Professor of History at Duke University, as the 2016-17 William H. Neukom Fellows Research Chair in Diversity and Law. An award-winning historian, Edwards is an expert on race, gender, and the law. Her research focuses on how disadvantaged and dependent groups such as slaves, women, and children used the law in the nineteenth century to empower themselves and shape their communities. 
The Neukom Fellows Research Chair was established in 2014 to lead the ABF's empirical research on law and legal processes, relating to issues of diversity and inequality that woman, people of color, people with disabilities, and persons from the LGBTQ community face in the justice system. It was created to build upon the work of the ABF's Research Group on Legal Diversity, a network of scholars who conduct empirical research on diversity in the legal profession and institutions of justice, as well as the impact of diversity on legal processes and institutions. Read more.
Maiken H. Mikkelsen, the Nortel Networks Assistant Professor of Electrical and Computer Engineering and assistant professor of physics at Duke, has won two new highly competitive research awards—the Young Investigator Program award from the Army Research Office (ARO) and a $2 million Emerging Frontiers in Research and Innovation (EFRI) award from the National Science Foundation (NSF).
The Army Young Investigator award recognizes outstanding young university faculty members to support their research and to encourage their teaching and research careers. Mikkelsen' research is focused on creating hybrid nanoscale materials to realize unique optical properties that cannot be found in the natural world. For more, read here.
William G. Kaelin Jr. has been named a recipient of the 2016 Albert Lasker Basic Medical Research Award. The Lasker Awards are widely considered among the highest scientific honors and recognize the most outstanding and seminal contributions to biomedical science.
Dr. Kaelin received his undergraduate degree from Duke and his MD from Duke Medical School. He is a Howard Hughes Medical Institute investigator and professor in the Department of Medicine at the Dana-Farber Cancer Institute, Harvard Medical School, and associate director, Basic Science, for the Dana-Farber/Harvard Cancer Center. To read more, click here.
Michel Bagnat, an associate professor of cell biology, has been named an HHMI Faculty Scholar by the Howard Hughes Medical Institute, the Simons Foundation and the Bill & Melinda Gates Foundation.
Bagnat, who studies how forces within cells can help determine the shape and size of organs, is one of 84 early-career scientists slected this year because of their potential to make unique contributions to their fields. The new Faculty Scholars program will spend about $83 million over five years to support these scientists. Read More.
Eric Toone, vice provost and director of Duke's Innovation and Entrepreneurship Initiative, was one of 30 national leaders named by U.S. Secretary of Commerce Penny Pritzker to serve on the National Advisory Council on Innovation and Entrepreneurship (NACIE).
Council members will offer recommendations for policies and programs designed to make U.S. communities, businesses, and the workforce more globally competitive. Read More.
Robin Kirk, co-director of the Duke Human Rights Center at the Franklin Humanities Institute, published "When the Shooting Stops," in World Policy Journal, published by Duke University Press. 
The article explores the role of transitional justice in ending long-standing international conflicts. It uses the recent peace agreement between the Colombian government and FARC, the main armed opposition group, following seven decades of rebellion. Read the article here.
Ben Reese, who has worked at Duke for 20 years in various roles supporting diversity and inclusion, was recognized last week by the Triangle Business Journal for his career's work.
The media outlet celebrated Reese with its Lifetime Achievement Award at the Journal's annual Leaders in Diversity Awards Sept. 9. For more information, click here.
Duke postdoctoral associate Max Villa was one of 15 scholars selected to receive the 2016 Postdoctoral Enrichment Program Award from the Burroughs Wellcome Fund. The fellowship grants a total of $60,000 over three years to support the career development of underrepresented minorities conducting postdoctoral research in the United States or Canada. To read more, click here.
Duke University Athletics Director Kevin White, a pivotal figure in NCAA efforts to further diversify the talent pool in athletics administration, has been named by the NCAA Minority Opportunities and Interests Committee as this quarter's Champion of Diversity and Inclusion.
Women and men of various races, colors and backgrounds have thrived as young associates working under White at all of his career stops. All told, 24 of his former aides have flourished and advanced to athletics director positions in college departments across the nation.  For more, click here.
Chantel Morey, a 2012 graduate of Duke, has been awarded the most prestigious scholarship available at East Carolina University's Brody School of Medicine.
Morey is one of three students in the medical school's Class of 2020 chosen for the Brody Scholar award, valued at approximately $112,000. She will receive four years of medical school tuition, living expenses and the opportunity to design her own summer enrichment program that can include travel abroad. The award will also support community service projects she may undertake while in medical school. For more, see here.
Research Triangle Nobel laureates Paul Modrich of Duke and Aziz Sancar of UNC-Chapel Hill are picking up another prize on Thursday, Sept. 22, when they receive the North Carolina Award, the state's highest honor.
Modrich, the James B. Duke professor of biochemistry, and Sancar, the Sarah Graham Kenan Professor of Biochemistry and Biophysics at UNC, shared the Nobel Prize in Chemistry in 2015 for their independent discoveries on DNA repair mechanisms. Now, they're being honored for their contributions to the state and the nation. For more, see here.
Tirtha Banerjee, a 2016 doctoral graduate of Duke University's Nicholas School of the Environment, has been awarded a Mahatma Gandhi Pravasi Samman award by the Non-Resident Indians (NRI) Welfare Society of India.  For more, see here.
Pate Skene '14 has been named the 2016-17 Judicial Branch Fellow by the American Association for the Advancement of Science (AAAS) Science & Technology Policy Fellows program. For more, see here.
Ingrid Daubechies, a prominent mathematician whose pioneering work on wavelets is the foundation for millions of consumer products, has received a $1.5 million grant from the Simons Foundation. For more, see here.