PUBLISHED
David Malone Honored for Excellence in Service-Learning and Community Engagement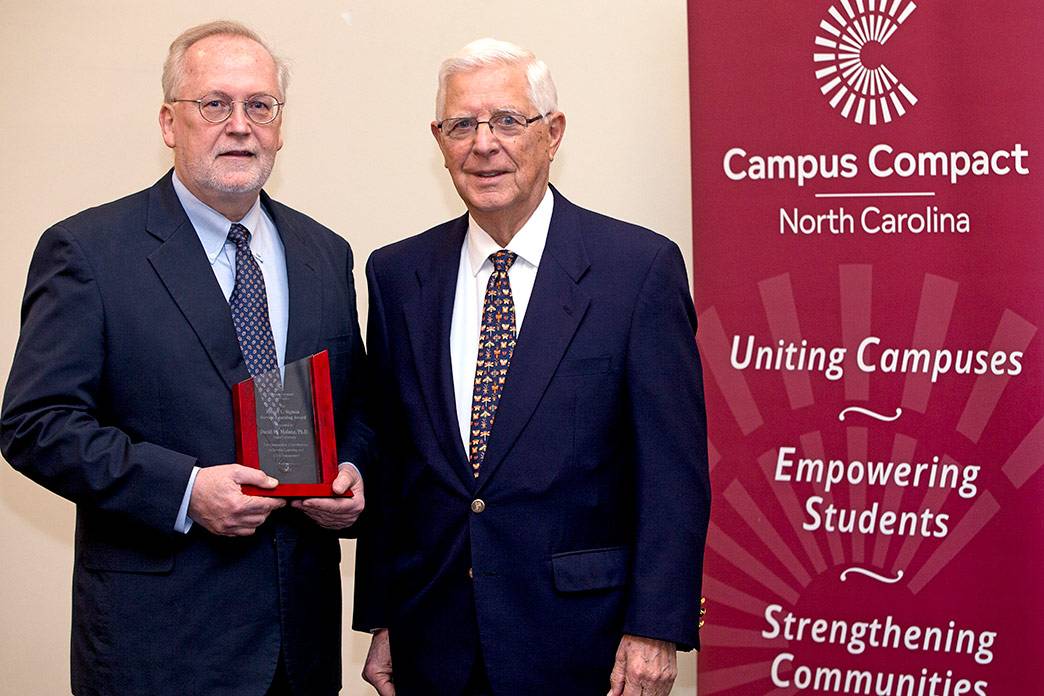 North Carolina Campus Compact, a network of public and private colleges and universities committed to civic and community engagement, has named David M. Malone of the Duke Program in Education as the recipient of the 2017 Robert L. Sigmon Service-Learning Award.
The Sigmon Award, created in 2006, recognizes one faculty member in the state for significant contributions to the practice of service-learning, a teaching strategy that links community service to classroom study and reflection. North Carolina native Robert Sigmon, for whom the award is named, pioneered the approach in the 1970s.
Malone is a professor of the practice in Duke's Program in Education. Over more than three decades, Malone has shaped the university's community engagement through his teaching, administrative leadership, and research.
According to Eric Mlyn, director of DukeEngage, "To the extent that Duke now enjoys a national and international reputation for using knowledge in the service of society, David Malone is without doubt the unsung hero of this movement here."
In 2006, Malone became faculty director of Duke's Service Learning program, which provides mentoring, training, and funding to faculty offering service learning courses. Malone continues to lead the program, which currently fosters 84 service learning classes across 34 departments and four schools. In one of the service-learning classes he teaches – "Reimagining Public Schools" – Dr. Malone accompanies Duke students each week to a local elementary school where they work with children one-one-one to complete a semester-long research project based on the child's interest.
Since 2009, Malone has also served as faculty co-director of Duke's International Center for Service Learning in Teacher Education, and he was part of the team that helped create DukeEngage, a program that allows undergraduates to pursue an immersive summer of service in partnership with a U.S. or international community.
Working with colleagues at Duke and in the Durham Public Schools, Malone helped launch the Partners for Success tutoring program in 1998, and he still directs the program. This service-learning program matches about 300 Duke students each year with local children who need assistance in reading, math, and academic learning strategies.
His service and leadership on numerous campus working groups, including as Chair of the Arts & Sciences Curriculum Committee, has ensured the values and practice of civic and community engagement inform many campus efforts. He regularly contributes to scholarship that builds the field, publishing research on service-learning and presenting his work at the Compact's annual PACE Conference, at the International Association for Research on Service-Learning and Community Engagement (IARSCLE) conference, and at Gulf South Summit.
At Duke, Malone has received the Dean's Recognition of Quality of Teaching, the Trinity College School of Arts & Sciences Dean's Distinguished Service Award for excellence in teaching, and the Lars Lyon Faculty Service Award.
Malone received his undergraduate degree from the University of North Carolina at Chapel Hill and his doctorate from Duke University.
The Compact will recognize Malone at its annual Presidents Forum, hosted by NC A&T State University on February 8. More than 35 presidents and chancellors will attend, along with other higher education administrators. The event will focus on strategies to improve student success and equity, and it is sponsored in part by Blue Cross Blue Shield of North Carolina and by Aramark.
Malone is the second Sigmon Award winner from Duke. Betsy Alden received the inaugural Sigmon Award in 2006.
North Carolina Campus Compact is a statewide coalition of public, private, and community colleges and universities that share a commitment to civic and community engagement. The network was founded in 2002 and is hosted by Elon University. North Carolina Campus Compact is an affiliate of the national Campus Compact organization, which claims 1,000 member schools representing nearly 2 million college students.