Derbyshire Receives Marion Milligan Mason Award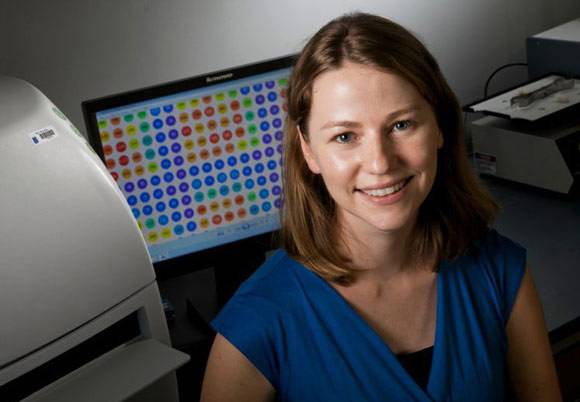 Biomolecular chemist Emily Derbyshire has been selected as one of five women researchers to receive the 2017 Marion Milligan Mason Awards for Women in the Chemical Sciences. Derbyshire is an assistant professor in the Department of Chemistry and holds a secondary appointment in the Department of Molecular Genetics & Microbiology.
The awards, presented by the American Association for the Advancement of Science (AAAS), include $50,000 to each chemist for her research projects while continuing to mentor her own students. The awards are presented every other year.
"Emily Derbyshire is using chemical insights and methods to blaze new trails in our understanding and treatment of infectious disease, especially malaria," said Stephen Craig, department chair of Chemistry at Duke. "It is wonderful to see her recognized with this highly selective and well deserved award."
Derbyshire, who joined the Duke faculty in 2014, focuses her research on addressing global health issues (such as parasites causing malaria) with a goal to globally interrogate parasite biology by using chemical biology, molecular biology, biochemistry and parasitology.