Duke's Efforts on Climate Change Start on Campus
The university has advanced projects that have made the campus environment more sustainable
This story is being promoted as part of the Duke Climate Commitment Learn more at climate.duke.edu
Duke's efforts on climate change don't stop at the classroom. Beyond the significant teaching and research on the environment and its social, political and economic impacts, the university community is using that learning to make our campus more sustainable and with a reduced carbon footprint.
Those initiatives span nearly every aspect of university life and has come about because of students, faculty, staff and senior administrators working together to build a more sustainable campus. Although most of these efforts have a long history, during the pandemic, the university increased this work as the lessons of the pandemic reinforced the importance of Duke working toward an equitable, sustainable, net-zero carbon future. 
Below of just a sample of the ways that the university is building a more green campus. For more information, see the Sustainability Strategic Plan.
Emissions and Offsets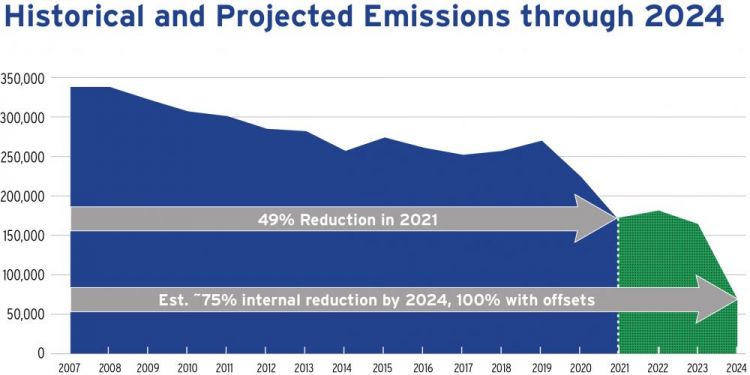 Duke is aggressively pursuing carbon neutrality in 2024 and beyond through a combination of direct emissions reduction strategies and carbon offsets. The university's greenhouse gas (GHG) emissions were nearly 50% lower in fiscal year 2021 than they were in 2007. Overall emission reductions have come through a combination of the discontinuation of the use of coal on campus, increases in building and utility plant efficiency, and travel reduction.
In addition, the Duke Carbon Offsets Initiative has been working to develop a clear offset purchase strategy and evaluation tool in preparation for meeting the campus 2024 carbon neutrality goal.
Infrastructure
There have been major shifts in the future of the university's energy procurement and use. The resulting investments will lead to significant decreases in Duke's annual greenhouse gas (GHG) emissions.
The goal is to achieve a 20% reduction in energy use in buildings built prior to Duke's 2009 Climate Action Plan by 2030 while increasing opportunities for building energy efficiency and low carbon, new construction.
On water, water-reduction efforts are focused on the top 20 water-consuming buildings, which account for 70% of water use. And natural resource efforts seek to ensure that buildings, landscapes, and natural areas are created and sustained to create a campus community that conserves natural resources, restores environmental quality, and protects biodiversity.
Campus Operations
In dining, transportation and waste and recycling, Duke has made across the board advances. On dining, Duke's residential dining program continued to prioritize the purchase of more responsibly produced foods, such as products raised without antibiotics, humanely raised products, locally grown and raised products and responsibly fished products. At the same time, it has sought to help reduce food insecurity in partnership with the Graduate and Professional Student Government's Community Pantry.
On transportation, the university seeks to promote alternative transportation and reduce employee commuting through expanded flexibility for remote work and other methods.
Education and Communication
A vital mission of the sustainability effort is to ensure that students leave the campus with a foundation of environmental literacy and that staff and others in the Duke community have opportunities to engage on these issues, both at work and at home.  The topics of climate and sustainability intersect with every plank of the university's strategic framework. They connect academics and operations and reach into the community.
Part of this effort involves focused communications designed to foster changes in behavior among members of the Duke community that reduce greenhouse gas emissions here. This includes programming that teaches employees about ways to conserve energy, reduce waste, and prioritize wellness and stress reduction.
Duke University aims to create a climate and sustainability literate student body. To give one example, Campus as Lab is a Sustainable Duke program that seeks to develop the relationship between Duke faculty and student research and its own campus and local communities. This partnership uses the campus as a living laboratory to study and solve the on-campus manifestations of global sustainability issues (see chart above).