Providing a Cooler Future for Duke
Chiller Plant No. 3, which opened this summer, will help handle cooling needs of Duke University Hospital's new bed tower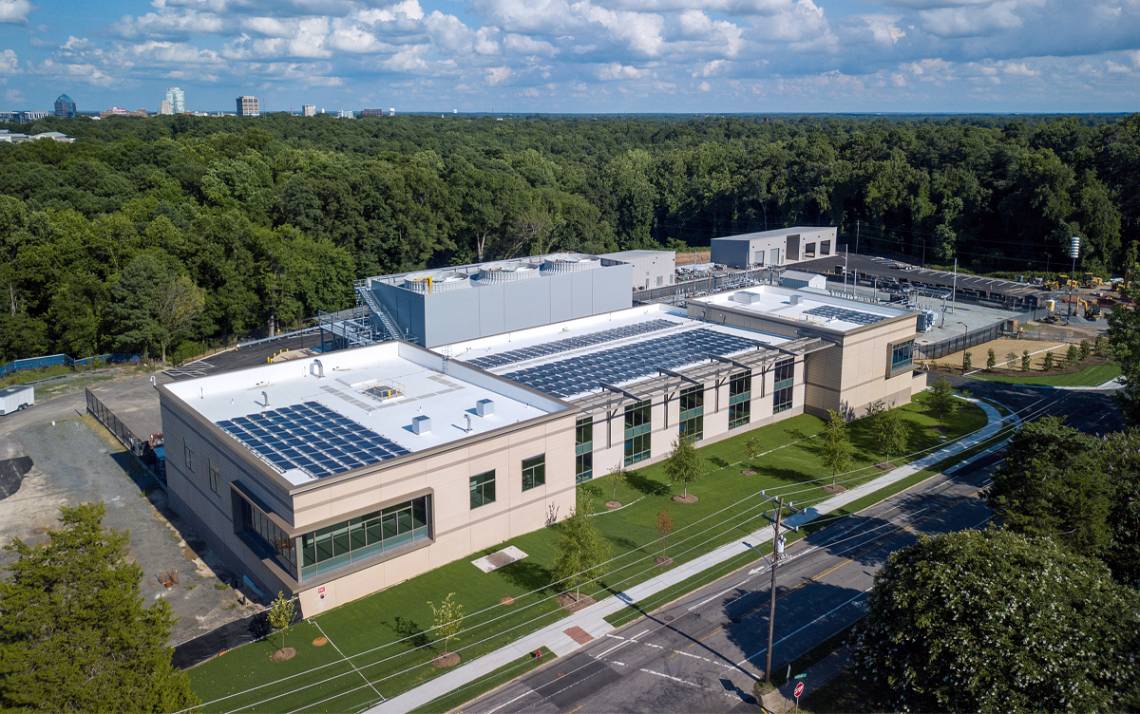 With around 15 miles of pipes running through university and hospital buildings, Duke's vast chilled water system works constantly to keep campus cool. And as campus has grown in recent years, that job has only gotten bigger.
For proof, you need only look at Chiller Plant No. 3 plant, which opened this summer to keep up with the demand.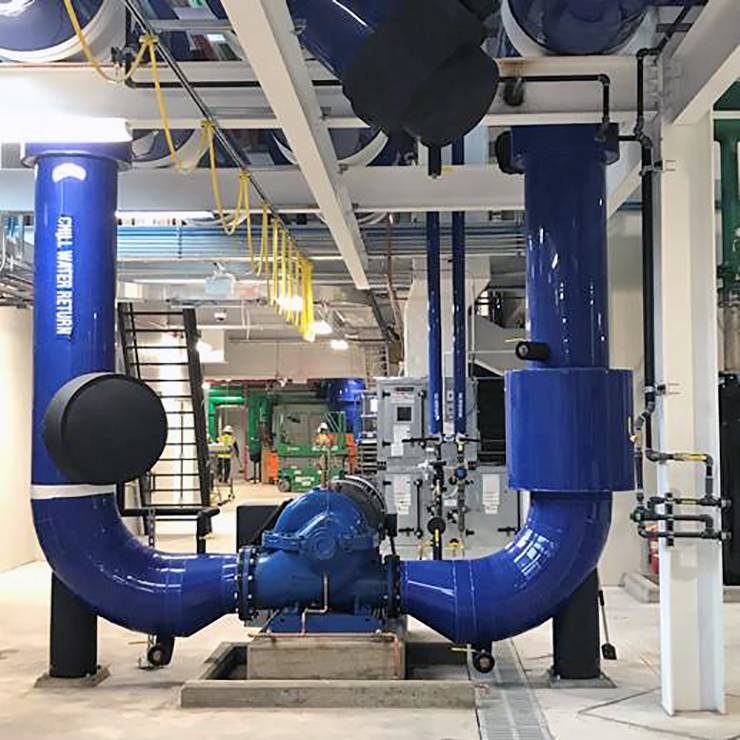 "It was a complex project, compared to an office building, because you've got a lot of giant pipes going through there," said Duke Facilities Management Project Manager Steve Carrow, who oversaw the project. "We're plugging it into a larger system so it has to work in harmony with the other plants."
Duke's chilled water system provides efficient cooling by shooting 39-degree water through a looped campus-wide network of pipes laced through the buildings of the university and medical campus. This approach uses considerably less energy than having each individual building rely on its own air conditioning system.
Chiller Plant No. 3 will help handle the cooling needs of Duke University Hospital's new 490,000-square foot bed tower, which opens in summer of 2021.
While Chiller Plant No. 3 on Anderson Street has the same smooth sand-colored concrete walls and large windows as its stylish neighbors the Rubenstein Arts Center and Nasher Museum of Art, the 36,230-square foot facility is more about brawn.
The plant's two 119,000-pound chillers – it has room for two more – can produce 7,600 tons of cooling power, or roughly 2,500 times the power of common household central air conditioning units. It's enough to cool 5.32 million square feet of building space.
For the sake of comparison, Chiller Plant No. 1, which is near Towerview Drive, produces 9,400 tons of cooling power while Chiller Plant No. 2 near Duke Pond, described as the workhorse of the system, can produce 39,500 tons.
Chiller Plant No. 3 is the only one of Duke's plants that features solar panels on its roof. The panels will supply less than one percent of the energy needed to cover the facilities' annual projected energy needs.
While the plant's contribution to Duke's chilled water system is substantial, it's role as a hub of other operations looms large as well. 
Chiller Plant No. 3 has office space for the High Voltage Team and staff from the Duke Facilities Management's Energy Management Team, which can monitor and control the energy usage of Duke's buildings in a state-of-the-art control room featuring a 20-foot long video screen.
When Donald Elliott, a high voltage supervisor with Duke Utilities and Engineering Services, first began working at Duke in September of 1989, the high voltage team was headquartered in a small room upstairs in the West Campus Steam Plant, which was then 60 years old.
He recalls his team storing equipment wherever they could find space or in cargo trailers tucked in out-of-the-way places.
But in August, Elliott and his team moved its office and all equipment from a collection of small buildings to its new space at Chiller Plant No. 3.
"We have all of the transformers, the splicing material, the bucket trucks, the streetlights, the boom trucks and the wire. Now we can have it all here and arrange it so it's easier to use," Elliot said. "We moved everything over in two days, so that was a little hectic. But now that we're here, we love it." 
Check out the view of Chiller Plant No. 3 from above:
Got something you would like for us to cover? Send ideas, shout-outs and photographs through our story idea form or write working@duke.edu.