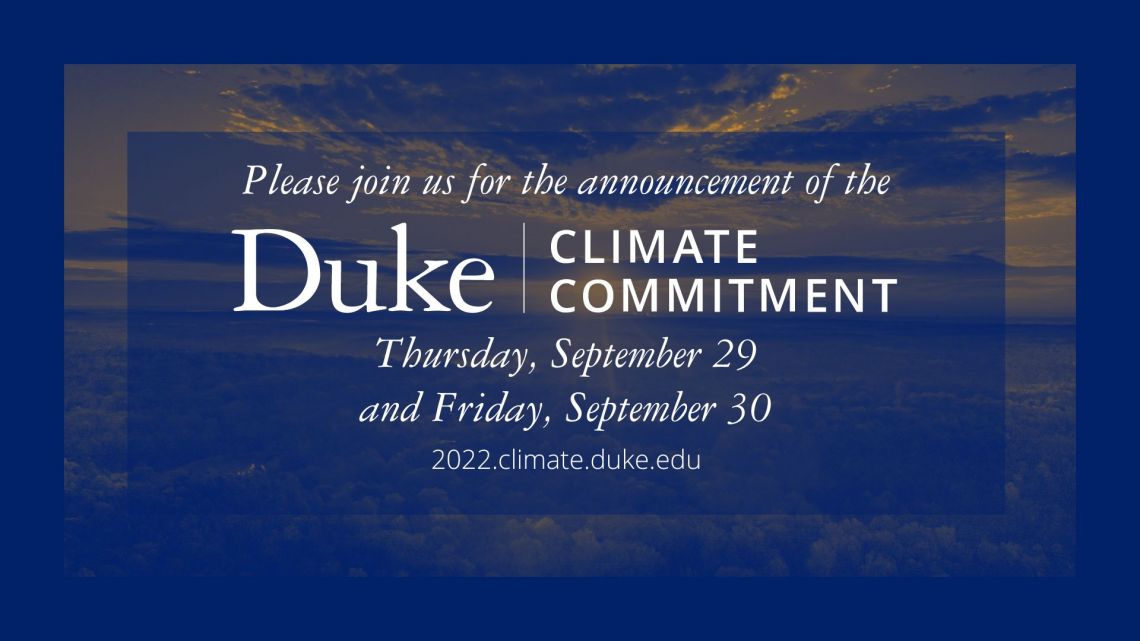 The Duke Climate Commitment, which will be announced on Sept. 29, is centering its efforts around four areas of focus:
Energy Transformation
Duke's technology and policy expertise continue to develop clean technology, energy efficiency, decarbonized electric power and the expansion of the electrification of the energy we use to reduce emissions and mitigate climate risk. Recently Energy Transformation has been prominent in many studies, such as how solar panels can help save water as well as generate electricity. 
Duke's promotion of Energy Transformation is also evident in the announcement of the 2022 Energy Data Analytics Ph.D. Student Fellows, and the Clean Energy Prize, awarded to the development of the Energy Terminal which helps build the next generation of of energy transition leaders.
Climate and Community Resilience
Collaborative partnerships with the Duke Office of Durham and Community Affairs align with decades of ongoing research at the Duke Forest, Duke Marine Lab, Duke Wetlands Center, Duke Lemur Center, Duke Campus Farm and others, to support our local, regional and global habitats and communities. Duke biologists have been working to create disease resilient crops without compromising yield. 
Duke joined an international team of scholars in writing a book, "Beyond the Academy", about making universities more supportive of applied interdisciplinary research, including sections on Duke's Bass Connections, DukeEngage, and the Nicholas Institute for Environmental Policy Solutions. And Duke policy experts, with agencies from five mid-atlantic states, are studying the "ghost forests" caused by expanding coastal marshes, and how the human and natural ecosystems around them are impacted.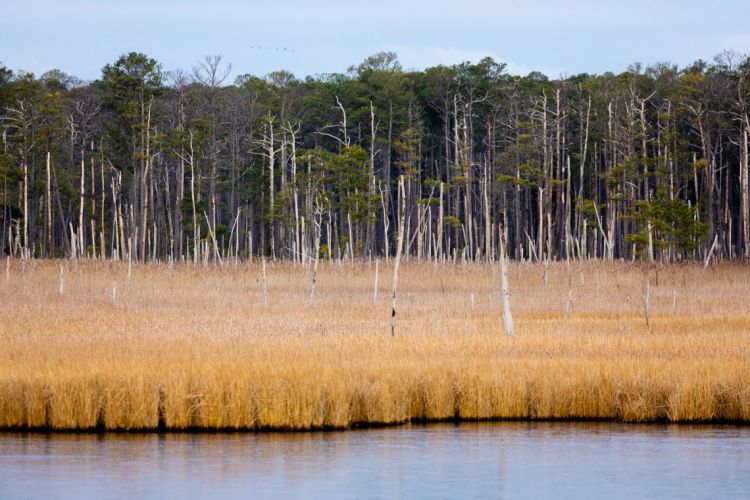 Environmental and Climate Justice
Duke draws from the region's deep history in the environmental justice movement to build on existing partnerships from across and beyond the university, and address the need for more equitable distribution of the opportunities and burdens in the university's climate efforts. Alabama activist Catherine Coleman Flowers, a winner of the prestigious MacArthur Fellowship for her work addressing environmental justice in marginalized communities, has worked with Duke students on projects for several years. She serves this year as a practioner-in-residence.
The Duke Marine Lab hosted "Pastoral Care for Climate Change: Weaving Together Science and Theology for Justice" to help Christians think about how to address climate change. Student journalist, Cameron Oglesby (a panelist at the Climate Commitment Announcement on Sept. 29), looks to educate others on how environmental justice laws and policy can protect the planet while and advocating for people. And Duke's connection to the 1982 protests against the government dumping PCBs near predominantly Black neighborhoods in Warren County, NC, is shown through alums who participated and documented the events.
Data-Driven Climate Solutions
The critcal work we are engaged in reflects the need for effective, accurate and ethical translation of large datasets across a range of topics and disciplines to respond nimbly to the challenges of the moment. This is possible through Duke's robust expertise in data science, mathematics, statistics, artificial intelligence and machine learning and can be seen in programs such as Data+ and Climate+ which help bring applied data science to interdisciplinary studies, faculty tracking climate change using artificial intelligence, and geospatial tools that track climate change's effects.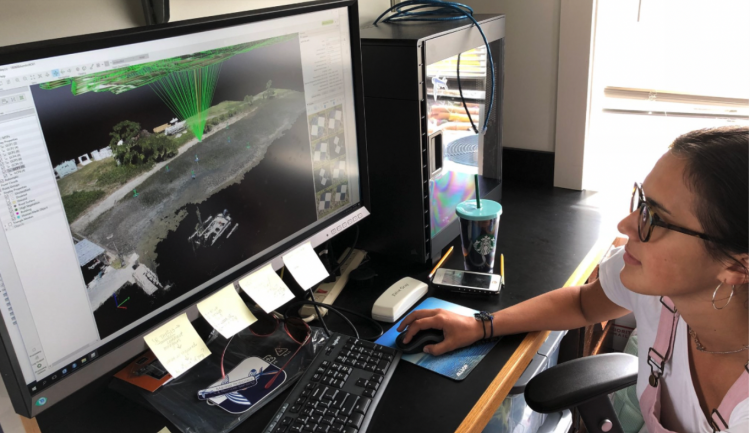 Each of these efforts advance every part of the university's mission and support the university's strategic framework's planks to empower bold thinking, create purposeful partnerships and transform teaching and learning.
Learn more and register for the event at climate.duke.edu.