Vincent E. Price Formally Installed As Duke's 10th President
The inauguration drew more than 3,000 people
In the middle of Duke University's West Campus on a sunny Thursday afternoon, Vincent E. Price was officially installed as Duke's 10th president.
The 105-minute ceremony, part of a two-day celebration, was marked by welcoming speeches, reflections on the university's history, music and prayer.
Speaking to about 3,000 people seated in neat rows of chairs in the center of Abele Quad, near the statue of university benefactor James B. Duke, Price said, "We commonly think of an inauguration as a beginning, and for me and (my wife) Annette this does mark the beginning of a new life here as North Carolinians, as part of this vibrant university and wonderful city of Durham … and the complete conversion of our wardrobes to that luminous shade of blue that marks us forever as Dukies.
"But what does this day mean for us here together, as we gather today on Abele Quad, in front of this magnificent chapel, at the foot of these majestic trees?  A beginning, yes, of sorts; but in an important sense no beginning at all. Rather another step, another iteration, in a long succession of events -- and presidents -- that have come before." (For the full text of Price's address, click here.)
Two former Duke presidents -- Richard H. Brodhead and Nannerl O. Keohane -- were among the many dignitaries who attended Thursday's ceremony. Brenda Brodie, the wife of the late Duke President Keith Brodie, also was present, as were more than 70 delegates representing educational institutions and learned societies.
Amy Gutmann, the president of the University of Pennsylvania, where Price was provost for eight years before being named Duke president, said of her former colleague, "He's a visionary with big plans, but wants your help refining them and bringing them to life."
There were also greetings from representatives of Duke employees, alumni, undergraduates, graduate students and faculty.
Speaking on behalf of the local community, Durham Mayor Bill Bell welcomed the new president, and praised him for his decisions to remove a statue of Robert E. Lee from campus and to raise the minimum wage at Duke to $15 an hour by 2019.
The inauguration kicked off with a procession of more than 400 distinguished guests, including trustees, faculty, representatives from other schools, student representatives and alumni, among others. Many of the guests wore colorful academic robes.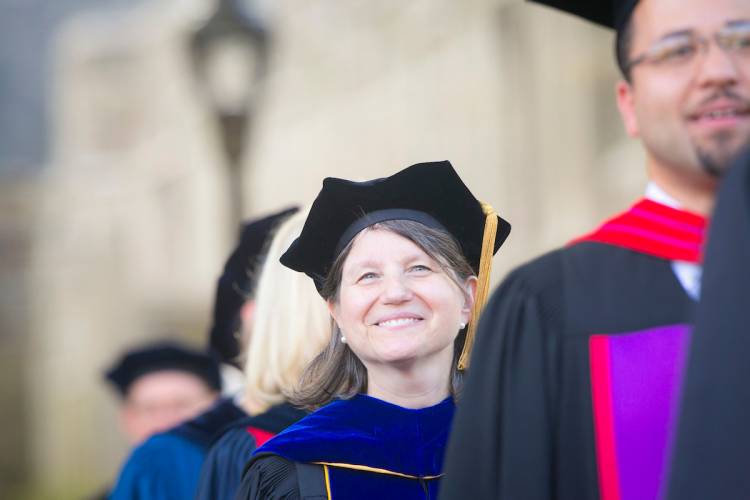 Later in the ceremony, Jack Bovender, chair of Duke's Board of Trustees, led the formal installation process. He presented Price with a copy of the university's charter that "confers upon this university all of its rights and privileges as an educational institution," the university seal "as a mark of dignity and a guaranty of this institution's values and honor," the school's bylaws "which should guide you in the administration of your office," and the Chain of the Office of the President, "which represents the responsibility of the office and reflects our historical connection to a system of higher education that is nearly a millennium old."
The formal installation of Price followed a procedure first adopted in 1920, when William Few was inaugurated as president of Trinity College, a precursor to Duke. Duke's previous inauguration in 2004 -- for Richard Brodhead -- was moved inside Duke Chapel as Hurricane Ivan threatened the region.
In remarks that followed the official installation, Price noted that throughout Duke's history, "each iteration of this institution has risen with purpose to meet the great challenges of its day and has shaded and seeded the ground for grander things to come. Each generation of Duke leaders has acted decisively in the face of ferment and turmoil to resist -- as President Few put it -- the mighty influences that would sway the university from its true course and to boldly accept the consequences of their choice.
"Today, this university is again facing a world in ferment. We are again besieged by influences that would divert or distract us from our missions of teaching and learning, discovering knowledge and of healing and serving society.
"We face difficult questions about what role higher education should play in an increasingly globalized, interconnected world. We live amid concerns about the sustainability of our trajectory, in light of pressures placed upon our students and their families. We hear criticisms from those who believe that elite universities are a barrier to -- rather than an instrument of -- the democratization of knowledge. 
"Again we are called upon to answer the challenges of the day.
"So let us think of today not so much as a beginning, but as another renewal: both a renewed commitment to the values that guided the choices of our predecessors at Duke, and a renewed charge to make bold choices of our own, choices that will permit this noble university in the forest to thrive and to shape the course of a still-new century."
Price said this renewal must begin where Duke began -- "in the classroom."
"Today's workforce, today's human needs, today's students -- all have been transformed by the digital age. So too must our ability to elevate them and shape them for the better."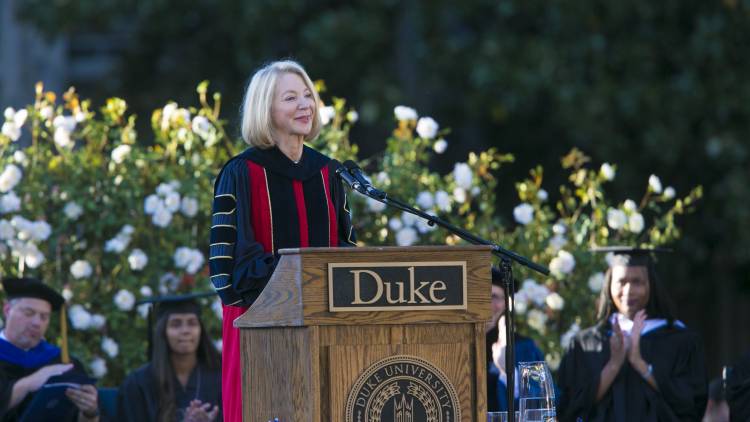 Price also called on Duke to renew its commitment to:
-- Lead in teaching and learning. "Let us boldly set about the work of again blending the very best of our past with the full technological capabilities our present now allows, and with an eye toward the scalability and adaptability that our future will surely demand."
-- Discovery. "The landscape of human knowledge and human challenge has changed; so too must our maps and tools for navigating them."
-- Opening our intellect "to the true shape of the world's needs and opportunities."
"Our new century cries out for a university where the drive to discover is not hemmed by disciplinary logics; where philosophers work side-by-side with physicians and physicists; where nurses find inspiration in narrative theory; where mechanical engineers team up with marine biologists or musicians."
-- Healing and serving surrounding communities. "Our new century demands that we prepare ourselves for a diverse and often chaotic world, whose challenges, controversies, and crises do not stop at Duke's gates. We need to work together to defend -- even to seek out -- voices that are different from our own. This is hard work, but if we are to heal the divisions in the world we have to open ourselves, honestly and deeply, to a diversity of perspectives."
Price concluded, "Today, then, we are called upon to renew one of the last century's great ambitions -- this Duke University -- for the new and very different century that lies before us. Ultimately, this renewal will require the active participation of every member of the Duke community: faculty, students, staff, alumni and neighbors.
"Together, we endow the university with our talents, our labor, our differences, our passion and our knowledge; and in so doing, we join a long succession of men and women who have renewed the Duke University of their day."
The ceremony, which purposefully highlighted the arts, included music from Broadway singer-actor and Duke graduate Aaron Lazar, the Duke Chorale, the Duke Wind Symphony and critically acclaimed bassist John Brown and his band. Brown is director of Duke's jazz program and an associate professor of the practice of music.
Following the ceremony, a reception was held at the Richard H. Brodhead Center, and fireworks illuminated the night sky over the chapel.
On Wednesday, a festival organized by students -- dubbed PricePalooza -- kicked off the celebration. The four-hour evening event on Duke's East Campus included food, music and carnival rides.
And prior to Thursday's inauguration, a faculty symposium explored the modern research university's role in public deliberation and in expanding the frontiers of human knowledge.
More details on the inauguration are available at https://inauguration.duke.edu/.