Laying the Groundwork for Another Safe Semester
Duke's robust entry and surveillance testing program ramp up as students return to campus amid COVID-19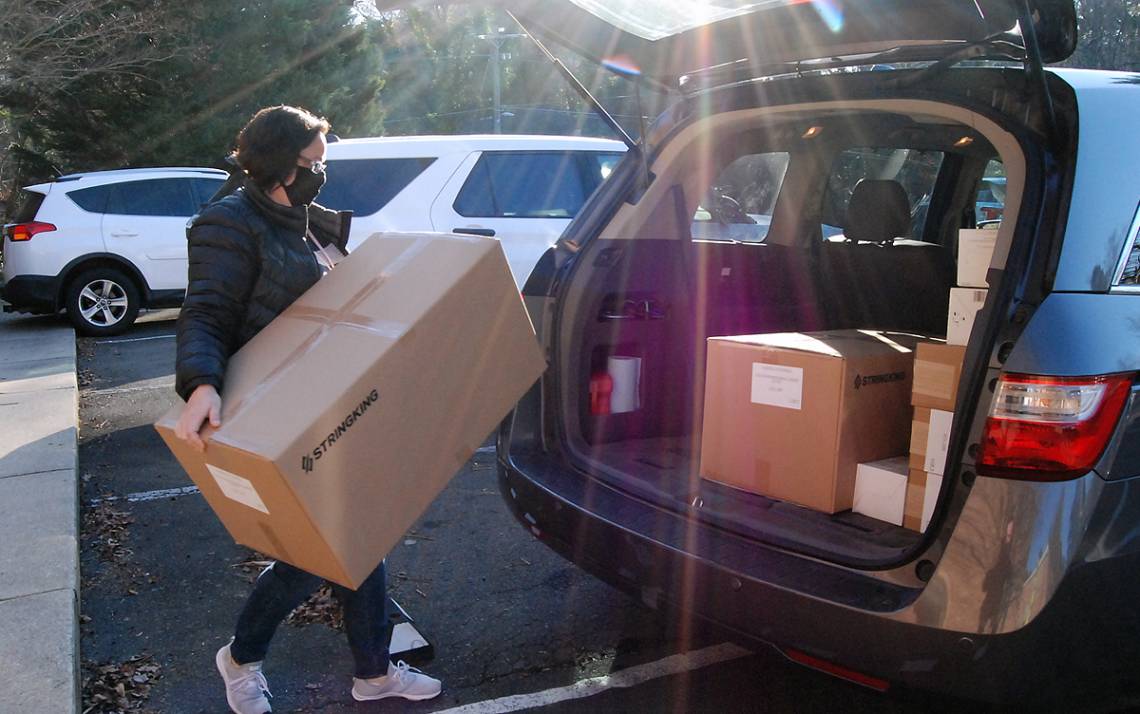 With students returning to campus for a second full semester during the COVID-19 pandemic, a more aggressive testing program is a key part of Duke's plan to slow the spread of the surging virus.
Duke's ambitious surveillance testing program, which regularly tests students, faculty and staff who frequent campus, will see its volume jump from 15,000 tests per week in the fall to approximately 20,000 per week this spring.
And unlike the fall, when students returned to campus before the testing program was fully in place, the program will be running at full capacity as students return for the start of classes on Jan. 20.
"We had a very integrated approach, and we learned a great deal," said Kyle Cavanaugh, Duke vice president for Administration. "Remember this had never been done before, and so as we were planning last spring through the summer, we learned a great deal about what worked, what didn't work and adjustments we needed to make."
The spring semester begins at a time when North Carolina is seeing new single-day records for new COVID-19 cases.
To keep campus safe, Duke will use an enhanced version of the blueprint it used to complete a fall semester that featured some in-person learning and no COVID-19 transmissions in classrooms. A major reason for the success was the Duke community's embrace of physical distancing, masking and hand hygiene, which experts point to as the three best ways to slow the spread of the virus.
But Duke also leaned on its robust system of entry and surveillance testing and symptom monitoring to stay ahead of the virus. The testing program required collaboration from entities across campus, from the Duke Human Vaccine Institute that developed a way to process batches of tests quickly, to redeployed staff members who oversee the function of Duke's 15 on-campus testing sites and one mobile unit.
"We feel like we were doing something important," said Tracey Perry, a redeployed program coordinator with Duke Human Resource's Office of Staff & Family Programs who serves as a testing site coordinator. "I look at my role as helping to make this a good experience for the people coming to be tested and to help Duke stay open."
This semester, all campus test sites feature new safety enhancements in the form of plexiglass dividers at testing stations and air purifiers that provide an extra layer of protection for on-site staff and test subjects.
"The risk was already incredibly low, but the additional safety measures will make it even safer," said Matt Sears, who manages Duke's surveillance testing operations.
While the testing systems are important, COVID-19 vaccines and behavioral approaches such as physical distancing, hand hygiene and masking are essential for continued success. 
"We know those measures really work," said Dr. Carol Epling, director of Duke's Employee Occupational Health & Wellness (EOHW).
And with on-campus housing open to additional students – mostly first-year students lived on campus in the fall – these safety practices will become even more important.
"Masking and physical distancing will continue to be the expectation, and we'll work with everyone to make sure they're following the rules," said Vice Dean of Students Amy Powell. "Hopefully we'll do the spring semester as well as we did the fall."
Part of that effort took place on campus Thursday when employees from around Duke dropped in to pick up boxes of face masks to distribute to faculty and staff. In this second round of mask distribution since the outbreak, about 60,000 masks will be distributed to university departments, schools and units.
As Karen Jackson picked up boxes containing 1,350 masks for her colleagues the Duke University School of Nursing, she praised Duke's continued efforts to slow the spread of the virus.
"It's really nice to be able to get these," said Jackson, an administrative assistant. "It makes you feel like your employer is thinking about you and making sure that you're staying safe."
For more on Duke's response to COVID-19, including plans for the spring and vaccines, watch this video Q&A:
Help share the proactive and extensive work being done by all Duke community members during the COVID-19 outbreak. Send ideas, shout-outs and photographs through our story idea form or write working@duke.edu.