COVID-19 Test Site Hits the Road
Duke begins using a van to administer COVID-19 tests to students off-campus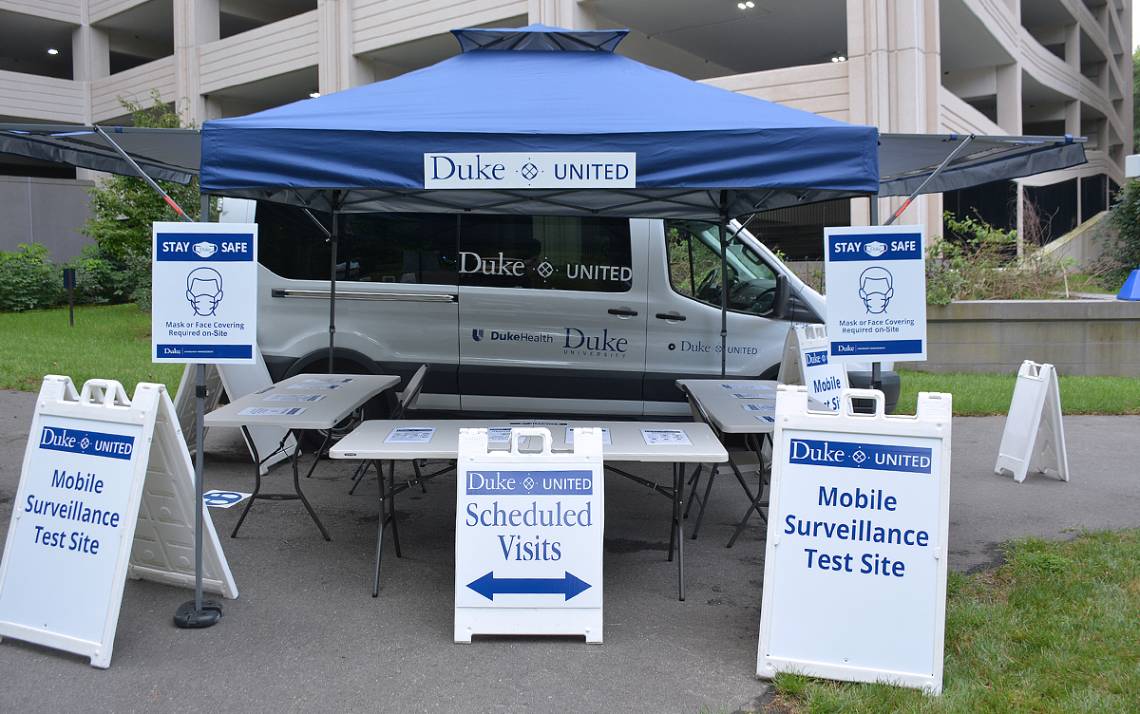 Duke's effort to stay on the trail of COVID-19 is getting a boost from a passenger van. 
The 12-passenger van, operated by Duke Parking & Transportation Services, will travel around Durham, making it more convenient for students living off-campus to receive a COVID-19 test. The van hits the road on Sept. 30, making its first stop at West Village apartments in downtown Durham.
"It's going to take the whole community to beat this pandemic," said Carl DePinto, director of Duke Parking & Transportation Services. "Hopefully, this spare van can make it a little easier for Duke students to complete their surveillance tests and keep the community safe."
The van will complement Duke's ongoing surveillance testing program, in which roughly 14,000 self-administered COVID-19 tests are submitted every week by undergraduate, graduate and professional students and staff and faculty who report to work on campus. 
The mobile test site will accommodate up to 300 tests per day and is expected to change locations every two days. Staff and faculty who must complete surveillance testing can also get their test at the site.
Weather permitting, the van will be on the road Monday through Friday, visiting apartment complexes off-campus. The vehicle is large enough to transport two tables for surveillance test staff members, along with test supplies, signs and a 10-foot by 17-foot tent for an outdoor test area.
Each day, an email will inform students and certain staff and faculty of an upcoming test and the location of the van, which features the Duke United logo. At the van, a staff member will greet students and direct them to one of tables for a self-administered test, which involves a nasal swab. After the swab, the student verifies their identity and deposits the test in a secure receptacle in the van. The materials are delivered to the Duke Human Vaccine Institute for testing.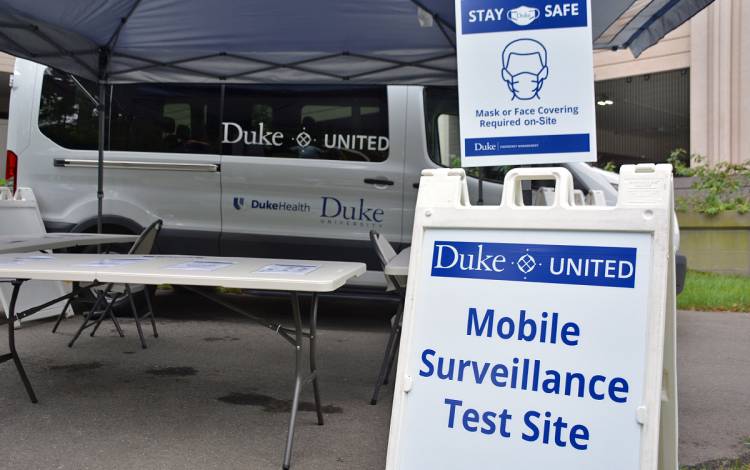 David Mallen, director of student affairs at the Duke Talent Identification Program and an administrator for the surveillance testing program, said the mobile testing van is a convenient option for off-campus students and employees working off-campus.
"The van makes it easier for students living off-campus to get their test and reduce the number of people we have on campus," Mallen said. "It's another step in our goal to provide an efficient, easy and safe testing experience for all our students."
Help share the proactive and extensive work being done by all Duke community members during the COVID-19 outbreak. Click here to submit ideas, shout-outs and photographs or write working@duke.edu.