Order Up! 150,000 Cloth Masks for Duke Community Members
Duke is providing three reusable masks to all staff, faculty and students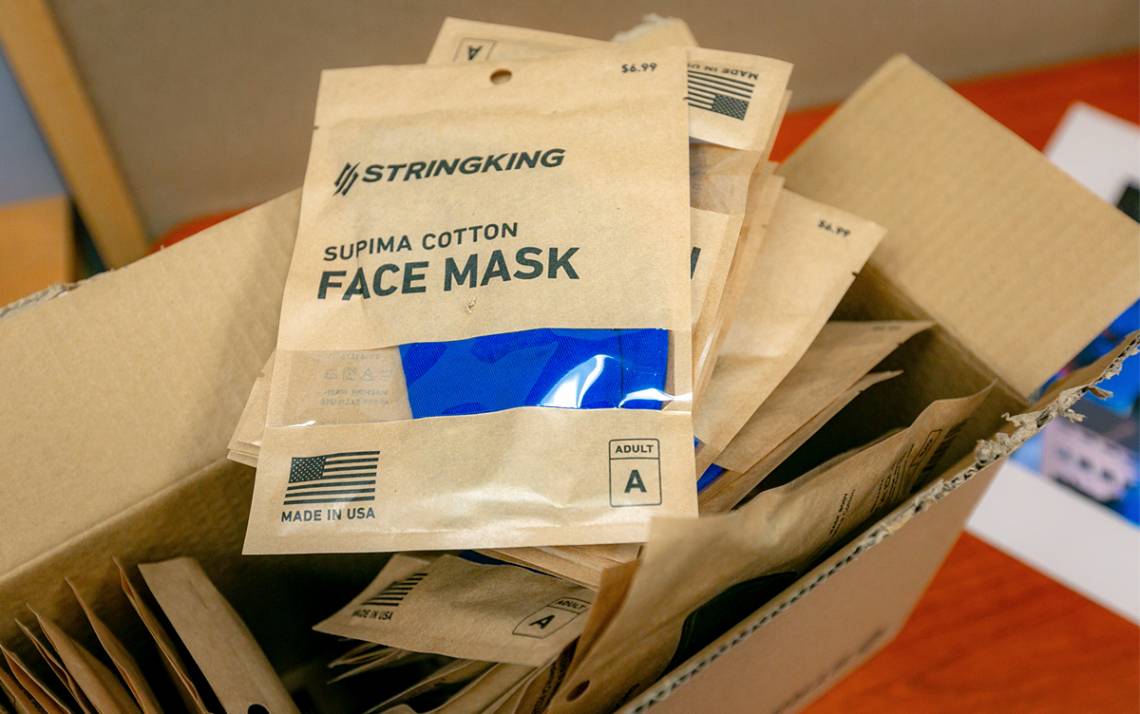 For the first time since mid-March, the office of Duke Human Resources was buzzing in July with activity as staff unpacked and sorted thousands of cloth face masks for distribution to staff, students and faculty.


The seven staff members – all wearing face coverings themselves – volunteered to unpack boxes, count and sort packages of Duke blue face coverings. They placed packages into cardboard boxes and plastic bags and labeled the supplies for representatives from schools, departments and units to pick-up.
In his cubicle, Human Resources Benefits Specialist Samuel Jackson packed 289 for the Sanford School of Public Policy. It was his first time back in the office since March 13. In a nearby office, Chenae Erkerd sorted nearly 700 masks for the Nicholas School for the Environment while listening to the musical "Hairspray."
"Why not help when I can? It's all for assisting the greater good, said Erkerd, a talent acquisition specialist for Duke Recruitment.
Providing face masks are part of Duke's return to the workplace protocols, which require all members of the Duke community who come to campus to complete daily symptom monitoring, wear face coverings in classroom and public settings and practice physical distancing.  
Over the past several weeks, Duke Procurement worked to secure 150,000 washable masks to distribute to Duke community members. The Supima cotton masks come from StringKing, a sporting goods and apparel manufacturer in Los Angeles. A group of leaders from Procurement, Duke Health and the Occupational & Environmental Safety Office (OESO) selected the non-medical grade masks for their double layer of cotton and adjustable ear loops of nylon and elastic.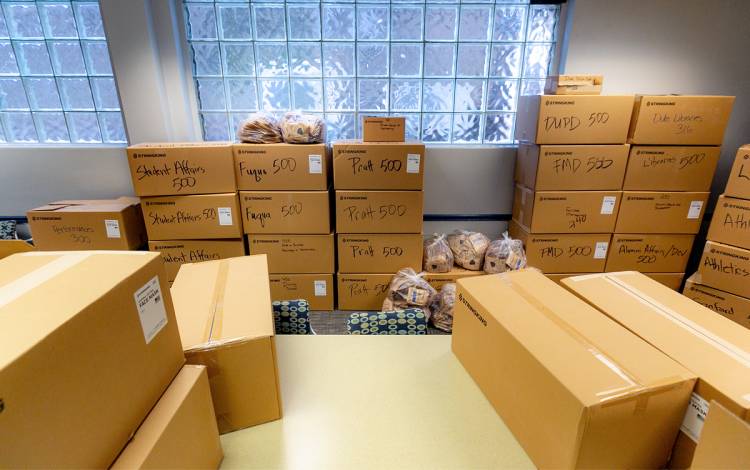 Return to work coordinators in university schools, departments and units are charged with distributing the allotment of masks to staff and faculty in their areas. Students will receive their masks when they arrive on campus. Masks were mailed home to Duke Health employees. 
"The three masks each employee and student receive will help our collective responsibility to practice prevention and protect ourselves and others," said Roger Lewis, senior sourcing manager for Duke Procurement.
In mid-July, the Centers for Disease Control and Prevention (CDC) called on Americans to wear a mask to prevent the spread of COVID-19.
As the Duke Fuqua School of Business return to work coordinator, Jill Tomlinson picked up 1,254 masks for Fuqua to distribute to 418 staff and faculty beginning July 20.
"There's been such excitement and appreciation for Duke providing these masks," said Tomlinson, Fuqua's associate dean for finance and administration. "I personally found the masks to be nice. They cover your face, they are breathable and the adjustable ear loops are a nice touch."
Duke is also providing transparent masks for employees, students and guests to wear when communicating with people with hearing loss. The see-through mask allows people to see facial expressions and emotions, catch visual cues and communicate with people.
Duke Disability Management System purchased the masks from ClearMask, a Baltimore-based company that makes transparent face coverings with an anti-fogging, protective shield. Offices and individuals in need of a transparent face covering can contact Duke Disability Management System.
"It's really important for us to keep the needs of individuals with disabilities in mind while working for overall campus safety during the pandemic," said Leigh Fickling, director of Duke Disability Management System. "The clear mask is a tool that we can use to meet both goals of being inclusive and keeping everyone safe."
Christopher Lunsford, a pediatric physiatrist for Duke Children's Hospital & Health Center, has partial hearing loss and relies on lip reading to complete his comprehension of what people are saying. He asks patients and their family members to wear transparent masks so he can read their lips. 
"I talk to patients and their parents for sometimes 45 to 60 minutes about complex care and medical conditions," Lunsford said. "Those conversations are hard enough without me spending my mental power understanding what's being said if I can't read their lips. It's a relief to have the transparent masks." 
Katie Henningsen, who leads research services for Rubenstein Library, worked with Duke University Library colleagues to obtain about 70 see-through masks from Disability Management. Employees at Lilly Library, Perkins Library and the David M. Rubenstein Rare Book & Manuscript Library will keep masks in stock to communicate with someone who has hearing loss. 
"It's important for people to feel comfortable approaching a librarian to ask questions or for help," said Henningsen, head of research services for Rubenstein Library. "The clear masks are another way we can make Duke Libraries feel safe and inclusive."
Time Lapse Video: Watch Duke staff unpack and sort masks for pick-up.
Help share the proactive and extensive work being done by all Duke community members during the COVID-19 outbreak. Send ideas, shout-outs and photographs at this link or write working@duke.edu.