The Value of Duke's Employee Health Coverage
How Duke's employee medical benefits protect physical and financial well-being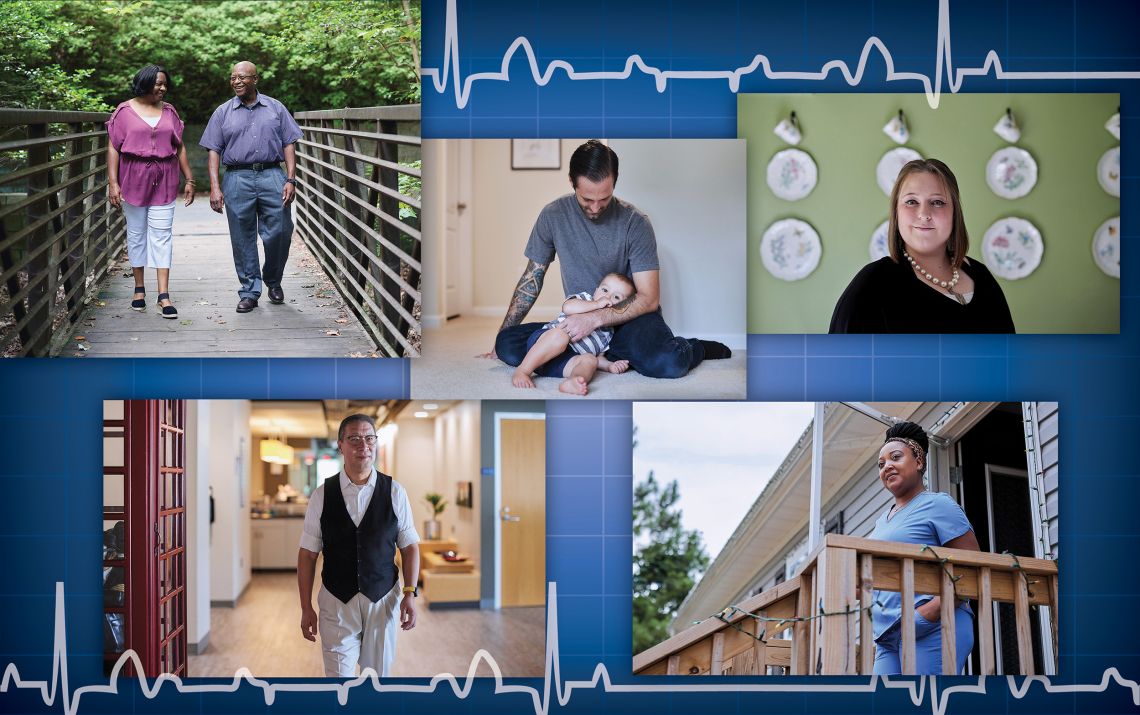 How Duke's medical benefits protect physical and financial well-being
One morning in June 2018, Gordon Wang walked to the J.B. Duke Hotel, he assumed, to provide support for a Weekend Executive MBA class, something he hadn't done in months.
Once there, he was greeted by smiling colleagues and students and a banner: "Welcome Back Gordon 2.0!!!"
Overwhelmed with gratitude, Gordon, who months earlier was fighting for his life, couldn't form words. All that came were tears.
The previous summer, doctors diagnosed Gordon, an IT analyst for the Fuqua School of Business, with a rare autoimmune disorder and discovered a tumor on his thymus gland. He spent the next three months hospitalized, enduring multiple surgeries, three weeks in intensive care, and several rounds of radiation treatment.
Once home in Durham, Gordon, in his early 50s, needed months of physical therapy to walk again. Without family nearby, his colleagues at Fuqua, where he's worked since 1996, became one. They took turns mowing his lawn, organized a blood drive in his honor, and delivered months of home-cooked meals like barbecue and spaghetti and meatballs.
"Not many people go through experiences like this," Gordon said. "I was incredibly lucky."
He lost count of exact figures but knows his hospital stay in 2017 cost more than $1.5 million. With his insurance plan through Duke, he only paid a $600 co-pay for the inpatient admission.
"I was afraid that I was going to be hit with some bill that would wipe out my savings," he said. "This saved my financial life."
In the wake of inflation and the COVID-19 pandemic, Duke's employee medical insurance plans safeguard physical and financial health and protect what matters most. Staff and faculty medical plans remain exceedingly popular, as around 90 percent of eligible individuals choose to enroll, higher than the 77 percent average for employers in education, according to the Bureau of Labor Statistics.
In the past fiscal year, Duke paid $302 million for health concerns of participants, up $14 million from the previous year. That includes $25 million for cancer treatments, the third largest category for spending. The largest was musculoskeletal concerns, which include arthritis.
In 2023, insurance premiums remain competitive among peers with monthly premiums for Duke's most popular plan, Duke Select, rising $5 for individuals and $31 for families.
"At Duke we're constantly trying to ensure that our benefits plans don't only fit the needs of planned life changes, but also support you and your loved ones when you face an unexpected event," said Duke Interim Vice President for Human Resources Antwan Lofton. "And while we're not charging as much as our industry peers are charging, we're offering a benefits package that's much richer than what our peers are offering."
With open enrollment for medical, dental and vision coverage running from October 17 to October 28, colleagues share how their Duke health insurance benefit saved them from a health and financial crisis.
---
'It Saved My Life'
Stephanie Roberson stood at the CVS Pharmacy counter with an impossible decision to make in 2018. A Type 1 diabetic since age 6, she started to cry.
She couldn't afford rent, groceries, and a weekly supply of insulin, which cost $300 through her former employer's insurance plan. She explained her predicament to the pharmacist, a stranger who paid for half of the prescription.
"I often had to either buy my insulin and go without food or vice versa," said Stephanie, 28. "I ended up in the hospital in diabetic ketoacidosis for five days with a 1,000-blood sugar reading because I was trying to stretch my insulin."
That day was a breaking point for Stephanie, who had a $13,000 deductible under her former employer's plan. She decided to search for a job with a benefit plan that prioritized a person's health. Later in 2018, she landed a role at Duke, and she's been enrolled in the Duke Select health plan since.
"I truly believe it saved my life, as so many people die because they can't afford their insulin and they stretch it," said Stephanie, a financial care counselor for Duke Physical and Occupational Therapy of Knightdale.
In 2021, Duke paid $11.8 million to cover care and pharmacy costs for 4,360 staff and faculty and their dependents for treatment of diabetes.
Stephanie, who now pays $50 each month for medications, got married and was able to afford a house in Rocky Mount.
"I don't have to stress about if I should spend my money on my insulin or food," she said. "I am thankful for Duke and the medical insurance they provide every day."
---
Protection for the Unexpected
Zach Smith, a grants and contracts administrator for the Duke Heart Center, knows he's got to keep his head on a swivel for his son, Fritz. As the youngest of three boys, Fritz, who turns 2 in December, isn't afraid of much.
"He doesn't know his limits," Zach said. "You can't sit down to enjoy a cup of coffee because he'll try to get up on the dog crate, or the kitchen island, or climb the stairs."
After a health scare two years ago, reining in Fritz' wild streak is a problem his father is extremely grateful to have.
On Christmas Day 2020, Zach and his wife, Honor, noticed that three-week-old Fritz seemed especially fussy and didn't have much of an appetite. The next morning, Fritz developed a fever, and caregivers at Duke Urgent Care Holly Springs referred him to Duke University Hospital.
Once there, doctors determined Fritz – whose fever spiked at 103.2 – had a group b strep infection, which required a week in the hospital for intravenous antibiotic treatments.
During nervous nights staying with Fritz, Zach recalled walking around the unit and wondering what faced other young patients. On parental leave from Duke, and with medical insurance he knew would cover most of the expenses, he said he was aware of how fortunate his family was.
A 2022 Kaiser Family Foundation (KFF) survey reported that 72 percent of adults with medical debt said it came from a one-time, short-term medical expense such as a single hospital visit. The cost of Fritz' hospital stay was around $25,000. With Zach's Duke Select insurance, they only paid a $600 hospital stay co-pay.
"In that moment, I felt very grateful to be able to have this coverage and do the kind of work I do," Zach said.
---
Staying on a Healthy Path
Several years ago, while driving home from work, Keaira Pettiford struggled to stay awake.
Her symptoms were concerning, but the medical plan provided by her employer at the time was not affordable, so for two years, she was uninsured.
"On so many occasions," said Keaira, 31, "I had to ignore and push through some health problems that I experienced without seeking professional medical help because I could not afford the expenses that came along with seeing a doctor."
According to Kaiser Family Foundation (KFF) polling, about four in 10 U.S. adults have delayed or gone without medical care in the past year due to costs.
Keaira, now a pharmacy tech for Duke Outpatient Pharmacy, is enrolled in the Duke Select medical plan and sets routine preventive care appointments to ensure she's on the right path. Under each of Duke's medical plans, one annual visit with an in-network provider for preventive care is fully covered. All preventive screenings are covered in full under Duke's medical plans.
To diagnose her sudden bouts of sleepiness, she has undergone a sleep study, endoscopy, and CT scan in the past year, all at reasonable costs.
"I'm able to see a doctor for any healthcare concerns I may have and won't have to break the bank to do it," Keaira said. "It is an incredible feeling when you feel like you finally have control over your own healthcare."
---
Letting Life Go On
As she dropped her husband, Anthony, off at Duke University Hospital's Emergency Department in 2020, Renee Hunte recalls the scene being eerily quiet. A staff member, clad in a mask and face shield, helped Anthony into a wheelchair and rolled him inside.
Weeks earlier, Anthony had been hospitalized with COVID-19. After being released, the virus kept taking a toll, forcing a second hospital admission, which before vaccines, was extremely worrisome.
A man of deep faith, Anthony held tight to his Bible, peaceful in his acceptance of whatever lay ahead. Nearby, Renee, who moved her family from Arkansas four months earlier to become a manager for Child Life Services at Duke University Hospital, couldn't silence her worries.
"How am I going to raise two children by myself?" Renee thought to herself.
"How am I going to do this? We just moved here."
Duke's employee health benefits' deep value comes in protecting what's truly priceless: family members. In the 2021-22 fiscal year, Duke paid $110.2 million for the health care costs of the dependents of staff and faculty members.
Over eight days, Duke caregivers helped Anthony, who was covered under his wife's Duke Select plan, get well enough to return home, where his recovery continued.
"If I wasn't at Duke Hospital, I wouldn't be here, I believe that in my heart," Anthony said. "The treatment I got was absolutely phenomenal. And afterward, I was surprised we didn't get more substantial bills."
Send story ideas, shout-outs and photographs through our story idea form or write working@duke.edu.