Find Your Campus Spot to Get Centered
Spots set aside for prayer and reflection dot Duke's campus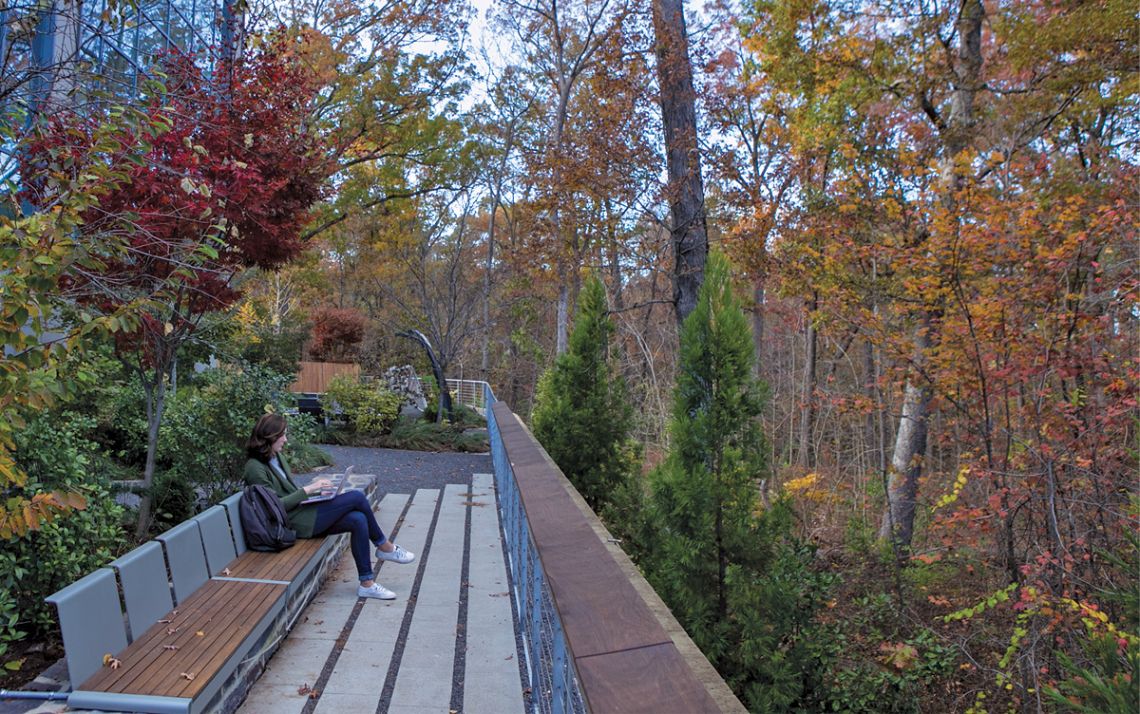 A few days each month, Penny Wheeley-Triplett makes a point to maintain a ritual for herself.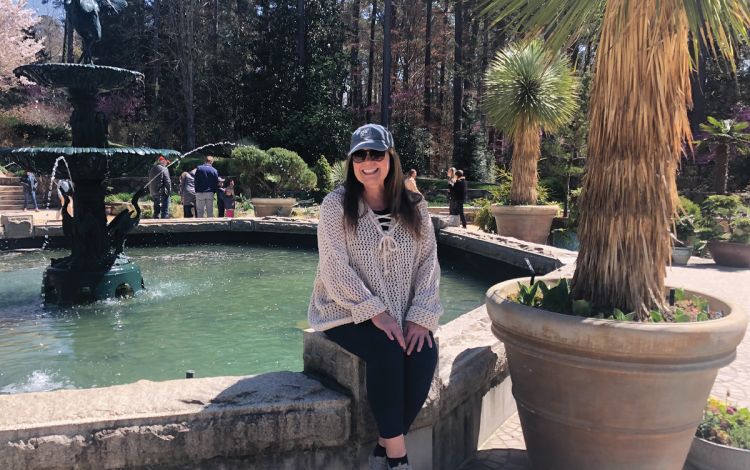 Wheeley-Triplett, human resources manager for Medical Education in the Duke University School of Medicine, comes into work early to knock out a few pressing tasks, including email. Then, sometime mid-morning, she walks from her Davison Building workspace to Sarah P. Duke Gardens, where she spends a few minutes on paths that weave between ponds, flowers and groves of trees.
In her 21 years at Duke, she's found these quiet, reflective walks in the gardens to be helpful in keeping her centered.
"It's just a relaxing space, it's very healing," Wheeley-Triplett said. "Whenever I meet new employees, I always tell them about Duke Gardens, and how you can just go take a walk and reflect. It's always helped me."
Whether it's Duke Gardens or Duke University Chapel, or small, quiet spaces tucked away in campus buildings, Duke offers several places that either welcome, or are specifically designated for meditation, prayer or reflection. On a campus filled with spaces designed to spark conversation and collaboration, these quiet spaces are aimed at helping members of the campus community find moments of peace, which are especially important during stressful times.
"Duke tends to be a very extroverted campus, and so it can be a very hard place for people that are introverts," said Tom Szigethy, director of DuWell and associate dean of students. "These spaces give people a space to rejuvenate, to be able to drop their stress, get centered and walk into the remainder of their day."
Whether you're looking for a place to express your faith, or simply find a tranquil moment, here's how to find the spot for you.
Tranquility on Campus
Just a few steps away from the main entrance to the Fuqua School of Business, not far from the busy Kirby Winter Garden and McClendon Dining Room, there's a small space designed for tranquility. Fuqua's Interfaith Prayer & Meditation Room features soft lighting, a comfortable bench and enough floor space to kneel or sit.
"It's really important to make sure we have these spaces available in order to build an inclusive community and promote the importance of taking a moment for private prayer, reflection or meditation," said Madeline Hoy Perez (Dreher), associate director of Student Life at the Fuqua School of Business. "Sometimes we all just need to take time to break away."
Rooms such as these can be found in many major academic buildings across campus, from Grainger Hall to the Duke University Law School. And in recent years, a team from the Office of Housing and Residence Life, DuWell, Muslim Life at Duke and Duke University Chapel has maintained an online map showing around 15 spots on campus set aside for prayer and reflection, many of which are in buildings housing classrooms and labs.
From the Murphy-Nimocks Meditation Garden on West Campus to a prayer hallway in the Fitzpatrick Center for Interdisciplinary Engineering, Medicine and Applied Science, there are places that campus community members may not know about.
"Having a room that you can go into, where it's known that this is a meditation room, it's a room for prayer, it's a room for wellness, it's a lot more appropriate and comfortable to pray in those spaces," said Joshua Salaam, Duke's Muslim Chaplain. "You don't have to look for places, or hide, or ultimately miss a prayer.
Bringing Peace to Patients
When the Duke Cancer Center opened in 2012, it contained resources to deliver world class cancer care. And on Level 0, there's also an 800-square foot oasis of calm.
The Duke Cancer Center's Quiet Room has been a place where patients, their families, and faculty and staff can go for peaceful contemplation amid soft colored lighting and comfortable seating. 
"It's like an escape," said Kristy Everette Sartin, Director of External Relations for Supportive Care & Survivorship at the Duke Cancer Institute. "If you're feeling anxious, you can go there and come out and feeling refreshed. It's just a little place you can go when you need a moment. Duke Cancer Institute is built on providing comprehensive care, which goes beyond just the physical self. To be able to provide a space for reflection, respite and healing fits into what our mission is."
The Hub of Duke's Spiritual Life
While her workspace is on the lower level of Duke University Chapel, the Rev. Kathryn Lester-Bacon, director of Religious Life at Duke University Chapel, walks through the sanctuary of the campus landmark several times a day.
In the wooden pews, beneath the stained glass and soaring arches, she'll often find people sitting quietly, locked in their own meditative moment.
"Throughout the day, you'll see someone sitting in the pews for some purpose," said Lester-Bacon, who also helped develop the map of campus places devoted to quiet reflection. "Patients come over from the hospital. Students make their way in. I've seen nurses and facilities workers, and patients' families. There's a wide range of people who find themselves sitting in the pews. I'm so glad the space is being used in that way."
While Duke University Chapel hosts religious services, it's a space that welcomes all. Everyone is encouraged to spend time in the space.
"You can just linger there," Lester-Bacon said. "There's no time allotted. There's nothing you have to do. You can just be in the pews."
Find Balance in Nature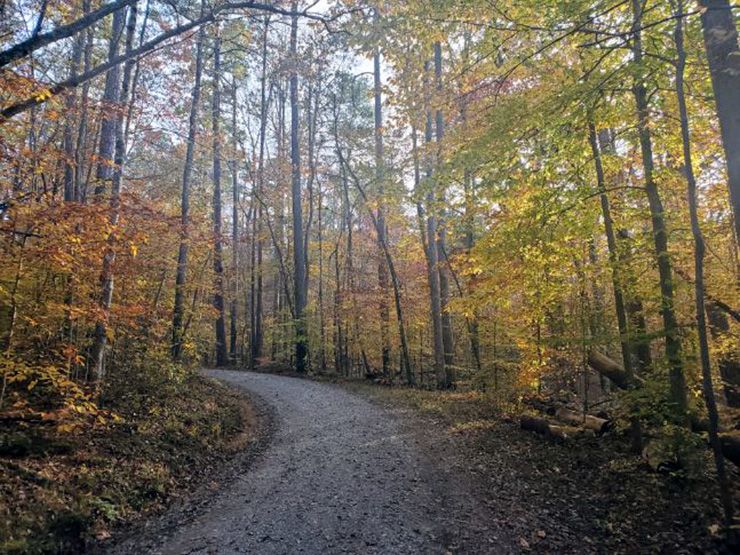 With 7,100 acres in Durham, Orange and Alamance Counties largely devoted to learning and teaching the science of forests, Duke Forest is Duke's largest classroom and research lab. 
With roughly 12 miles of public trails, the forest is also a welcome outdoor refuge to people looking to enjoy the peace and quiet of nature.
For Brittany Nave, a clinical research coordinator in Duke Pediatric Neurology, the trails of Duke Forest are where she finds much-needed tranquility. Whether alone, or with colleagues, her post-workday runs on the Al Buehler Trail, or her longer weekend treks through the Korstian Division, give her time to recharge.
"It clears my brain," Nave said. "I think spending time outside is just important for humans. I think the more outside activities you can do, the healthier and happier you tend to be."
Send story ideas, shout-outs and photographs through our story idea form or write working@duke.edu.