Coming Out Day: Living Authentically at Work
Duke LGBTQ+ colleagues share the importance of bringing their whole self to life
For years, Ciara Healy fended off assumptions others made about her identity.
In high school, because she was labeled a "tomboy" and played softball and soccer, classmates judged her. In graduate school, after falling in love with a woman, Healy realized she was queer.
"It wasn't like this quiet secret in me," said Healy, now 52, the Librarian for Psychology & Neuroscience, Mathematics and Physics in Duke University Libraries. "I was just like, 'Oh, wow, this is great.' And that was my introduction to this identity, this life that I now carry with me.'"
When she came out to family and friends while in graduate school, Healy marked an important moment because she took ownership over living out her authentic self. Since joining Duke in 2011, she has found Duke's inclusive culture comforting to express her identity, and in 2017, she helped organize WorkOUT, a group that builds community and support among LGBTQ+ staff and faculty at Duke.
While each person sets their own comfort level with expressions of identity at work, 46 percent of LGBTQ+ workers nationwide do not disclose their sexual orientation and/or gender identity at work, according to the Human Rights Campaign (HRC).
National Coming Out Day, held annually on Oct. 11 since 1988, marks the celebration of authenticity and visibility for LGBTQ+ people on the anniversary of the second major National March on Washington for Lesbian and Gay Rights. This year, the Human Rights Campaign has announced the 2022 theme as "Born to Shine!" The organization says that when people know someone who is LGBTQ+, they are much more likely to support equality under the law.
At Duke, Coming Out Day will be celebrated on Oct. 14 due to fall break falling on the national observance. Allies and LGBTQ+ faculty and staff, along with students, are invited to participate in festivities hosted by Duke's Center for Sexual and Gender Diversity (CSGD) from 11 a.m. to 2 p.m. outside of the Bryan Center.
Angel Collie, interim director for CSGD, said that "coming out" can be a daily challenge for LGBTQ+ people at work, who must weigh their ability to be authentic against safety and potential for judgment and bias or discrimination.
"Every day there are decisions that have to be made around how queer and trans people show up in the world – when we talk about our lives, when we share our pronouns, when we talk about those as the decisions that have to be made," he said.
Sarah Smith, a counselor with Duke Personal Assistance Service, said that when LGBTQ+ professionals can bring their "whole self" to work, the workplace can be seen as a safe and welcoming space, which boosts happiness, mental well-being and productivity.
"When you're looking at authenticity, it's really about finding your own voice and feeling like your thoughts, your values, your dreams and your perspective counts," Smith said.
Duke has been committed to cultivating inclusion for LGBTQ+ staff and faculty. From 1995 until gay marriage was legalized in 2015, Duke provided health care benefits to same-sex partners of employees. Duke has since updated benefits plans so that same-sex married couples have the same legal access to benefit coverage and tax filing status as married opposite-sex couples at Duke. In addition, Duke's nondiscrimination policy was amended in 2007 to cover "gender identity" and again in 2016 to include "gender expression."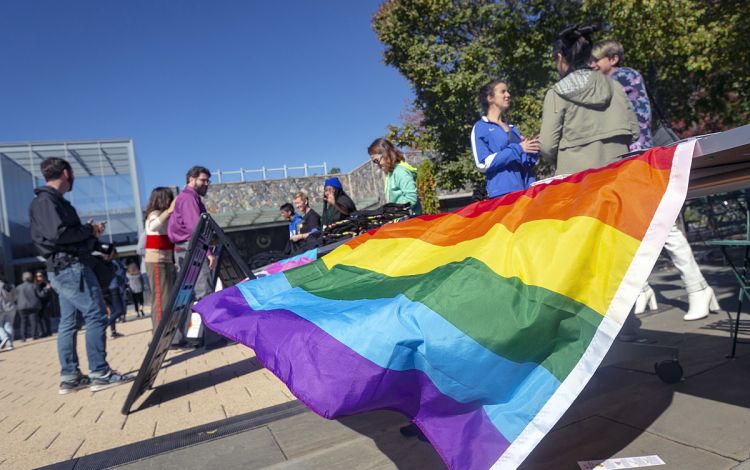 While benefits and policies are important, Collie, who came out as lesbian at 13 years old and as a trans man at 15, said support from allies – people who are not LGBTQ+ themselves – is key for an inclusive workplace culture.
Given the recent passage of anti-transgender legislation across the country, Collie said moments of support and kindness – colleagues who sent him a note to see how he's doing or displays of a rainbow flag or sticker in someone's office — go a long way to helping him feel safe and included on campus.
"People assume they have to know and have it all figured out to be an ally or be affirming of queer and trans people," Collie said. "I don't think that's necessarily true. You don't have to have it all figured out to be kind, affirming and respectful. Education helps us to avoid missteps, but there are so many simple things that we can do that make a difference."
To help increase awareness of issues affecting people with marginalized sexual orientations, gender identities and gender expressions, CSGD offers Duke P.R.I.D.E workshops that are free and open to the campus community. The training is designed to equip individuals with helpful tools to assist them with responding to and dismantling cissexism and heterosexism at Duke and beyond.
One session, Allyship and Action, provides concrete actions to provide tangible support, engage in advocacy, and move toward greater social equity for individuals with marginalized sexual orientations, romantic orientations, gender identity, and gender expressions. The next offering is Oct. 25.
In the Duke University Health System, the Duke Health LGBTQ Alliance, an affinity group open to all, is a resource that connects employees with professional networking, social events and community.
With family, friends and coworkers who are LGBTQ+ community members, allyship is important to Maggie Oakes, interim nurse manager on the Mother-Baby Unit at Duke Regional Hospital. An ally, Oakes has attended trainings and workshops, wore a rainbow-colored badge holder and marched in the Pride: Durham, NC parade around East Campus on Sept. 24.
"As a leader, it's important to me because I want that rapport with people that I work with," said Oakes, who is a cisgender, heterosexual female and a member of Duke Regional Hospital's Diversity Leadership Team. "I want everyone to feel very comfortable. I have an open-door policy, and I want everyone to feel very comfortable coming through that door…everyone should come here wanting to be at work, feeling safe and supported."
Oakes said it's the responsibility of allies to foster a work environment where colleagues feel they can be authentic. To her, allyship is part of living up to the standards of Duke.
"A lot of this goes back to the Duke Values," Oakes said. "If we really follow those fully, then we will encompass a lot of what we need to do professionally to be respectful of each other."
Send story ideas, shout-outs and photographs through our story idea form or write working@duke.edu.