Join Duke's Staff and Faculty LGBTQ Group
WorkOUT meets for monthly lunches, socials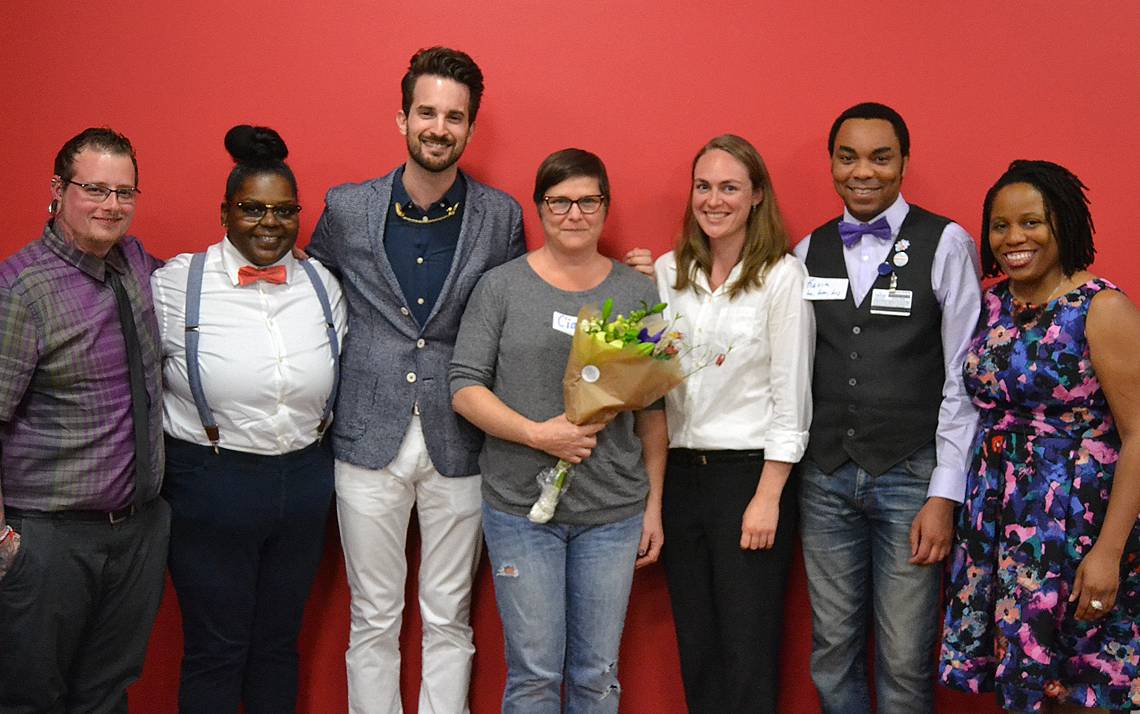 About a year into his job as benefits specialist, Kevin Wilson was at a Duke Human Resources employee orientation when someone approached to ask him if a staff and faculty LGBTQ group existed on campus.
Wilson searched Duke websites and discovered a gap in LGBTQ groups for staff and faculty on campus. He teamed up with Ciara Healy, an associate librarian at Perkins Library, and Alayne Wood, student services coordinator, to plan the group.
Last summer, in a partnership with the Center for Sexual and Gender Diversity, WorkOUT: The Duke Faculty and Staff LGBTQ Affinity Group was born.
"It's just about having a community that you can go to and share some experiences with," Wilson said. "It's a place to come where you're not the only person who identifies the way you do. You can share your experiences and not feel judged."
WorkOUT helps build connections between LGBTQ staff and faculty across the Duke community to better support each other and students. Wilson, who previously worked with Xerox in Cary, took inspiration from a similar concept at his old job.
The group generally meets for a monthly lunch on campus and has hosted socials at Durham restaurants and attended the NC Gay + Lesbian Film Festival. Upcoming events are lunches Oct. 19 at Sarah P. Duke Gardens and Nov. 16 at The Commons, plus a Fall Social from 5-7 p.m. Dec. 1 at Motorco.
Employees who want to join the private Facebook group or receive emails from WorkOUT can contact Healy, who got involved with the group early. She has been adding WorkOUT events to the Duke Event Calendar.
At a recent meeting of WorkOUT, she was struck by the diversity of the attendees – people of all ages, ethnicities, identities and departments.
"There's no barrier," Healy said. "It was the most normative experience. We want to keep up with that."
Other ways staff and faculty can get involved in LGBTQ life at Duke is by joining OUTDuke, a resource list created by the Center for Sexual and Gender Diversity to promote visibility, awareness, and networking. The OUTDuke list features profiles of staff and faculty (including post-docs and visiting scholars) at Duke. Their presence on the list speaks to their willingness to be contacted as an informal resource for other faculty, staff and students.
Another way to get involved with the LGBTQ community is to stop by the Center for Sexual and Gender Diversity's "Coming Out Day" celebration on Oct. 12. From 11 a.m.-2 p.m. CSGD will be on Bryan Center Plaza passing information about the LGBTQ community at Duke. National Coming Out Day is on Oct. 11.