A Life Dream: Running the Boston Marathon
At age 62, staff member Mark Walters will run the marathon on April 18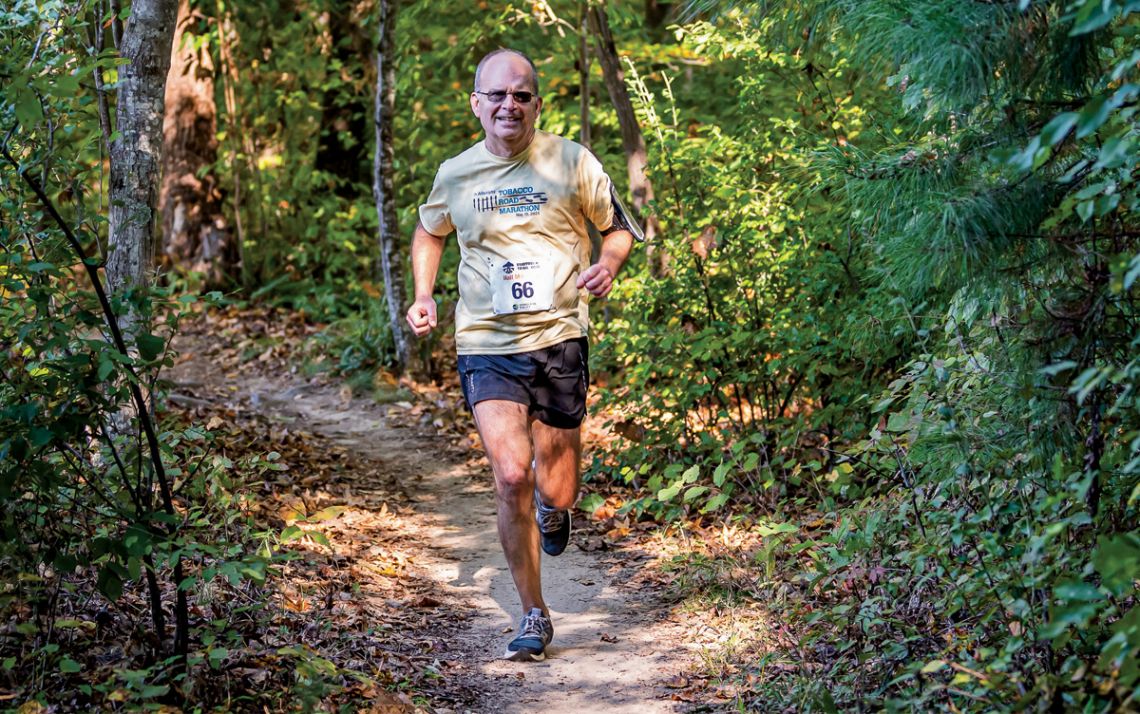 Update: Tuesday, April 26
Mark Walters choked back tears when he saw his family waving and yelling from a familiar spot, in the same neighborhood where he had once been a spectator for the Boston Marathon.
With his wife, daughters and their significant others wearing bright red shirts with white letters that read "Marathon Mark's Motivators," they were a welcomed sight just after he finished the uphill climb of Heartbreak Hill, the largest and final hill of the race that begins at the 20.5-mile mark.
Coming back down off the challenging elevation change, Walters legs started cramping, slowing him down for a few minutes. But the support of seeing his family on flat ground again gave him the energy to keep going.
"I've made it," Walters thought as he saw his family.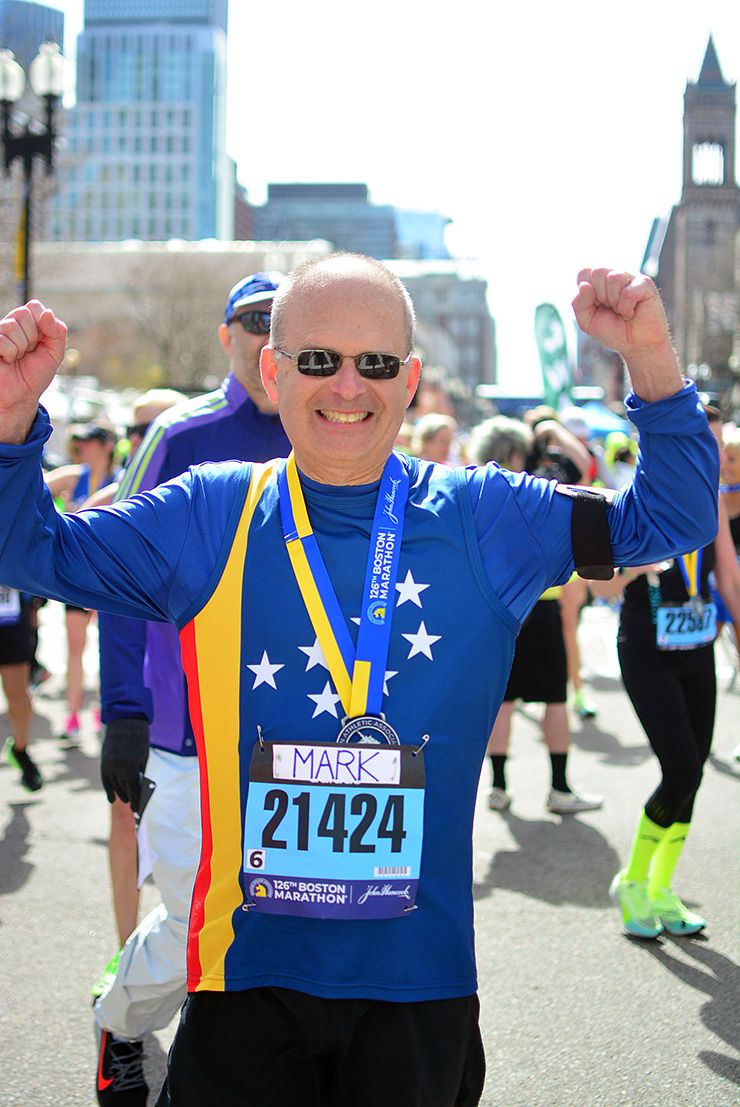 After stopping for only a moment to give his wife a hug and a kiss, he continued on the final stretch to finish for a time of 4 hours, 3 minutes and 55 seconds.
"Seeing the finish line at any marathon is always a huge thing. The Boston Marathon finish line was pretty emotional. They say you run the first 20 miles with your legs and the last six with your heart," Walters said. "By then, it was all heart coming through; my legs were almost totally gone. Seeing the finish line pumped me up and got me going with a sense of accomplishment and overall satisfaction. I've been trying for this for so long, and here I am at the finish."
Original Story:
In the spring of 1982, Mark Walters handed out orange slices from the sidelines of the annual Boston Marathon as he cheered on runners at mile 21. It was then, as a 22-year-old graduate student at Boston College, when Walters first set his sights on a dream.
"It was just so inspiring," said Walters, director of the Shared Materials Instrumentation Facility (SMIF) in the Pratt School of Engineering. "I had never seen a marathon live before that, and in the back of my mind, even then in 1982, I said, 'Someday, I'd like to run this race.'"
But over the years, work priorities and time commitments as he raised a family put long distance running on hold.
Now at 62 years old, Walters has qualified for the 26.2-mile Boston Marathon, which he will run with 30,000 others on April 18. He'll lace up his bright orange Saucony Endorphin Speed shoes and do what he loves, four decades to the day after he stood a block from his apartment watching runners in 1982.
"Boston is the most famous race of all time," said Walters, who has worked at Duke 20 years and keeps a 26.2 coffee mug in his office, representing the number of miles in a marathon. "It's the grandaddy of them all."
The journey back to Boston wasn't easy. After 20 years without a regular running regimen, Walters scheduled a fitness consultation in 2011 with LIVE FOR LIFE, Duke's employee wellness program. In that session, he shared that he had trouble running more than a few minutes without getting winded, but he wanted to run.
During the LIVE FOR LIFE consultation, the staff member helped Walters tailor a program that built him up to running a 5K over the course of a few months while participating in Duke Run/Walk Club.
Tim Bisantz, Fitness Program Manager for LIVE FOR LIFE, said Walters is a perfect example of how fitness consultations or other wellness programs help support Duke staff and faculty with health aspirations.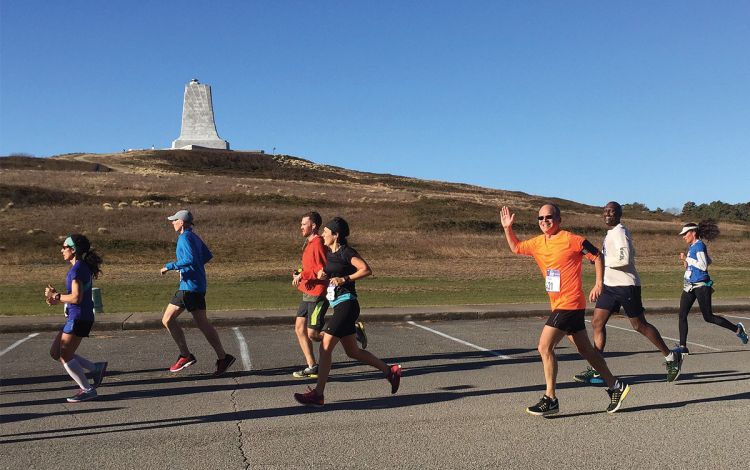 "He had the internal desire," Bisantz said. "We were there to support his personal goals."
Walters began with workouts that included alternating between five minutes of running and five minutes of walking. Soon he built his stamina to run longer distances, pushing himself to improve one day at a time.
In the spring of 2012, Walters ran his first 5K through downtown Chapel Hill. He was hooked. By the fall of 2012, after watching his daughter run a half marathon to celebrate graduating high school, Walters trained and ran the City of Oaks Half Marathon in Raleigh. In 2013, he took the next step and ran his first marathon in Myrtle Beach. He has since run 10 others, including in the Virginia mountains, and Provo, Utah.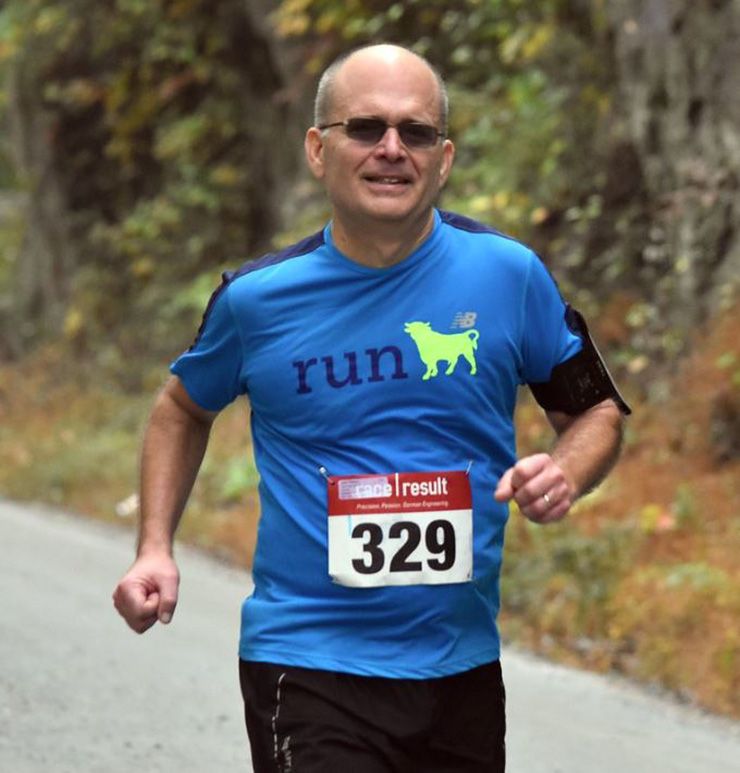 For Walters, running is an escape and chance to take care of himself. With a history of anxiety, depression and panic attacks, Walters credits running at 5 a.m. before work most days for helping him feel happier and cope with stress. As he runs, he releases worries and meditates.
"Running has given me the stamina and the health both physically and mentally and the peacefulness to deal with these things better," Walters said. "I certainly still get upset or anxious about things, but it's not like it was. It doesn't hold me down."
Though he trains by listening to podcasts and The Beatles, a beloved band that has claimed several spots on the wall of his office on campus, Walters won't be listening to music on race day. Instead, he'll be taking in the atmosphere like he does for every marathon and enjoying the moment running through the area where his journey began.
"This is something I have dreamed about but didn't really seriously think I would ever do it," Walters said. "It'll be neat running by my old neighborhood where I stood 40 years ago to watch the marathon."
Send story ideas, shout-outs and photographs through our story idea form or write working@duke.edu.