Meet Some Duke Run/Walk Club Stars
Registration is open for the spring session of the club that begins March 14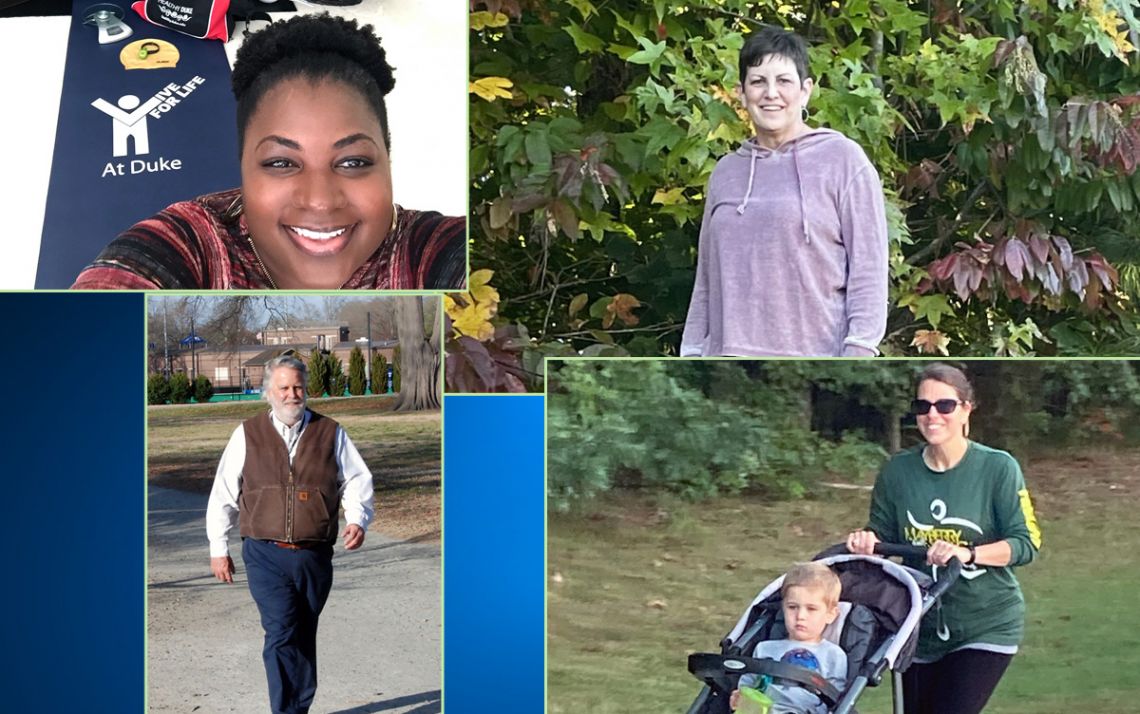 During a routine physical for a North Carolina commercial driver license, Jamie Palmer learned he had a blocked artery and needed urgent surgery. After placing stents to address two artery blockages in his heart in late 2020, Duke doctors recommended physical exercise as part of his rehabilitation.
Palmer took that advice and joined the Duke Run/Walk Club for the first time last year and has walked three to five days a week, resulting in a loss of 20 pounds and an improved mood.
"Before, I used to walk up a flight of stairs and just be totally out of breath," said Palmer, a program coordinator for Duke Parking & Transportation. "Now, I can go up and down and up and down and up and down. It makes all the difference in the world."
Organized by LIVE FOR LIFE, Duke's employee wellness program, registration for the Duke Run/Walk Club is open for the 12-week spring session, which begins on March 14 and runs through June 1. Due to the pandemic, the season will be remote, allowing participants to walk or run when convenient and record sessions online for "LIVE FOR LIFE Dollars."
The club, which is open to staff and faculty at all fitness levels, began as a grassroots effort in the fall of 2002 and became part of regular wellness programming for employees. During the session last fall, 462 employees took part in club.
"It's an opportunity in the spring to jumpstart what you've already built on from January and February – losing weight, staying active and along with good weather to get outside, get moving and get yourself active again," said LIVE FOR LIFE Fitness Program Manager Tim Bisantz.
Meet some employees who got moving with help from the Duke Run/Walk Club.
Connect from a distance
In 2007, Lucy Hart Peaden Taylor started running regularly in Stuart, Virginia, with a friend, who died several years ago. For Taylor, participating in the Duke Run/Walk Club has helped her reflect and feel connected to her friend.
"I think about her a lot when I run," said Taylor, an associate grants and contracts administrator for Duke Pharmacology & Cancer Biology who has participated in the club for the past seven years.
Last fall, Taylor used the remote version of the Run/Walk Club to train for the Mayberry Half Marathon in Mt. Airy, near where she used to run with her friend. She logged sessions online to stay accountable to reaching her goal of completing the 13.1-mile race.
This spring, as the weather warms up, she's looking forward to getting back on track and getting miles in — while feeling part of a virtual running community.
"It's nice to feel like even if we can't be together, we're still participating in something that is more than just ourselves," Taylor said.
Rewards for hard work
For the past 11 years, DaJuanicia Holmes has enjoyed participating in the Run/Walk Club for the LIVE FOR LIFE dollars, which she cashed in for prizes.  
"Two Fit Bits, duffel bags, a yoga mat, weight scale for food, swimming cap, goggles," said Holmes, a biostatistician at the Duke Clinical Research Institute. "The stuff I've gotten actually really helps with my exercises."
Holmes takes a weekly Pilates class in Raleigh and a yoga class in Knightdale and plans to participate in the Duke Run/Walk Club this spring while continuing to work remotely.
"The pandemic has made it easier now that I'm not commuting," she said. "It's a stress reliever. I feel better that I'm doing things to stay active to strengthen my bones and muscles."
Fuel your creativity
When the Run/Walk Club moved to virtual-only after the pandemic, Leslie Bard, associate vice president of the Duke Patient Revenue Management Organization, decided to take part for the first time last year to focus on her well-being.
Working from home a few days a week, Bard was able to clear her head and feel refreshed after walking several times a week in her neighborhood in Chapel Hill.
"I have actually had some creative ideas emerge on new or different ways to look at things or do things," she said.
See the results
For Jamie Palmer, the program coordinator for Parking & Transportation Services, the club put him on a path to better health.
"My clothes fit better. I feel better. I sleep better," Palmer said.
With plans to participate in the session that begins on March 14, he wants to lose an additional 20 pounds this year.
"I would recommend that other people consider joining the Duke Run/Walk Club because you're investing in yourself," Palmer said. "I guarantee if you do it and follow through with the exercises a couple times a week, or as many as you can, you'll see results, and you will feel so much better."
Send story ideas, shout-outs and photographs through our story idea form or write working@duke.edu.