From Offensive Line to Contact Tracing's Frontlines
Former Duke Football player Brandon Harper is part of Duke's contact tracing team
Soon after Christen Gillis tested positive for COVID-19, she got a call from a member of the employee health team charged with stopping the spread of the virus in Duke's workforce.
It was Brandon Harper from Duke Employee Occupational Health & Wellness (EOHW).
"Everything is going to be fine," Harper told Gillis, a physician assistant at Duke Urgent Care Croasdaile. "I'm going to help you get through this."
A former Duke Football offensive guard who graduated in 2010, Harper is now working at Duke on the employee health and wellness team. He no longer uses his 6-foot 3-inch frame to shield a quarterback but implements the same protective mindset for keeping staff and faculty safe as a lead contact tracer.
"When you're an offensive guard, you have to know where everyone is moving on the field," he said. "It's a lot like contact tracing. You're trying to track down the movements of everyone to keep your team protected."
With Gillis in November, Harper spent an hour talking with her on the phone, asking whom she came in contact with the prior week, walking her through the Centers for Disease Control and Prevention's guidelines on self-isolation and assuring her everything would be OK.
Gillis had just arrived in San Francisco at the time to visit her wife Kendall, who was in the city for a year-long medical fellowship. Over the next 10 days in isolation, Gillis battled fatigue and spoke with employee health case managers, who called every day to check on her.
She only spoke with Harper once, on the day she tested positive, but his soothing tone and demeanor stuck with her through her ordeal.
"Brandon was very calming," Gillis said. "I was thousands of miles away from home. Yet, it felt like Brandon had everything under control. It was almost therapeutic. He kept telling me to focus on getting better."
A central control measure of Duke's COVID-19 response has been the employee health contact tracing team, which finds members of the Duke workforce who could have been exposed to the virus, connects them with a symptom monitoring system and testing if symptoms develop, and provides lots of information and empathy.
As one of four lead contact tracers, Harper schedules shifts for 79 contact tracers, assigns cases and reviews reports that detail possible interactions of employees who test positive for COVID-19. He pitches in to make contact tracing calls like he did with Gillis and writes summary reports for Dr. Carol Epling, EOHW director, and Julie Joyner, senior contact manager.
"Brandon very quickly became someone we can depend on," Joyner said. "No matter how hectic things get, he's always calm, cool and collected."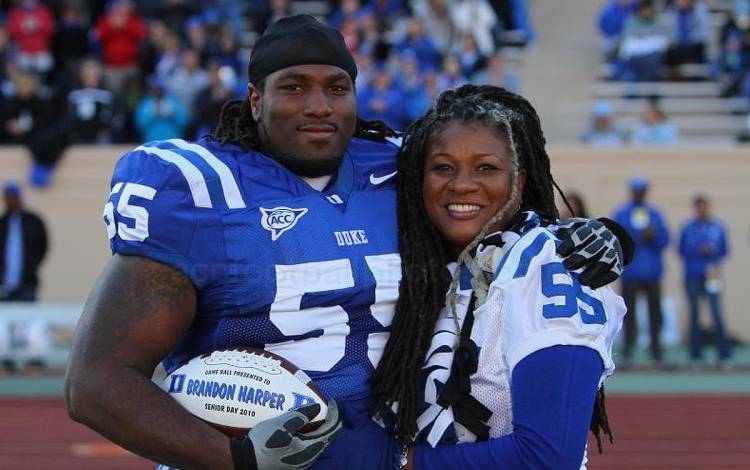 Harper, who is 32, grew up in Atlanta and didn't expect to attend Duke because his mom graduated from the University of North Carolina at Chapel Hill, and he planned to follow in her footsteps.
But a football recruiting trip to Duke changed his mind. He fell in love with Abele Quad and Duke's academics. Harper graduated in December of 2010 with degrees in biological anthropology and anatomy and with nearly 40 appearances for Duke Football wearing #55. He also held a record in 2010 for the top mark in bench press by lifting 445 pounds.
"Playing a sport in college teaches you to focus on the community and your team," Harper said. "I left Duke wanting to help others."
After graduating, Harper managed after-school programs at an Atlanta YMCA for four years before becoming an academic adviser for the University of Maryland Athletics department for a year. In 2020, he earned a Master of Public Health from The George Washington University. His master's thesis analyzed mental health programming available to college athletes at Duke, UNC, University of Michigan and other schools across the country.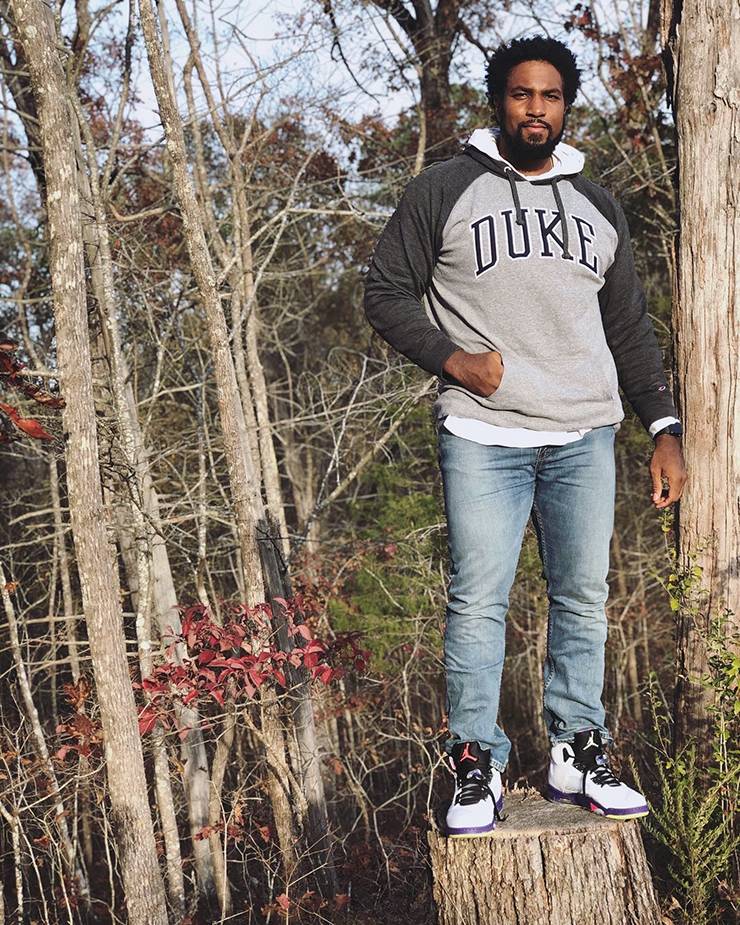 Last June, Harper returned to Duke to take the position as health promotion manager for LIVE FOR LIFE, Duke's employee wellness program in EOHW. He expected to handle programming like the Get Moving Challenge, Duke Run/Walk Club and Duke Farmers Market. Instead, barely a week into his new role, Harper and the rest of the LIVE FOR LIFE team transitioned to full-time contact tracing.
Harper hopes it won't be too long before he can cheer on his beloved Duke Football team from Brooks Field at Wallace Wade Stadium. For now, he's channeling that energy into keeping Duke employees safe.
"As someone who works at Duke and is an alumnus, I now have double the Blue Devil pride," Harper said. "This community has shaped me. I'm happy to be doing my part to give back."
Got a story idea? Send ideas, shout-outs and photographs through our story idea form or write working@duke.edu.