Add COVID Safety to the Menu at Mealtime
Duke employee health leaders discourage community members from eating together on campus, offer safety reminders while in the community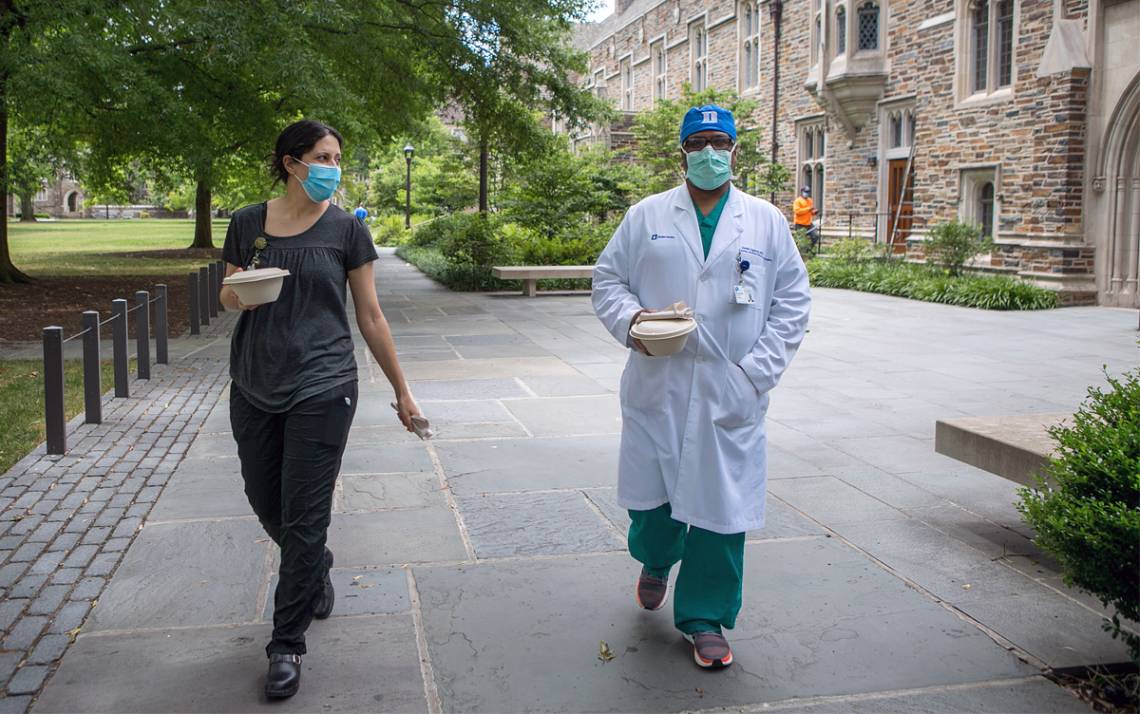 Charita Tabron's lunch break begins with a quick scan of the Employee Occupational Health & Wellness breakroom, where two tables are placed 6 feet apart with only one chair at each table.
If a seat is open, Tabron cleans the chair and table with sanitizer wipes, places her mask on a paper towel and faces away from people while eating. If both seats are taken, Tabron eats her salad on an empty bench outside.
"I've chosen to be a lot safer at mealtime," said Tabron, a staff specialist with Duke's Employee Occupational Health & Wellness (EOHW). "I bring my utensils, sanitize the microwave and wash my hands before and after eating. It's a few extra steps, but it's worth it."
As North Carolina averages about 2,900 new COVID-19 daily cases, Duke leaders encourage the Duke community to double down on safety measures, which include wearing a mask and distancing on or off campus.
"People in general are experiencing fatigue, and we're worried of course with the upcoming holidays given the circulation of the virus in the community," said Dr. Carol Epling, director of EOHW.
Epling and Vice President of Administration Kyle Cavanaugh are asking staff and faculty to consider risk factors for on and off campus activities, including personal holiday gatherings and celebrations in the community. Location and duration of gatherings, as well as whether other attendees wear masks and practice physical distancing, are important factors to consider for staying safe.
"This is traditionally a time when many of us travel and spend time with extended family from near and far," Cavanaugh and Epling said in a message last week. "With the recent surge in COVID-19 cases in North Carolina and across the country, however, this very meaningful activity also poses a considerable risk."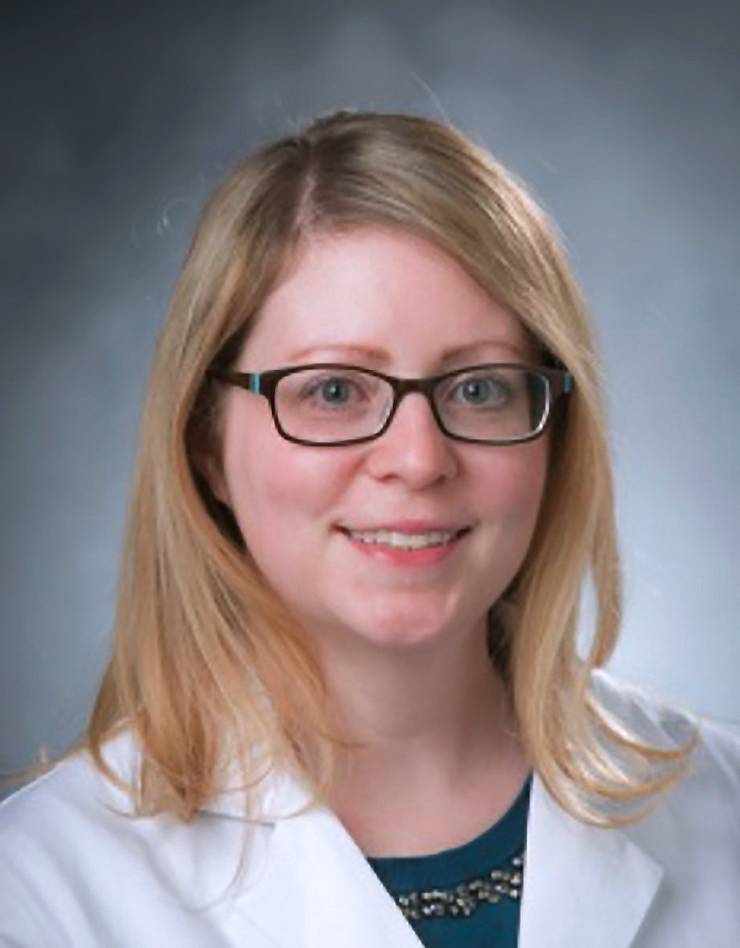 Most COVID-19 cases among Duke University and Health System employees are due to community transmission outside of the workplace. Since October 1, about 90 percent of the cases attributed to the work environment are from coworker-to-coworker transmission. The most common reason for transmission is colleagues eating together or engaging in group meetings where at least one team member is unmasked or moves their mask to consume food or beverage, according to Dr. Kristen Said, physician in EOHW and assistant professor for Duke Family Medicine and Community Health.
Sharing a space with someone to eat is generally not recommended on campus, and EOHW discourages Duke community members from eating with anyone who is not a part of their immediate household. But if the situation cannot be avoided, community members should sit at least 6 feet apart and not face anyone, regardless if you're eating indoors or outdoors.
"We spread a lot of droplets when we're eating," said Dr. Said. "We want to prevent those droplets from going into someone's face or eating area. We really have to act as though everybody has it at all times."
The Centers for Disease Control and Prevention (CDC) says that wearing a mask not only protects people around you – but you, too. In guidance released on Nov 10, 2020, the CDC reported that studies demonstrate cloth mask materials can offer personal protection and "reduce wearers' exposure to infectious droplets," including fine droplets.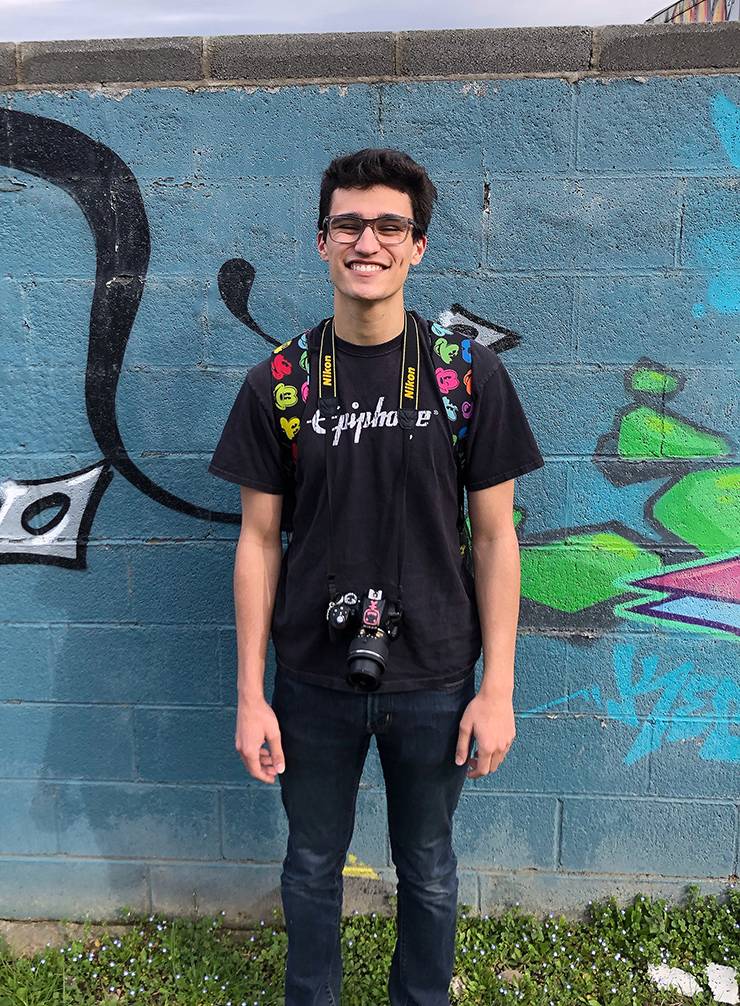 Bennett David, a Duke junior majoring in mechanical engineering, has been diligent about wearing a mask and practicing distancing. He typically orders meals at Tandoor, Ginger + Soy and Au Bon Pain through the Duke Dining mobile app and takes his food to his on-campus residence at Few Quad.
When David eats with a friend on campus, they pick a spot outside at Bryan Center Plaza and sits at separate tables that keep them about 10 feet apart from others.
"Lunch was always a very social meal for me before the pandemic, so I had to change my habits around that," David said. "As much as I miss the social interaction around food, I want to make the right choices to keep the campus open."
Help share the proactive and extensive work being done by all Duke community members during the COVID-19 outbreak. Send ideas, shout-outs and photographs through our story idea form or write working@duke.edu.