Dining Expands Mobile Ordering with App
The 'Dine-Out' app allows customers to safely order and pick-up food
As a residence coordinator for Few Quad, Jordan Viars takes his role seriously in limiting the spread of COVID-19 on campus, which extends to dining habits.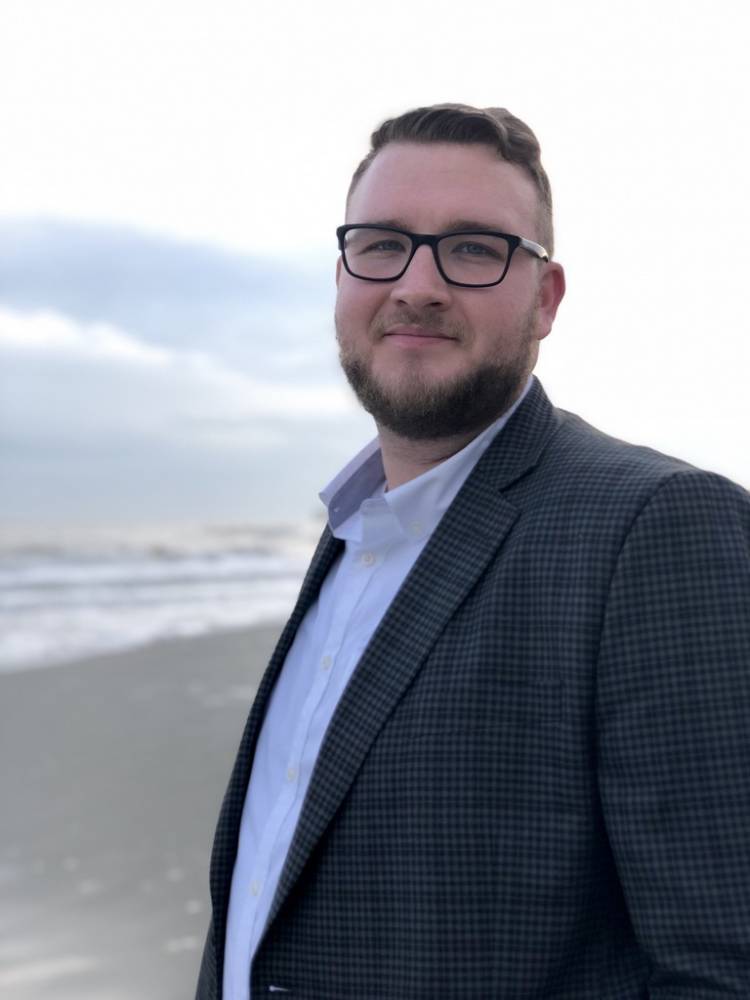 Viars eats alone, limits trips to the grocery store and minimizes time picking up meals in-person at campus eateries.
He uses "Duke Dine-Out Mobile Ordering" for lunch or dinner at Thrive Kitchen and Catering, Ginger + Soy and The Loop Pizza Grill.
"I'm being extra precautious during the pandemic," said Viars, who lives on-campus in Few Quad. "It's been very convenient to place an order on my phone, grab it and be back at my desk all under 10 minutes without much interaction."
Duke Dining has expanded the number of on-campus eateries offering mobile ordering from five to 15 locations across West and East Campuses. Mobile ordering allows Duke community members to safely pick-up food while maintaining physical distancing and limiting the number of people in buildings.
The number of people who have ordered food on campus using the mobile app has increased from about 500 staff, faculty and students in April to about 9,000 by the end of September. Mobile orders make up about 45 percent of total sales collectively at all eateries across campus.
To get started with mobile ordering, download the "Transact Mobile Ordering" app from Apple or Google Play. Search for and select "Duke University" within the app. You'll need to log-in using your NetID and password to get started. After those steps, you'll see the "Duke Dine-Out Mobile Ordering" application. Dining has additional instructions on how to order, pair your Duke Card and add Food Points.
Aris Marton, associate director of retail operations for Duke Dining, worked with campus retail locations and the Duke Office of Information Technology on updates to mobile ordering.
"Expanding our mobile ordering was something we always wanted to do, but when the pandemic started, we realized it was something we needed to do," Marton said. "Our mission for this semester was to get people in and out of dining locations as quickly and safely as possible. Mobile ordering certainly helps with that."
Mobile ordering allows guests to place an order for a certain pick-up time or within 15 to 30 minutes from among 15 campus eateries. After customers place an order, they can go directly to the dining location to collect the meal at an unoccupied register or area away from people ordering in-person at the eatery. The meal is sealed in a bag with the customer's name.
Customers can also pick up food in sealed packages from seven eateries, including the Freeman Center Café, Ginger + Soy and Sazón, at one centralized outdoor "Express Pick-Up" between 11 a.m. and 2 p.m. Monday through Friday at Crown Commons. Delivery is also available to up 13 outdoor locations for a limited number of eateries.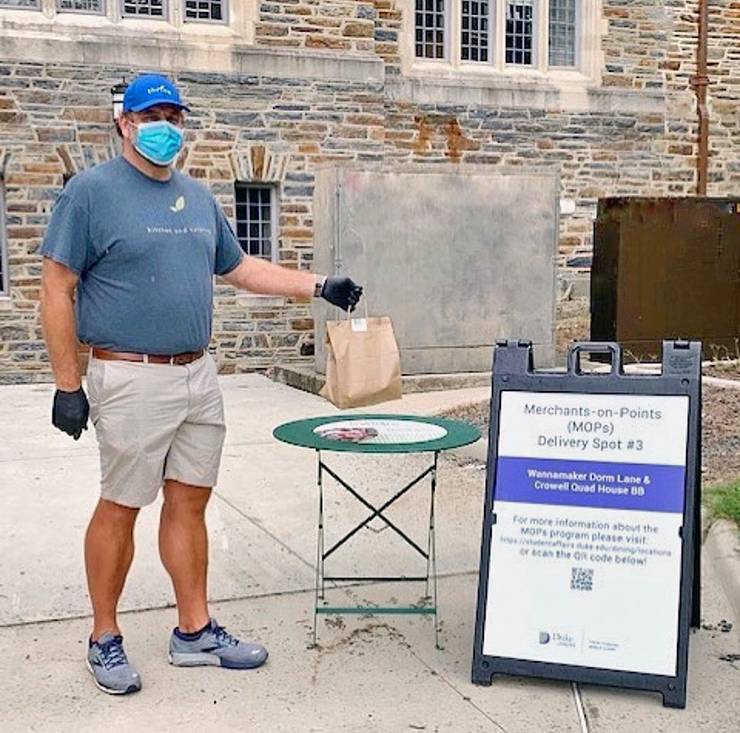 Ceci Cardelle, a Duke senior studying philosophy, uses the "Duke Dine-Out" app to pick-up vegetable sushi rolls from Ginger + Soy, avocado toast from Farmstead & Sprout or veggie and hummus wraps from Thrive Kitchen and Catering.
She said the app allows her to see the ingredients and modify meals to accommodate her vegan diet.
"Duke's mobile ordering system has been good for encouraging students to keep to themselves without sacrificing our meal choices," Cardelle said. "I'm still getting to choose what I want to eat while limiting my exposure to crowds."
The care and convenience Duke Dining is providing with its mobile ordering app extends to the kitchens at the Freeman Center Café, which offers kosher dining options to Duke's Jewish community. Kosher dietary laws are derived from the Torah, Judaism's central text, and include, among others, rules about the preparation and serving of food, separation of meat and dairy and no consumption of pork or shellfish.
Jewish Life at Duke, in partnership with Duke Dining, transitioned from buffet-style service to a made-to-order approach to launch a new Freeman Center Café menu that students and employees can order from on the Duke Dining mobile app. The menu includes kosher-deli classics like matzo ball soup and pastrami on rye and Mediterranean-inspired dishes like baba ganoush, a smoky eggplant dip, or a sabich pita sandwich, a classic Israeli street food containing fried eggplant, hard-boiled egg, cucumber and a lemon tahini sauce.
Andrew Carlins, a Fuqua School of Business graduate student and Duke undergraduate alumni, orders meals from the Freeman Center Café using the "Duke Dine-Out" app. Carlins enjoys the mushroomed-stuffed bourekas, a flaky pastry; matzo ball soup; and chocolate rugelach, a crescent-shaped pastry.
"For me, the food at the Freeman Center is a cultural connection to my friends and family," Carlins said. "It's a high-quality meal from a hidden gem on campus."
Help share the proactive and extensive work being done by all Duke community members during the COVID-19 outbreak. Send ideas, shout-outs and photographs through our story idea form or write working@duke.edu.