Take it Outside: Why Fresh Air Makes for Better Workdays
Spending time outdoors helps colleagues find more balance and productivity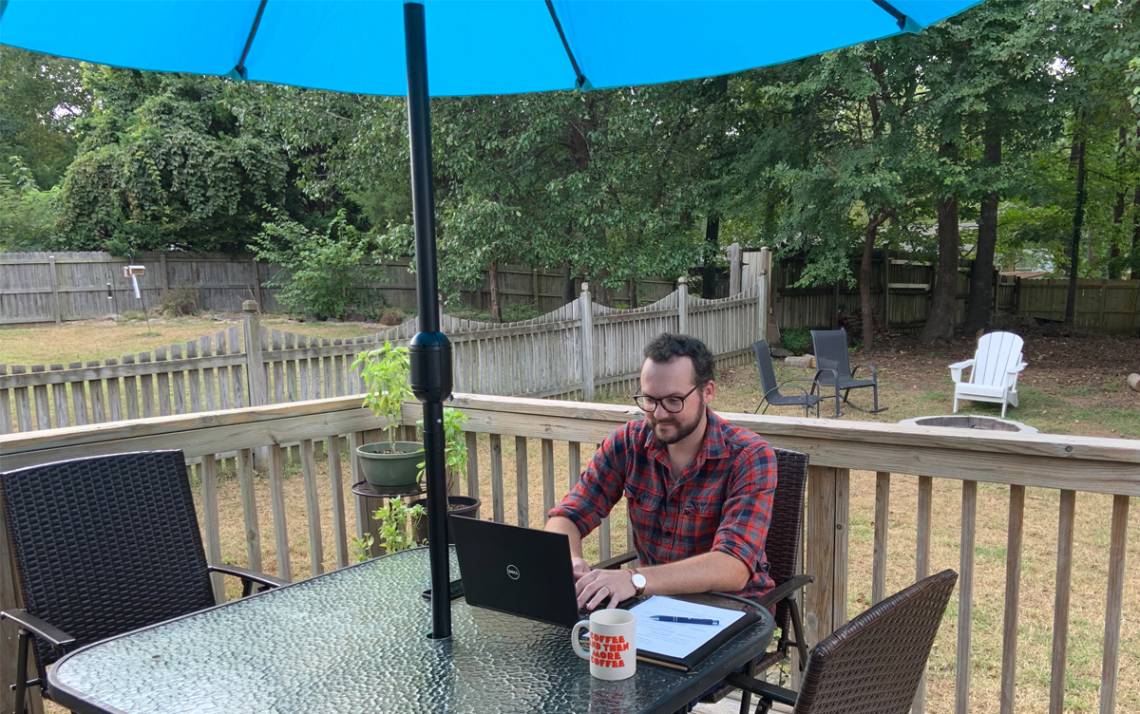 When she arrived at Duke six years ago, Kate Senner worked at Duke University Development's office at West Village. Her workspace was a few steps from a courtyard, where she would often take her laptop and work in the sunshine.
"I found it really helpful to get outside and get fresh air," said Senner, now director of development for Sarah P. Duke Gardens. "It resets your mind and the way you think in a helpful way. I kept doing that when I started working at the gardens. I mean, what better place to take your laptop outside and work?"
For the past six months, as the COVID-19 pandemic has forced Senner and many other Duke colleagues to work from home, she's adjusted the structure of her days. But spending time outside has remained part of her schedule.
"It helps me calm down," Senner said.
Studies show that spending more time in nature eases stress and can help sharpen your mind, both of which are qualities that loom large as we navigate the challenges of COVID-19. 
"There are so many mental health benefits from being outside," said Felicia Tittle, Executive Director of Recreation & Physical Education and one of the co-conveners of the Physical Activity and Movement area of Healthy Duke. "Think about all the things that get stimulated outside, your mind, all of your senses. There are so many factors that play into being outdoors. You may not know all of the science behind it, but you know you feel better."
With that in mind, here's how some colleagues benefit from spending a portion of their day outdoors.
A Lunch Time Ride
Before the pandemic, getting enough time on a bike wasn't a problem for Manager of Communications and Support Services for Duke Facilities Management Vanessa Roth. An avid cyclist, she commuted to work on her bike on most days and pedaled from her Smith Warehouse office to campus regularly.
While working from home, she's found new ways to get out on her bike. Often on her lunch break, Roth races around wooded trails on a mountain bike near her Durham home.
"It just gets the blood moving and breaks up the day," she said.
Roth often makes two or three speedy laps around a nearby half-mile trail usually leaving just enough time for a quick lunch before getting back to work.
At this time of year, she usually competes in cyclocross racing, a rough-and-tumble blend of road riding, trail riding and obstacle course racing. She averages around eight hours of cycling training per week, most on long weekend, or post-work rides.
"What's different about the lunch loop is that it's fun and unstructured riding," Roth said. "It's only for the purpose of breaking up my day, getting outside and having fun."
A Dose of Sunshine
When weather permits, Kate Senner works on the patio in the backyard of her Hillsborough home. That's not just to give her a dose of sunshine and natural ambiance, it's also to help her two young daughters – Violet and Addie – get their energy out.
"When coronavirus hit and I started working from home with two kids, it became a question of how you balance everything," Senner said. "For all of us, if we stayed inside the whole day, we'd be climbing up the wall."
When they're not doing schoolwork, they're usually playing in the yard. And from her workspace on the patio, Senner can keep an eye on them.
Several studies back up the idea that spending time outdoors is better for children's mental and physical health. And with children feeling stress created by pandemic-related upheaval, giving them the opportunity to be outdoors is especially valuable.
"It's a night and day difference when they can't get outside," Senner said. "When they're inside all day, you can tell they're a little crabbier, a little more antsy. By getting them outside, they're able to focus better."
A Backyard Patio Solution
For proof of how important the backyard patio is to the productivity of Assistant Director of Special Events for Duke Development Andy Scott and his family, you only need to check in on rainy days.
During bad weather, when Scott can't set up his laptop and work outdoors, the family's Durham home feels especially tight, leaving everyone feeling cramped.
"On days when it rains or its too hot, you can just tell everybody is just aching to get a little more space from each other," Scott said.
On most days, Scott's wife, Annie, a registered dietitian for LIVE FOR LIFE who is helping with Duke Employee Occupational Health and Wellness' contact tracing, works in the bedroom. Their two daughters do schoolwork elsewhere in the house, leaving Scott working either at the family's kitchen table or on the backyard patio.
"It's a nice quiet space," Scott said of the patio. "Even when it was really muggy, it was still nice to get a breath of fresh air."
Do you have a favorite way of incorporating time outdoors into your work day. Tell us in our Facebook story below.
Help share the proactive and extensive work being done by all Duke community members during the COVID-19 outbreak. Send ideas, shout-outs and photographs through our story idea form or write working@duke.edu.