Get Your Groceries without Stepping Inside a Store
Ways to shop for food and supplies without worrying about physical distancing
Alexis Sharp has an online hack for reserving a curbside pick-up time for groceries from Target.
An operations coordinator for the Nicholas School of the Environment, she found that slots open up online when the store closes at 8 p.m. So, from her couch, Sharp buys items such as granola bars, chicken thighs and vegetable oil.
With physically distancing in place to stop the spread of COVID-19, Sharp drives to the store, where an employee places the order in the trunk of her car.
"I never ordered online before COVID-19," she said.
About 31 percent of U.S. households have used an online grocery delivery or pick-up service in the past month, according to a March "Online Grocery Shopping Survey" by research advisory firm Brick Meets Click. In comparison, 13 percent shopped online in August 2019.
Dietitians with LIVE FOR LIFE, Duke's employee wellness program, are hosting live weekly "Food Matters" webinars to answer food-related questions and provide guidance during distancing. The next webinar on April 22 is about cooking with kids. Sign up here to participate in any session.
"Social distancing has changed our relationship with food and created new challenges with healthy eating," said Esther Granville, manager of health coaching and nutrition programs for LIVE FOR LIFE.
Here are some strategies for grocery shopping without stepping inside a store.
Use an app for home delivery or curbside pickup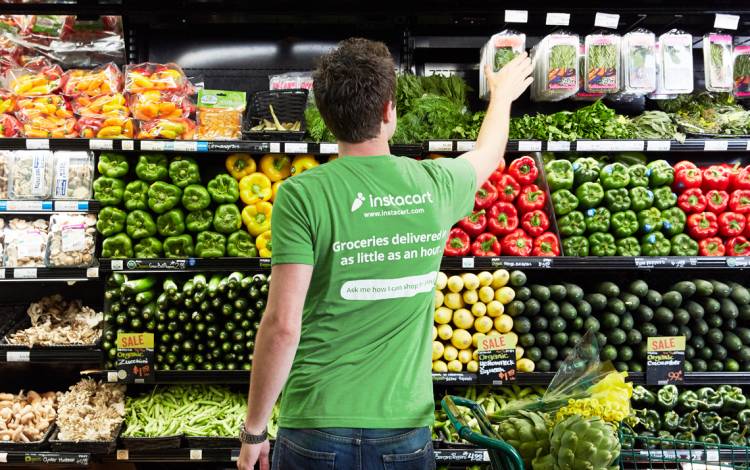 Major grocery chains and third-party companies offer online grocery shopping, delivery and curbside pickup, where grocery employees load the order in your vehicle outside the store.
Stores like Harris Teeter, Food Lion and Lowes Foods all have their own mobile apps where customers can order food and reserve a pick-up time. Customers can also order food and select a pick-up time on each store's website. Whole Foods customers can order groceries for delivery or pick-up through Amazon Prime or the Whole Foods tab in the Amazon mobile app.
Alexis Sharp, the operations coordinator at the Nicholas School of the Environment, uses Target's mobile app to order groceries for curbside pick-up.
"It's great," she said. "I don't have to worry about breaking any physical distancing rules. They load up my trunk and it's done."
You can also use a third-party grocery delivery service through apps such as "Shipt" and "InstaCart," which sends someone to a store to shop and deliver groceries to you. You select a grocery store near you, choose items, pay online and pick a delivery time.
Some delivery services require a membership, while others don't but charge a delivery fee.
"While people are concerned about paying a few dollars to get their groceries, you may actually end up saving money by shopping online because you don't put spontaneous choices in your cart," said Lauren Kruse, LIVE FOR LIFE dietitian.
With the growing popularity of grocery apps and delivery services, finding a time for delivery or pick-up can be challenging. LIVE FOR LIFE dietitians suggest planning for meals in advance and ordering groceries for pick-up or delivery well before you need ingredients.
"You have to be patient and plan ahead," Granville said.
A pro tip from Granville: try "goPuff," a delivery service for convenience stores if you need items such as chips and toiletries.
Meal kits – delivered

Amy and Steven Puglia have explored culinary options by sampling "Blue Apron" and "Purple Carrot" meal kit services.
Companies such as "HelloFresh," "Blue Apron" and "Purple Carrot" ship ingredients and recipes; all you do is make the meal at home. The Puglias, who recently received three meals from "Purple Carrot," made Korean tofu tacos, a citrus beet and chickpea bowl and sweet potatoes with coconut rice and mango salsa.
"We're trying to spend less time in grocery stores," said Amy Puglia, emergency management coordinator for Duke University Hospital. "It's nice to have three fewer meals to plan and shop for."
The Puglias are sampling various meal kit subscriptions and appreciate the detailed recipe cards with images of the cooking process.
"The meal kits get us out of our normal rotation of meals," Amy Puglia said. "We're learning new things like making sauces and seasoning during the entire preparation."
Go local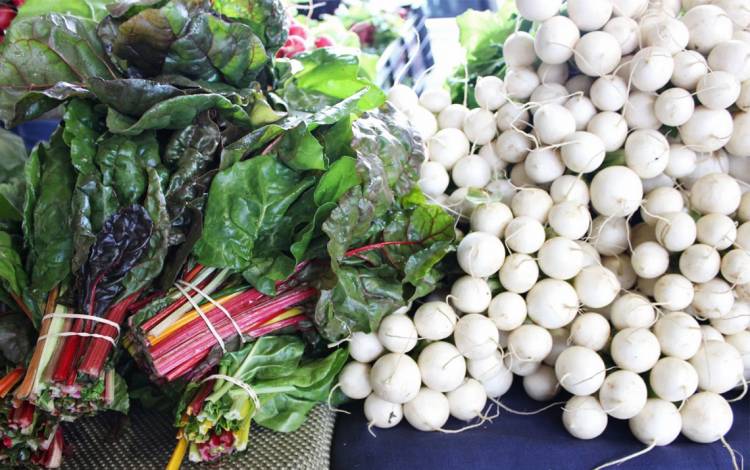 Thomas Devine and his wife Rosalyn Pettyford used to spend Saturday mornings at the Durham Farmers' Market, where they picked up squash, zucchini, tomatoes, carrots and peaches.
Unable to shop at the market now, Devine is considering ordering produce directly from a local farm.
"This is the perfect time to try a new food adventure," said Devine, a human resources generalist for Duke University Press. "I like the idea of my money directly supporting a local farm and knowing where my produce is coming from."
Local farms offer pick-up, delivery or community shared agriculture (CSA), which is a subscription service to receive weekly supplies of fresh produce. The Durham Farmers' Market keeps an updated list of how to shop for its vendors while the market is closed.
The State Farmers Market in Raleigh is open, along with markets in Carrboro, Chapel Hill and South Durham. Click here to find a farmers market near you.
During these uncertain times, businesses are getting creative while maintaining safety. For example, Durham's Ninth Street Bakery is offering curbside pickup and touchless takeout. Options include a "Bread Baking Kit." And Hillsborough's Maple View Farms is offering drive-up services to purchase milk, eggs and pre-packaged ice cream.
"Find out how what your favorite stores are doing," Granville said.
Help us share the proactive and extensive work being done by all Duke community members during the COVID-19 outbreak. Send ideas, shout-outs and photographs here or write us at working@duke.edu.