Ways to Snack Smart at Work
Stick to proteins and fiber, plan ahead and listen to your body
Around 10 a.m. and 3 p.m. each day, Sarah Blumig starts to lose focus. 
With lunch or dinner a few hours away, she opens a bag of homemade oatmeal energy balls, a no-bake mix of pumpkin puree, oatmeal, almond butter and maple syrup. Sometimes, the snack is an apple or almonds roasted with rosemary. 
"I can't focus on anything when I'm hungry," said Blumig, director of annual giving for the Duke University School of Nursing. "I learned pretty quickly that I need to bring a snack so I can do my best work."
Americans consumed nearly 386 billion ready-to-eat snack foods in 2018, according to NPD Group, a consumer market research company. The group's "Future of Snacking" report said people will look for wellness benefits such as snacks with more protein. The report also notes that portability such as single-serve snacks that fit into busy lives will grow in demand.
Alyssa King, a dietitian with LIVE FOR LIFE, Duke's employee wellness program, recommends packing your own healthy snack such as sunflower seeds, cottage cheese or unsalted nuts. 
"We turn to what's available when we aren't proactive in packing our own snacks," King said. "That's often something pre-packaged, which can be way too salty or high in saturated fat."
Use these tips to prepare your next healthy snack at the office.
Think Protein and Fiber

Heather Sperling stays clear of snacks with high amounts of sugar. Her mid-afternoon snack usually consists of baby carrots and hummus, Fuji apples or unsalted almonds. 
"I like to stick to snacks with protein or fiber because they give me the most energy for the final hurdles of the day," said Sperling, assistant research practice manager at the Duke Cancer Institute.  
Lisa Martin, a dietitian with LIVE FOR LIFE, said a mix of protein and fiber is the magical combination for a healthy snack. Proteins-rich snacks such as hummus fill you up, while fiber-filled foods such as pears give you energy to tackle tasks.  
Candy, pastries and other snacks with refined carbohydrates – processed sugars and grains that no longer have fiber or nutrients – do not provide a long-term feeling of fullness or lasting energy. 
"Refined carbohydrates are unhealthy and they make you eat more," Martin said. "They cause your sugar levels to go up, which makes you hungrier."
Plan ahead 

Sarah Blumig prepares snacks on Saturdays when she fixes meals for the week. 
She mixes oats, pumpkin puree, almond butter and pepitas for oatmeal energy balls and roasts unsalted almonds with rosemary, olive oil and chili powder. 
"I take my snacks as seriously as the rest of my meals," Blumig said. "If I don't make the effort to prep things ahead of time, then I end up eating too much of something I shouldn't even be having."
Dietitian Alyssa King said planning helps control portion size. Here are some snack and portion size recommendations:
One ounce of cheese with half a serving size of whole grain crackers
1/3 cup of granola with six ounces of plain Greek yogurt
1/4 cup of nuts
One apple or banana
Two to three tablespoon of hummus with carrots
Two tablespoons of nut butter
"Controlling your snack portion size will also help you with your next meal," King said. "If you don't eat enough at 10 a.m., then you might overeat at lunchtime. It's all about finding the right balance." 
Listen to your body and emotions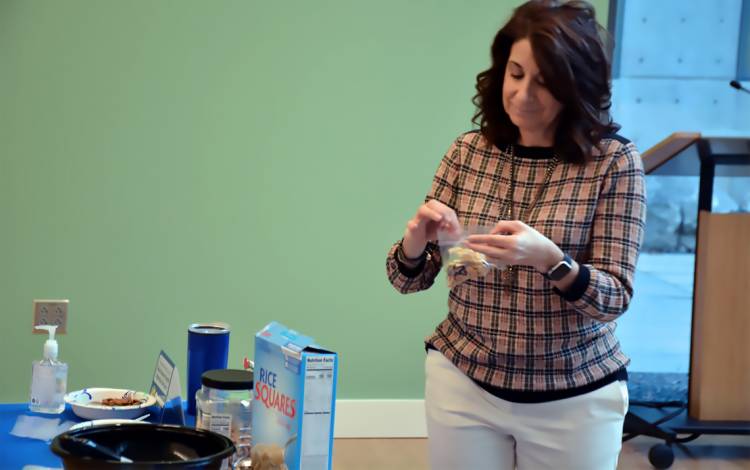 At a healthy snack break event in the Student Wellness Center in the Fall, Toni Apadula spoke about the importance of associating food with a positive mindset. 
Apadula, dietitian clinician for Duke Student Health, advised against eating when bored, stressed or upset. Instead, take a quick walk, drink water or chat with a coworker. 
"It's not only about what you're snacking on but why you are," Apadula said.  "Eating when you're bored or emotional often leads to overeating."
Apadula suggests snacking when you are getting hungry or feel your energy waning. 
"Listen to your bodies and determine if you're truly hungry," she said. "Just take a second to think about it."
Have a story idea or news to share? Share it with Working@Duke.