Blue Devil of the Week: Shaping Well-Being at Duke
Tom Szigethy leads the Duke Student Wellness Center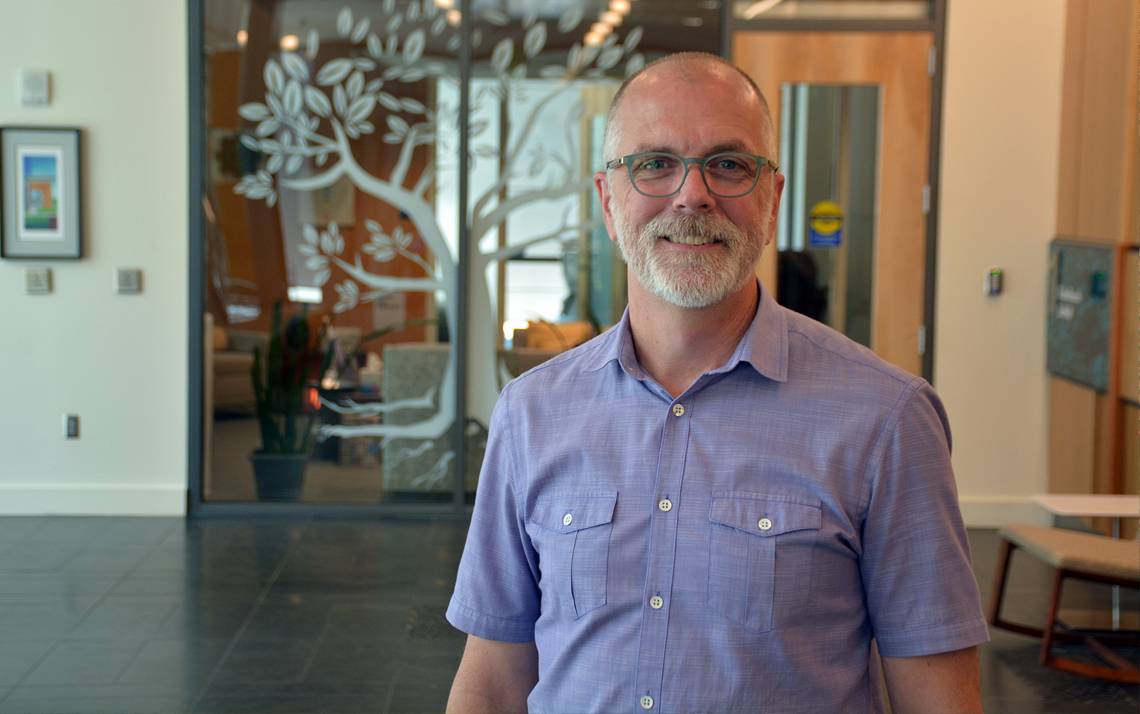 Name: Tom Szigethy
Title: Associate Dean of Students and Director of Duke's Student Wellness Center, Co-Convener of Environment and Culture for Healthy Duke
Years at Duke: 11
What he does: Tom Szigethy's is helping to make Duke a healthier place through the Duke Student Wellness Center and Healthy Duke initiative.
At the Student Wellness Center, Szigethy meets with students struggling with substance abuse for one-on-one counseling sessions. He also trains student groups to help develop and implement risk management plans to minimize the risks associated with social events.
"It's about having a conversation about why they're participating in harmful practices," he said. "It's trying to figure out the root of the problem."
Szigethy studies how cultures around the world practice wellness, which shapes how he engages with the Duke population through the Healthy Duke initiative. Szigethy offers guidance on Duke's environment and culture core of the initiative, which focuses on the quality of life on campus as it pertains to natural spaces, buildings and sense of place.
"Ultimately, we want to give people the tools to be more proactive in addressing their wellness," Szigethy said. "There's not one solution that will make everyone feel better, so we need to provide a selection."
What he loves about Duke: Szigethy appreciates how Duke leadership is open to new ideas for practicing wellness. He offered the Oasis West self-care space as an example. The room, which is open to all Duke community members, in the Student Wellness Center, features items from around the world that promote overall well-being and stress reduction: material to make-your-own aromatherapy spray, a Tibetan singing bowl and massage chair.
"Duke was very supportive to the idea of exploring wellness with all of your senses," Szigethy said.
Memorable day at work: Szigethy recalls the excitement in the community when the Student Wellness Center opened in January 2017. Students visit the center as a one-stop shop to visit Counseling and Psychological Services and Student Health, meditate, get work done between classes and simply relax. Wellness activities on making tea, meditation, yoga, knitting, tai chi and magic are held at the center weekly for students and employees.
The center features a fountain, Steinway piano for all to play and meditation garden.
"We wanted a space where the community could come and feel their stress lighten," he said. "It was cool to see that we accomplished the goal."
Special object in his office: Two works of art hang above Szigethy's desk.
One is a mat he got at the Japanese Garden in Portland, Oregon, with sewn messages about peace, Zen, friendship and love. The other is a drawing from a student depicting two people embracing inside an hourglass.
"That student practiced mindfulness by drawing," Szigethy said. "It was pretty awesome to see him turn his passion into a source of wellness."
Well-being tip: Take time each day to unplug and be silent.
Szigethy typically journals during this time. He said it helps to have an activity like gardening, cooking, drawing, knitting or playing an instrument.
"Find an activity that assists you in focusing on the moment," he said.
First-ever job: Szigethy worked at a pet shop "Tropical Showcase" in Hicksville, New York. The shop sold tropical fish, parrots, parakeets and other exotic birds.
"We would walk around with baby parrots on our shoulders to teach them how to behave around humans," he said.
Something most people don't know about him: Szigethy acted in 10 musicals by the time he graduated high school. He starred as the titular character in "Oliver!," and joined performances of "Fiddler on the Roof," "Jesus Christ Superstar" and "Anything Goes."
"Nothing is better than live theater," he said.
Is there a colleague at Duke who has an intriguing job or goes above and beyond to make a difference? Nominate that person for Blue Devil of the Week.