Maintaining Momentum: A Personal Running Story
Jonathan Black, a Working@Duke writer, shares how to keep moving after Duke's Run/Walk Club ends
There are no streams of confetti. No cheers from friends and family. Not even a finish line to cross. 
And that's okay. 
While the fall season of Duke Run/Walk Club comes to a close this week, I won't let that end my running journey. The fall season of the club has been a step to get me to my next destination: The Tar Heel 10 Miler in April 2019. 
As a participant in the Run/Walk Club, I've been writing about my experiences with the program, covering strength and mental toughness. For this final installment, I'll share how to maintain momentum. 
Races are a helpful motivation to stay on track with your running program. There's the financial obligation after paying, the reward of training and, for some, a chance to compete with others. Plus, you get a T-shirt.
I participated in my first-ever race this April, the Tar Heel 10 Miler in Chapel Hill, as a bonding activity with a friend who was moving to South Korea. We spent hours training together and ran the entire race together, side by side. 
I enjoyed crossing the finish line so much that I ran a 5-mile race in Norfolk, Va. and another 5-mile race in Durham later this year. Finishing a race makes time training worth it. You also get to celebrate with brunch, as I did.  
Christian Kennicott, a Duke Run/Walk coach and fitness specialist for LIVE FOR LIFE, Duke's employee wellness program, recommends buddying up or finding a group to sign-up for a race and run with them to train. Having others to encourage you and hold you accountable makes it more difficult to stop running. 
"Finding someone with similar goals or that truly wants you to succeed is the best way to build one's accountability," Kennicott said. "The thought of letting a friend or coworker down who scheduled time out of their day to run with you is far too heavy."
Last December, a group of seven employees who participated in Duke Run/Walk Club settled on the Jingle Bell LEAP 5K at the American Tobacco Trail. The employees selected the race because it was about the same distance – 3.1 miles – they ran during the Run/Walk season.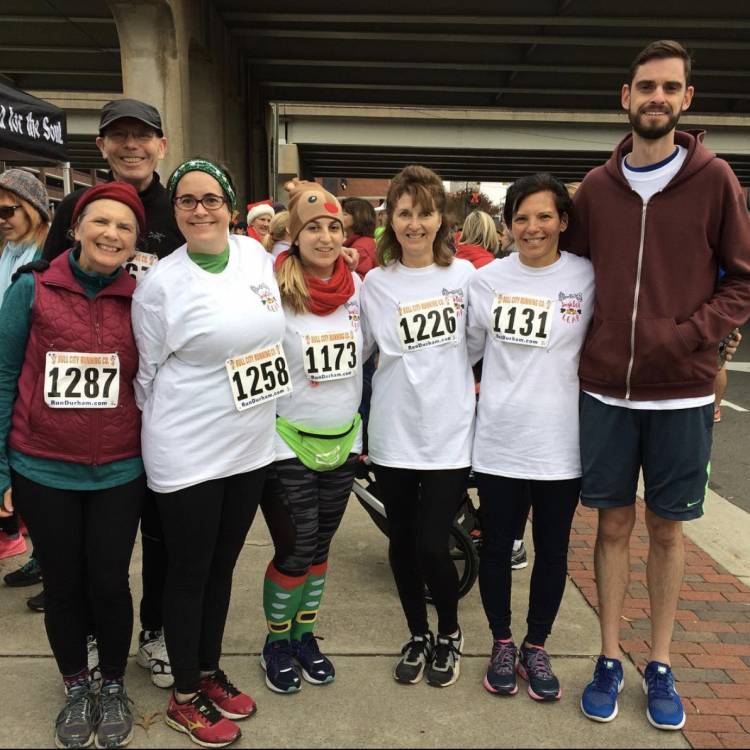 "Finishing the race felt like a culmination of all my training," said Carolyn Mackman, director of Duke's Dual Career Assistance Program. "There was a wonderful sense of comradery as we cheered each other over the finish line." 
Determined to keep her momentum, Mackman remained a member of Duke Run/Walk Club in 2018 and competed in a 4K and 5-mile race in October. 
"Having a race on my calendar keeps me motivated," Mackman said. "I appreciate how much stronger I feel."  
I suggest finding a race to help you keep the momentum going. 
Coming up on Dec. 8 is the holiday-themed Blue Cross and Blue Shield of North Carolina half marathon, 10K and 5K in Durham. Use code LIFEFORLIFE10 to get 10 percent off registration.
If you want more time to train, there's the popular Bull City Race Fest and Food Truck Rodeo in downtown Durham on Oct. 20, 2019. That event offers a half marathon, 5-mile and 1-mile distances.
For help finding other events, check out this site.
Read my other columns in this series:
Got a story idea or news to share? Share it with Working@Duke.