Building a Habit: A Personal Running Story
Jonathan Black, a Working@Duke writer, shares how to get yourself moving with Duke's Run/Walk Club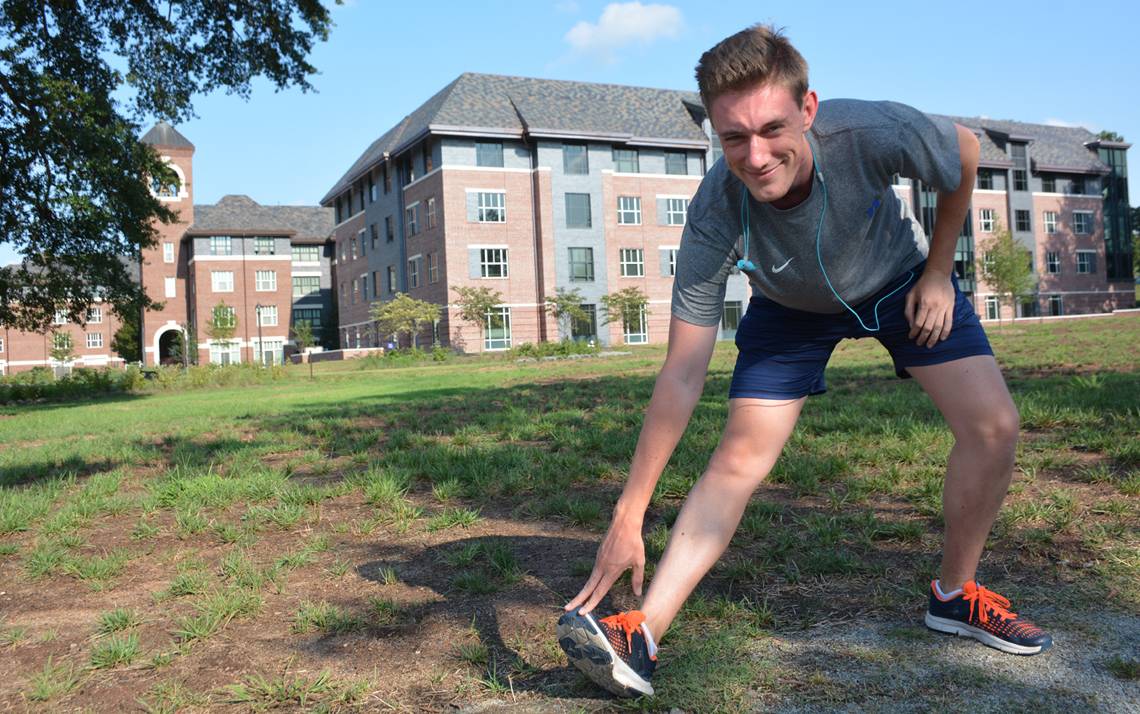 For a brief, shining moment this year, I considered myself a runner.
In April, I ran the "Tar Heel 10 Miler" in Chapel Hill, but by June, summer's blistering heat set in and sapped my willpower. I had nothing holding me accountable to train beyond sheer force of will.
When it came time to write a story about the fall season of the Duke Run/Walk Club, I decided to lace up my sneakers and return to the running groove with the club's help.
Duke's Run/Walk Club is organized by LIVE FOR LIFE, Duke's employee wellness program. The group meets through Oct. 31 for low-pressure workouts on East and West campuses. All fitness levels are welcome, with varying degree of difficulty from a steady walk to group-paced runs."
I invite you to follow me during the next 12 weeks while I share my joys, pains, insights and discoveries during the program.
On the first day, Aug. 13, on East Campus, I joined about two dozen colleagues. We were split into walking and running groups.
I joined the intermediate group with Leslie Payne, head cross country and track coach at Meredith College. She has led the intermediate runners for the past four years. There were four of us in Payne's group, and we alternated between running for three-minutes and walking for a minute. Leslie told us that by the end of the fall Run/Walk Club, we would be able to run a 5K race if we stuck with the program.
So, my first tip to stay accountable and to get into running shape is to sign up for a race or other program that will hold you responsible for training and finishing. With a race, there's the money you've paid to enter and a desire to finish. With Run/Walk Club, it's your coaches and fellow participants who keep you coming back.
On that first day of Duke Run/Walk Club, we made our way around the 1.6-mile lap around the East Campus wall and we kept up a steady conversation about exercising and commuting to work on the Durham Freeway.
Those running conversations turn into relationships that keep people invested in the club.
"The relationships that you develop in Run/Walk Club keeps you accountable for coming back," Payne said. "Everyone checks in with each other. That's really neat to watch because Duke is such a big place and it lets you meet people outside of your work area."
While I was out there the intermediate group, I chatted with Alice Hamilton Evert, who participated in the Run/Walk Club for the first time. Before coming to Duke in 2017, Hamilton Evert lived in Washington D.C. and had a group of friends that regularly ran on Saturday mornings.
She hopes the Run/Walk Club will help motivate her to run more.
"It's hard to get into a habit of exercising," said Hamilton Evert, education staff assistant for Duke Innovation & Entrepreneurship. "I need something holding me accountable to get back into the swing of working out."
Read my other columns in this series:
Got a personal Healthy Duke fitness story, please share it with us.