Student Honors and Laurels for the Class of 2018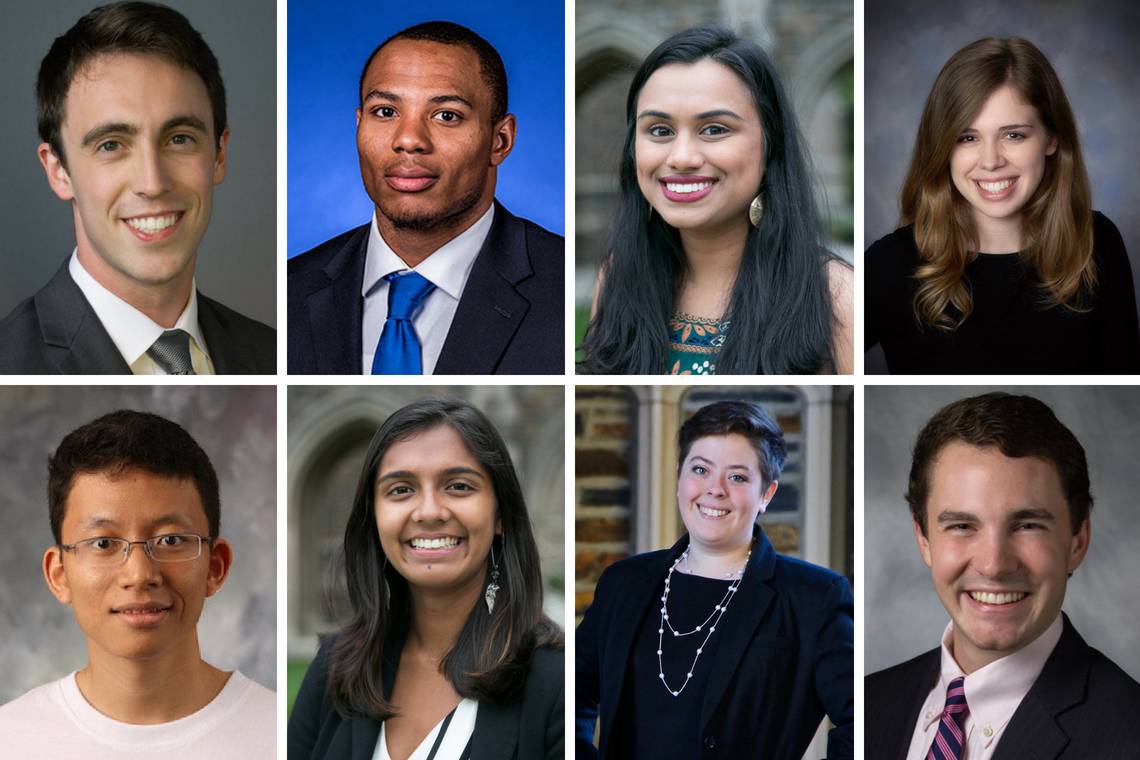 NATIONAL AWARDS
Rhodes Scholar
Gabrielle (Gabi) Stewart, a senior from San Dimas, Calif., was among the 32 recipients selected this weekend for prestigious Rhodes Scholarships. She is the 46th student in Duke's history to receive a Rhodes Scholarship. The scholarships provide all expenses for two or three years of study at the University of Oxford in England.
Stewart is the recipient of a four-year, merit-based Benjamin N. Duke Scholarship, a member of Phi Beta Kappa academic honor society and one of three 2017 Faculty Scholars in the Duke senior class. The honor is bestowed by the Duke faculty on the basis of excellence in the classroom and in independent research.
Mitchell Scholar
Jackson Skeen, a Duke senior from Virginia Beach, Virginia, is one of 12 students nationwide selected as George J. Mitchell Scholars. This year, 326 students applied for the scholarship, named in honor of Sen. George Mitchell's contributions to the Northern Ireland peace process. Recipients are chosen on the basis of academic distinction, leadership and service, and spend a year of post-graduate study at institutions of higher learning in Ireland.
Marshall Scholars
Seniors Meghana Vagwala of South Grafton, Massachusetts, and John Lu of Whippany, New Jersey, were are among the 43 recipients of the prestigious Marshall Scholarship. The scholarships are awarded each year to high-achieving American students to pursue post-graduate studies at any university in the UK in any field. The award covers all university fees, cost-of-living expenses and many other costs. 2016 Duke graduate Antonio Lopez also received the award. They are the 25th, 26th and 27th Marshall recipients from Duke.
Goldwater Scholars
Seniors John Lu and Karen Xu received the Barry M. Goldwater Scholarship and Excellence in Education Program in 2017. Harvey Shi, also of the Class of 2018, received the scholarship in 2016.
The one- and two-year scholarships go toward covering the cost of tuition, fees, books, room and board up to a maximum of $7,500 per year. The federally endowed scholarship program honoring the late U.S. Sen. Barry Goldwater was designed to foster and encourage outstanding students to pursue careers in the fields of mathematics, the natural sciences and engineering.
In 2018, juniors Samantha Bouchal and Shomik Verma and sophomore Pranav Warman received the award.
Truman Scholars
Duke senior Maya Durvasula received the Truman Scholarship in 2017. Durvasula, a Robertson Scholar from Albuquerque, New Mexico, studies economics, with a minor in mathematics and a certificate in politics, philosophy and economics.  She has been involved with research through the Duke-UNC Initiative on Poverty and Inequality and the UNC Institute for Global Health & Infectious Diseases.
Students are selected based on their records of leadership, public service and academic achievement, and their likelihood of becoming public-service leaders.
In 2018, juniors Kushal Kadakia and Claire Wang received the scholarship.
Schwarzman Scholars
Seniors Riyanka Ganguly of Seattle, Amy Kramer of Boca Raton, Florida, and Aron Rimanyi of Chapel Hill, North Carolina, have been named Schwarzman Scholars, a program that funds one year of study in Beijing, China. They are among 140 recipients selected from more than 4,000 applicants worldwide.
The scholars develop leadership skills through a funded one-year master's degree in global affairs, with specialization tracks in public policy, economics or international studies.
Udall Scholars
Senior Bryce Cracknell, received the Morris K. Udall Scholarship in 2017, which recognizes students who have demonstrated a commitment to careers in the environment or Native American tribal public policy or health care. Scholars must also demonstrate leadership potential and academic achievement.
This year, three juniors, Shandiin Herrera; Shomik Verma; and Claire Wang received the award.
Beinecke Scholars
Senior Ashlyn Nuckols was among 20 students nationwide selected as Beinecke Scholars in 2017. The Beinecke Scholarship supports students of exceptional promise as they attend the graduate school of their choice. A student must apply as a junior, demonstrate financial need and plan to study arts, humanities or social sciences.
UNIVERSITY AWARDS
Aerospace Studies
Peter Galindez III won the Arnold Air Society Bundy Excellence Award and the Daughters of the American Revolution Award
Charles Thatcher Owen received the Distinguished Graduate Award
African & African American Studies
Brennan Allan Steele and Anna Julia Katz won the John Hope Franklin Award for Academic Excellence.
Roderick Herbert Acquaye received the Karla F. C. Holloway Award for University Service
Mina Ibiye Ezikpe received the Walter C. Burford Award for Community Service.
Alisha Joy Hines and Adriana Moniece Parker won the Mary McLeod Bethune Writing Award.
I. Augustus Durham received the Graduate Teaching Award
Colleen Sharp was presented with the Burford Award for Community Service
Art, Art History and Visual Studies
Jeainny Seyoung Kim received the Mary Duke Biddle Foundation Visual Art Award
Savannah Chauvet and Charles Michel Niebanck won the Nancy Kaneb Art History Award
Eamon Patrick Glavin earned the Sue and Lee Noel Prize in Visual Arts
Camila Vargas Restrepo and Hunter Jeffrey Sittason Stark earned the Visual Studies Initiative Award
Asian & Middle Eastern Studies
Attyat Mayans won the Outstanding AMES Honor Thesis Award
Asian/Pacific Studies
Helen Yu and Sonia Xu received the Sirena WuDunn Memorial Scholarship
Athletics
Leona Maguire and Alonzo Deleon Saxton II earned the ACC Plaque for Excellence, Scholarship and Athletics
Biology
Jackie Jin Lin and Alvin Han received the Biology Faculty Award
Jason Phanliem Dinh won the James B. Rast Memorial Award in Comparative Organismal Biology
Reena Reed Debray received the Edward C. Horn Memorial Prize for Excellence in Biology
Stephanie von Ungern Sternberg Prufer earned the Maggie Schneider Award in Marine Biology
Biostatistics and Bioinformatics
Xingyan Wang received the Overall Academic Excellence Award and the Student Leadership Award
Ganchao Wei won the Outstanding Master's Project Award
Chemistry
Rechel Anne Geiger received the American Chemical Society Undergraduate Award in Analytical Chemistry
Matias Harder Horst won the American Chemical Society Undergraduate Award in Inorganic Chemistry
Jeong Min Park won the American Chemical Society Undergraduate Award in Physical Chemistry
Alan William Kong earned the Merck Index Award
Jeong Min Park received the Department of Chemistry Award
Classical Studies
Gabrielle Christina Stewart won the Classical Association of the Middle West and South Award for Outstanding Accomplishment in Classical Studies and the David Taggart Clark Prize in Classical Studies
Computer Science
Harrison Graham Lundberg, Weiyao Wang and Jie Yang won the Alex Vasilos Award
Ademola Olukayode Olayinka and Robert Hays Steilberg II received the DeNardis Award
Cultural Anthropology
Jeremy Aaron Gottlieb and Morghan Paige Phillips earned the Judith McDade Prize in Cultural Anthropology
Ashlyn Elizabeth Nuckols won the Paul Farmer Award for Justice and Social Responsibility
Dance
Cindy Li and Riley Joseph Reardon won the Julia Wray Dance Award
Divinity School
Allison Ruth Wattenbarger won the Award for Excellence in Bible
Gregory Ervin Milton was presented with the Fellowship Seminarian Award and the Hoyt Hickman Award for excellence in Liturgics
Katherine Fiorella Guerrero won the Jameson Jones Preaching Award
Christopher Aaron Burner received the Frederick Buechner Writing Award
Bernadine Anthony and Sarah Nickolina Jacoby earned the McMurry Richey Awards in Field Education
Tyrek Tormaine Corry won the McMurry Richey Awards in Missions
Tamario Maurice Howze was named the university's Julian Abele Award for Divinity Student of the Year
Documentary Studies
Evan Nicole Bell won the Julia Harper Day Award for Documentary Studies
Duke Alumni Association
John Paul Aldrup-MacDonald, Lesley Michelle Chen-Young, Bryce Scott Cracknell, Gianna Chantal Falk, Sydney Nicole Fishman, Sean Michael Gilbert, Shajuti Tasnim Hossain, Jason Mick Ng, Colin Patrick O'Leary, Rachelle Carlette Olden, Gerardo Arturo Parraga, Patricia Pinckombe, Lisa Remlinger, Maxwell Peck Sinsheimer, Eric John Smith, Winfred Cole Wicker and Mary Therese Ziemba received Forever Duke Student Leadership Awards.
Duke Global Health Institute
Tessa Leigh Concepcion won the Madeline Boccuzzi Outstanding Master of Science in Global Health Student Award
Amanda Jankowski received the Michael Merson Undergraduate Student Leadership Award in Global Health
Duke Human Rights Center at the Franklin Humanities Institute
Catherine Anne Ward earned the Oliver W. Koonz Human Rights Prize
Duke Service-Learning
Michaela Alexandra Stith won the Betsy Alden Outstanding Service-Learning Award
Earth and Ocean Sciences
Lucila Jolie Houttuijn Bloemendaal won the Thomas V. Laska Award
Economics
Moses Snow Wayne won the faculty vote for Outstanding Honors Poster; Moses Snow Wayne won the student vote.
William John Walker earned the Outstanding Symposium Presentation Award
Maya Mandara Durvasula received the Allen Starling Johnson Jr. Award for Excellence in Undergraduate Research for Best Honor Thesis; Dane Bourcy Burkholder and Chin Jie Lim were finalists.
Hao Pang won the Master's Program Award for Academic Excellence
Carla Rodriguez received the Duke Department of Economics Master's Program Award for Leadership
Education
Katherine Morgan Diaz, Ryan Patrick Louie and Jasmine Hill won the D.T. Stallings Award
Jihane Bettahi, Michael Chiang, Joshua McKinley Lovett, Cam-Ha Thi Nguyen and Rhajaa Wright earned the Holton Prize for Education Research
Michael Chiang and Rafael Carlo Jacinto Diy received the Virginia S. Wilson Excellence in Teaching Award
Engineering
Christopher Joseph Northrup won the American Society of Civil Engineers Outstanding Senior Prize
Michelle Anne Moffa and Karyn Elizabeth Saunders received the Aubrey E. Palmer Award
James Louis Doherty and Aditya Srinivasan earned the Charles Ernest Seager Memorial Award
Michael Yurievich Kuryshev was named the recipient of the Charles Rowe Vail Memorial Outstanding Undergraduate Teaching Award
David Kevin Bi won the David Randall Fuller Prize
Harvey Yizhuang Shi and Rachel S. Yang received the da Vinci Award
Harvey Yizhuang Shi also won the Edward D. "Ned" Light Memorial Award
Michelle Anne Moffa and Delaney Colleen Thompson earned the Eric I. Pas Award
Jihane Bettahi and Edwin Taylor Bodge earned the George Sherrerd III Memorial Award in Electrical and Computer Engineering
Sydney Elisabeth Jeffs and Vincent Nevan Miao received the Helmholtz Award
Ryan Spencer Cox and Tara Yeo Davis earned the Mechanical Engineering and Materials Science Faculty Award
Brian Kwong-Kai Chan and Henry Pak-Hang Yuen received the Otto Meier Jr. Tau Beta Pi Award
Noah Ben Youkilis earned the Pi Tau Sigma Scholarship Award
Edwin Taylor Bodge and Jason Mick Ng won the Pratt School of Engineering Student Service Award
Anthony Nicola Schneider won the Theo C. Pilkington Memorial Award
Joseph Robert Lilien, Adithya Raghunathan, Harvey Yizhuang Shi, Ryan Anthony St. Pierre and Rachel S. Yang won the Walter J. Seeley Scholastic Award
Karyn Elizabeth Saunders earned the William Brewster Snow Environmental Engineering Award
English
Caroline Lydia Fernelius won the Academy of American Poets Prize. She also received third place in the Lucaci Award for Creative Non-Fiction.
Vivian Lu received the Anne Flexner Memorial Award for Creative Writing in Fiction
Chloe Hollowell Hooks received the Anne Flexner Memorial Award for Creative Writing in Poetry. Hooks also won the Award for Most Original Honors Thesis
Lauren Kelly Bunce won the Barbara Hernnstein Smith Award for Outstanding Work in Literary Criticism or Theory
Catherine Anne Ward received the Critical Essay Award
Nicholas School of the Environment
Stephanie von Ungern Sternberg Prufer won the Sara LaBoskey Award
Clara Nicole Bird received the Marine Science and Conservation Award
Fuqua School of Business
Megan Caroline Margel won the Alan D. Schwartz Award for Mentorship
Melissa Blette earned the Asa T. Spaulding, Sr. Award for Leadership
Luke Cornelius Patrick Brennan and Bruno Levy Spilberg received the Breeden Award in Finance
Deans' Recognition Awards went to Candace Jolié Armand, Leena Kavita Bhakta, Jason Allan Bogardus, Alexandra Hilary Cagan, Ralph Giovanni Caprio, Kaylan Alyssa Christofferson, Manuel Benjamin Costa, Samantha M. Dina, Hannah Rose Ford, Michelle Kathleen Hardy, Hanna Elisabeth Kadesch, Katherine Sarvis McNeil, Judith Anna Merzbach, Lauren Williams Niculescu, Alexandra Ossa Garcia, Susan Sasu, Lou Scerra, Lauren Alis Vick, Andrew Michael Wiersma and Jenna Ziesenhene
Luke Stuart Fangman and Wilson Huynh earned the Distinguished Service Award
Julian Andrew Gordon and William Copeland Brody won the Keohane Leadership Award
Maura Theresa Schwitter and Davide Sgarbi received the Team Fuqua Award
Gender, Sexuality and Feminist Studies
Elizabeth Barahona received the Dora Anne Little Award
The Graduate School
Mai-Ahn Thi Vu received the Dean's Awards for Excellence in Teaching
Patrick Andrew Green won the Dean's Awards for Excellence in Mentoring
History
Carrie Wang received the William T. Laprade Prize
International Comparative Studies
Savannah Jane Dixon and Taylor Whitworth won the Capstone Research Prize
Chloe Ricks and Parmida Mostafavi earned the Distinguished Thesis Award
Mathematics
Trung Tran Thanh Can and Feng Gui won the Karl Menger Award
Trung Tran Thanh Can, Feng Gui and Weiyao Wang received the Julia Dale Prize in Mathematics
Surabhi Beriwal, Trung Tran Thanh Can  and Eric Ryan Peshkin earned the Excellence in Research
Medicine
Christina Elizabeth Behrend, Callie Merriam Berkowitz, Cary Stuart Politzer, Amudan Jayram Srinivasan, Matthew A. Wagner and Michael Bernard Weykamp won the Academic Award
Kimberly Julie Cocce, Melissa Erica Hector-Greene and Jerry Chung-Yu Lee received the Albert Schweitzer Fellowship
Alexandra Kathleen Superdock won the Arnold P. Gold Foundation Leonard Tow Humanism in Medicine Award
Teminioluwa Ayotunde Ajayi, Anthony Thomas Fuller, Samara Rashad Jinks, Faith Cheyech Rialem and Julie Claire Rivo received the Brenda Armstrong Living the Dream Award
Victoria Anne Bendersky earned the Bollinger Scholarship
Kevin Lamarr Anderson, Jr., David James Carpenter and Jessica Leigh Narloch received the Clinical and Translational Science Award
Roselyn Adwoa Agyapomaa Appenteng, Camille Ratliff Guzel, Momodou Lamin Jammeh, Colin Patrick O'Leary, Faith Cheyech Rialem, Michelle Tang and Emily Randine Schwitzer won Davison Scholarships
Jesse Y. Liu, Neel S. Nath, Colin Patrick O'Leary, Amudan Jayram Srinivasan and Bo Sun earned Dean's Merit Scholarships
Bradley Gerald Ackerson, Adesewa Eseosa Adelekun
Christina Elizabeth Behrend, Tanmay Anil Gokhale, Ruwan Gunaratne, Hussain Saleem Lalani, Benjamin Stanley Parker, Colin Alexander Martz, Colin Patrick O'Leary, Karen Amanda Scherr, Lonnie Thomas Sullivan II and Westin Randall Tom won the Dean's Recognition Award
Colin Alexander Martz and Christopher Edison Lynn Toote II won Dean's Tuition Scholarships
Faith Cheyech Rialem received the Doris Duke Fellowship
Leslie Lik-See Chang won the Doris Parrish Cardiology Award
Callie Merriam Berkowitz earned the Doris Parrish Oncology Award
Kristian Becker, Aladine Abdalla Elsamadicy,Christopher Lawrence Kline and Charmaine Priyanka Mutucumarana received the Eugene A. Stead Student Research Sholarship
Nathaniel Joseph Harris and Ronnie Labib Shammas received the Fullerton Scholarship
Christophe Hansen-Estruch earned the Glaxo Smith Kline Award
Chelsea Higgins Feldman was named a Howard Hughes Medical Institute-National Institutes of Health Research Scholar
Melissa L. Abel, Momodou Lamin Jammeh and Xiaojie Zhang received the Howard Hughes Medical Institute Research Training Fellowship
Teminioluwa Ayotunde Ajayi was honored by the National Institute of Environmental Health
Jerry Chung-Yu Lee received the Palumbo Family Award. Jerry also won the Wilburt Davison Award
Guatam Madhu Nayar was named the Ruth K. Broad Foundation Medical Fellow in the Neurosciences
Bradley Gerald Ackerson, Bilal Ashraf, Callie Merriam Berkowitz, Vinay Pankaj Choksi, Julia Farquhar, Emily Mattoon, Benjamin Stanley Parker, Lauren Nicole Pontius, Julie Claire Rivo and Madelyn N. Stevens received Senior Scholarships - Anlyan
Nathaniel Joseph Harris, Jessica Lyden Hoffman, Jerry Chung-Yu Lee and Alvin Justin Rucker received Senior Scholarships - Barham
Mara Storto was named a Sarnoff Fellow for Student Honors
Christophe Hansen-Estruch earned the Singapore Fellowship
Chelsea Higgins Feldman won the Vice Dean's Research Award - Basic Sciences
Military Science
Gabrielle Marie Falco was named the Distinguished Military Graduate and also received the George C. Marshall Award
Music
Andrew Harrison Cooper and Christopher Anderson Cook earned the Ann-Marie Parsons Memorial Prize
Shauna Alexis Bierly won the Henry Schuman Music Prize
Sophie Olivia Caplin earned the Julia Wilkinson Mueller Prize for Excellence in Music
Allyson Eileen Luo earned the Paul R. Bryan Award
Owen Sydney Richardson earned the William Klenz Prize in Music Composition
Naval Science
Anthony Nicola Schneider earned the Admiral Frank Bowman Leadership Award. Anthony also received the CNO Distinguished Graduate Award
Office of Health Professions Advising
Rachel S. Yang won the Raymond Lublin, M.D. Award
Office of the Provost
Isaiah Christopher Carter received the Algernon Sydney Sullivan Award
Physical Therapy
Ann Marie Daorai won the Duke Doctor of Physical Therapy Diversity Award
Valerie J. Adams received the Helen Kaiser Duke Physical Therapy Alumni Association Award
Meghan B. Barry, Kira Gabrielle Battle, Christina M. Cromwell, Lorraine Constance Schrand, Jasmine Lynne Seider, Colin Matthew Wiest, Samantha Wood and Brad Swanson received the Helen Kaiser Scholarship Award
Amanda Floyd Beaty earned the Student Recognition Award
Physics
Jeong Min Park won the Daphne Chang Memorial Award
Policy, Journalism and Media Studies
Andrew Tan-Delli Cicchi won the Melcher Family Award for Excellence in Journalism
Political Science
Matthew Taylor King earned the Alona E. Evans Prize in International Law
Hannah Wang won the Elizabeth G. Verville Award
Sanjeev Dasgupta received The Jerry B. and Callie Irene Stone Award
Amy Lynn Kramer won the Ole R. Holsti Award in American Foreign Policy and International Relations
Riyanka Ganguly, Michael Jerome Ivory Jr. and Aron Balazs Rimanyi shared the The Robert S. Rankin Award for Leadership and Academic Achievement
Adam Nicholas Beyer received the Robert S. Rankin Award in American Government and Constitutional Law
Helen Anne Schutz Lo won The Robert S. Rankin Award in American, National, State, and Local Governments
Program II
Raichel Lynn Perper, Shruti Rao and Anuhita Basavaraju were cited for the Best GWD Project
Meghana Kasturi Vagwala won the Vagwala Service and Leadership Award
Psychology
Karen Catherine Young earned the Karl E. Zener Award for Outstanding Performance of an Undergraduate Major in Psychology
Camila Vargas Restrepo received the Jerome S. Brunner Award for Excellence in Undergraduate Research
Public Policy
Maura Elisabeth Smyles won the Joel Fleishman Distinguished Scholar Award
Adam Nicholas Beyer and Jacqueline Aram Monetta  won the Terry Sanford Leadership Award
Religious Studies
Eileen Valverde Vindas received the Best Paper Award
Romance Studies
Adriana L. Santomero earned the Guido Mazzoni Prize in Italian
Kiera McGrath Needham and Mariel Christina Colon-Leyva won the Richard L. Predmore Award in Spanish
Madeline Jennings Thornton and Brittany Michelle Wong received the Robert J. Niess / Alexander Hull Award in French
School of Nursing
Lucy Robin Frank won the Ruby L. Wilson Excellence in Clinical Practice Award. Lucy also received the Annie Beery Bieber Award for Outstanding Leadership Award
Ellen Catherine Byars earned the Bonnie Jones Friedman Humanitarian Award
Brittany Marie Alexander received the Outstanding DNP Scholarly Project Award
Statistical Science
Jingyi Bai received the Statistical Science TA of the Year Award
Student Affairs
Elizabeth Ann Brown was cited for Distinguished Leadership and Service Award: Building Alliances Through Collective Engagement
Elizabeth Barahona was honored for Distinguished Leadership and Service Award: Commitment to Diversity
Luke Thomas Duchemin was honored for Distinguished Leadership and Service Award: Demonstration of Integrity
Catherine Anne Ward was cited for Distinguished Leadership and Service Award: Expanding the Boundaries of Learning
Kyle James Miller was honored for Distinguished Leadership and Service Award: Respect for Community
Riyanka Ganguly and Winfred Cole Wicker received the William J. Griffith University Service Award: Outstanding Contribution to the Duke Community
Eliza Stephanie Moreno and Chandler Nicole Phillips won the William J. Griffith University Service Award: Outstanding Contribution to the Durham and Local Community
Theater Studies
Ashley Marie Ericson won the Award for Excellence in Directing
Andrew Carver Jackson earned the Dale B.J. Randall Award in Dramatic Literature
Wesley Campbell Caretto received the Harold Brody Award for Excellence in Musical Theater
Alonzo Deleon Saxton II and Ashley Ericson received the John M. Clum Distinguished Theater Studies Graduate Award
Alonzo Deleon Saxton II was named Outstanding Acting Student
Trinity College of Arts and Sciences
Elliott Zachary Golden won the Bascom Headen Palmer Literary Prize
Katherine Irene Berko, Alexandra Marie Felix, Jeainny Seyoung Kim, George Woodruff Lucas, Matthew John Riley, Hunter Jeffrey Sittason Stark and Jennifer Ru Zhou received the Edward H. Benenson Award in the Arts
Jeainny Seyoung Kim earned the Louis B. Sudler Prize in the Creative Arts and Performing Arts
Faculty Scholar Award
Seniors Lauren Bunce (Gender, Sexuality and Feminist Studies), John Lu (Chemistry) and Gabrielle Stewart (Classical Studies) received the 2017 Faculty Scholar Award. Presented annually to juniors who have conducted independent research and show potential for innovative scholarship and a potential career in academe, the award is the highest honor presented by Duke faculty to undergraduate students. Honorable mentions went to Caroline Fernelius (English) and Karen Xu (Biomedical Engineering).