Three Duke Students Named Schwarzman Scholars
The program funds one year of study in Beijing, China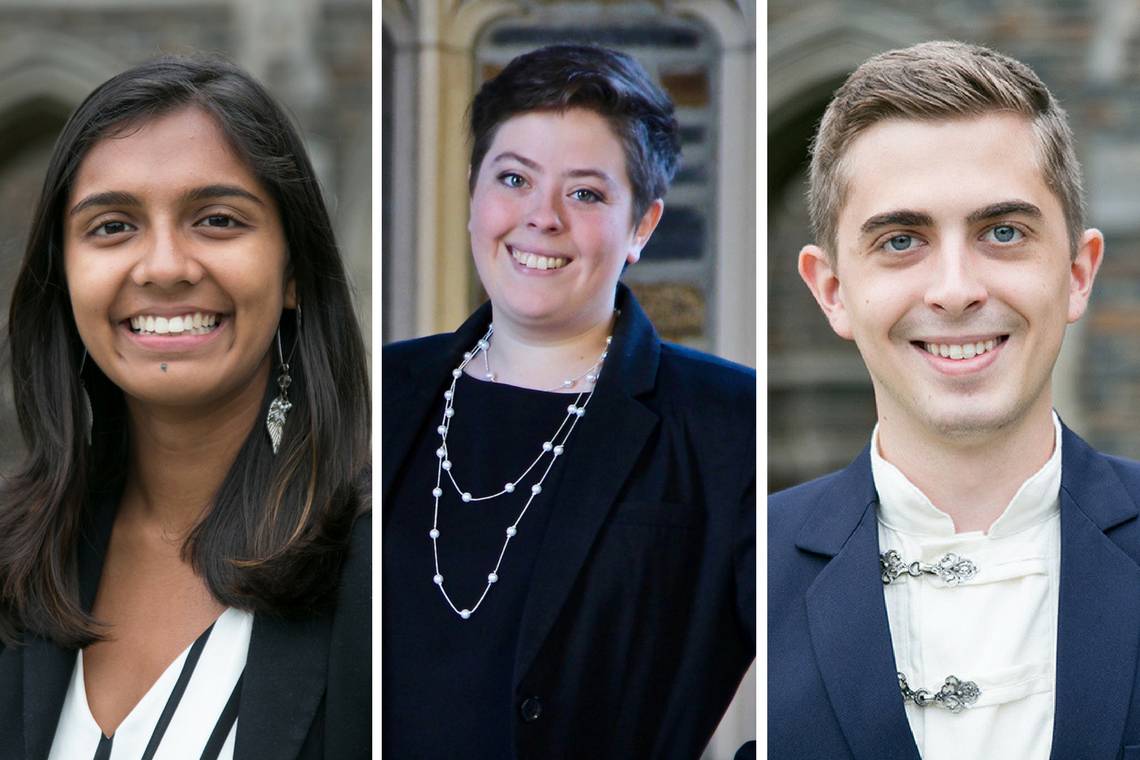 Three Duke University students have been named Schwarzman Scholars, a program that funds one year of study in Beijing, China.
Seniors Riyanka Ganguly of Seattle, Amy Kramer of Boca Raton, Florida, and Aron Rimanyi of Chapel Hill, North Carolina, were named to the third class of Schwarzman Scholars. They are among 140 recipients selected from more than 4,000 applicants worldwide.
The scholars develop leadership skills through a funded one-year master's degree in global affairs, with specialization tracks in public policy, economics or international studies. Scholars are selected on the basis of leadership potential, entrepreneurial spirit and a desire to understand other cultures.
Students will study at Tsinghua University -- one of China's most prestigious universities -- and live on the Schwarzman College campus, a newly built, state-of-the-art facility where classes are taught in English. 
"I want to congratulate this year's Schwarzman Scholars on this well-deserved honor," said Duke President Vincent E. Price. "Duke has fostered a strong relationship with the academic community in China, and we know that we will have many more opportunities to cooperate in the coming years. We are proud to be sending three of our most accomplished students to Tsinghua University, and I wish them the very best in their studies there."
Ganguly, a Baldwin Scholar and president of Duke Student Government, majors in political science with a minor in chemistry. She has worked at the intersection of global health and business at the United States Agency for International Development. At Duke, she created the Peer Advocacy for Sexual Health resource center. She plans to work in international development, where she hopes to lead projects that establish family planning and sexual health education programs.
Kramer, a Robertson Scholar and ROTC Cadet, majors in public policy and political science, with concentrations in U.S. foreign policy and security, peace and conflict studies. She is interested in the strategic security benefits of mainstreaming gender perspectives in military operations, and has done research in Rwanda, Israel and the United States on women's leadership in this area. Kramer plans a career in shaping a more inclusive U.S. defense policy and in forging new diplomacy ventures abroad. 
Rimanyi, an A.B. Duke Scholar and W. Earl Sasser Scholar, majors in political science and economics, with a minor in mathematics. At Duke, he has been a leader in the Duke Program in American Grand Strategy, the Alexander Hamilton Society and the Carolinas Hungarian Group. A dual citizen of the U.S. and Hungary, Rimanyi has worked for various international organizations, including the Hungarian National Trading House and Swiss Youth Parliament. He plans to pursue a career in international consultancy.
The Schwarzman Scholars initiative is designed to meet the challenges of the 21st century and beyond. Stephen A. Schwarzman, co-founder of the Blackstone Group, personally contributed $100 million to the program and is leading a fundraising campaign to raise an additional $400 million from private sources to endow the program in perpetuity. The $500 million endowment will support up to 200 scholars annually from the U.S., China and elsewhere.
The scholars will live in Beijing for a year of study and cultural immersion, attending lectures, traveling, and developing a better understanding of China.
A complete list of the scholars can be found here.