Celebrate Earth Month at Duke
Celebrate Earth Day all month with over 20 environmental events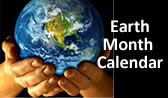 There are plenty of ways to celebrate Earth Day throughout the month of April at Duke.  Events include the Duke Forest's Pine Cone Pacer, an Earth Day celebration at the Nicholas School, and a spring festival at the Duke Campus Farm.
Celebrate Duke's commitment to sustainability with events like a
carbon-neutral concert during Earth Hour and a volunteer tree planting. Reduce waste during your spring cleaning with the Duke Free Store and re:dress Clothing Swap.  Support local and sustainable food choices by volunteering at the Duke Campus Farm and purchasing produce at the Duke Mobile Market and Duke Farmers' Market Opening Day.
This year, there is an extra benefit for celebrating the environment at Duke during April.  Points will be awarded in Round 7 of the Green Devil Smackdown for attending an Earth Month event.
View the full Earth Month Calendar compiled by Sustainable Duke.  If you would like to add an environmental event to the calendar, e-mail sustainability@duke.edu.