Duke Campus Farm Festival
Attend the Farm Spring Festival and Earth Day Celebration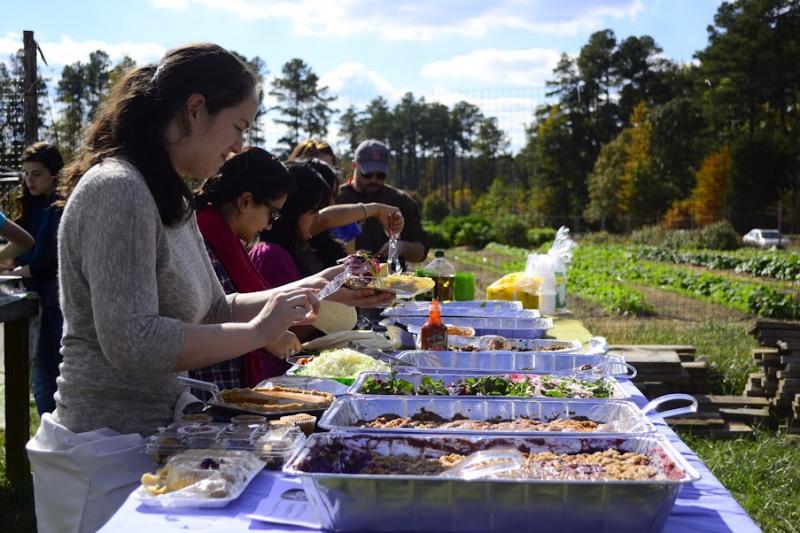 Note: Be sure to RSVP for the Farm Festival for updates on changes due to weather.
Come help the Duke Campus Farm and Sustainable Duke celebrate Earth Day with a spring festival at the farm. We will be sharing a meal and there will be farm tours, lawn games, live music and hopefully some beautiful spring weather.
This winter the Duke Campus Farm hosted a series of skill-building workshops where participants learned to brew beer and meade, make cheese and jam and learned some basic cooking skills. The Farm encourages everyone who participated in these workshops to show off their newly acquired skills by bringing a dish or beverage to share. There will be tastings of the cheese, beer and jam made at the workshops. Even if you didn't attend the workshops, bring something homemade or locally made to share.
Bon Appetit will be providing two main dishes from farm produce and guests will provide the rest. Everyone is welcome including children and dogs (on a leash) and blankets are recommended.
When: Sunday, April 22, 3-6 p.m.Where: 4910 Friends School Rd, DurhamRSVP: Required. Please fill out this form.  Be sure to RSVP for the Farm Festival for updates on changes due to weather.
There is no cost for this event, but please bring a food item to share! Please bring your own beverage, utensils and plate, if possible.
Carpooling and parking: We are celebrating Earth Day, so if you can carpool, please do! The RSVP link gives you carpool options and farm staff will contact you to make arrangements if you indicate that you would like to carpool. Please park across the street at Carolina Friends School, signs will direct you.
If you have any questions, please contact dukecampusfarm@gmail.com.