Incorporating Fun in the Workplace
Making time for a good laugh boosts spirits and performance of team members in a Duke Raleigh Hospital clinic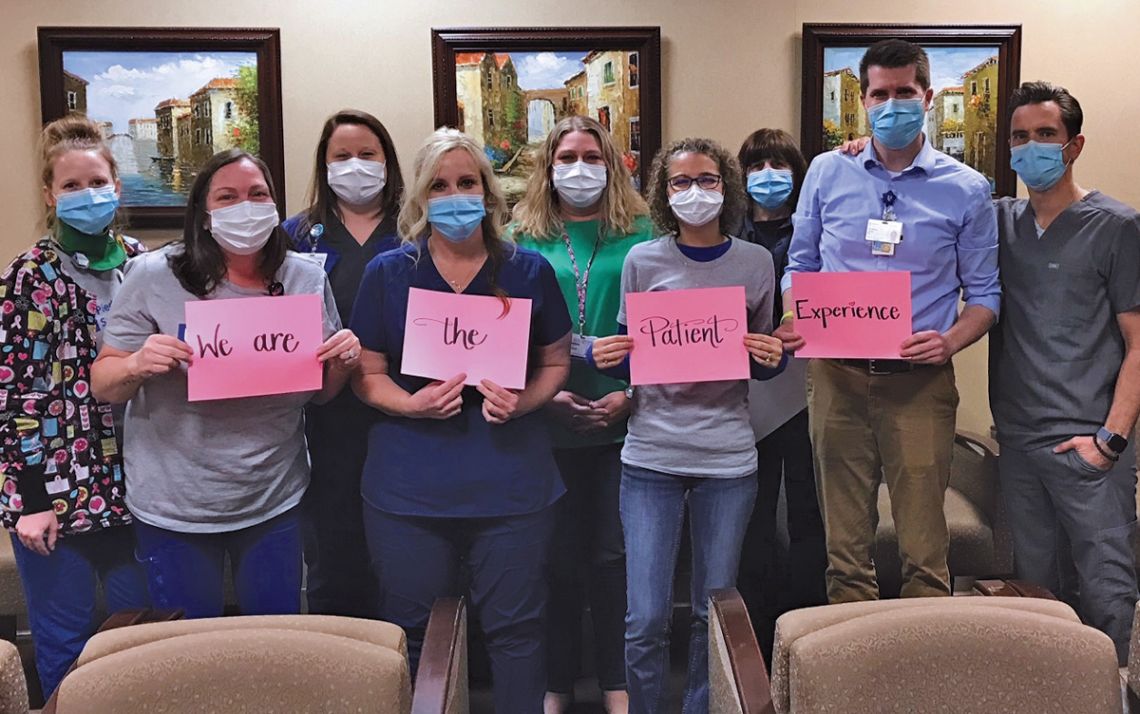 When it became clear that Dr. Justin R. Scruggs would be the provider in the office that day, the staff at Piedmont Spine Specialists saw an opportunity for a good-natured prank.
With no patient appointments in the early morning hours, staff in the Duke Raleigh Hospital Clinic sent Scruggs a text message saying that due to heavy traffic, some team members would be running late. Soon after, everyone hid in his office.
When Scruggs arrived, team members jumped out and surprised him. After an initial shock, a smile stretched across his face.
"They definitely got me good and surprised me," Scruggs said. "I have the best staff anyone could ask for. In addition to providing excellent patient care, they are also top-notch practical jokers! While this may seem trivial, jokes and pranks like this make us all laugh and make coming to work even more enjoyable."
As the post-pandemic work landscape evolves, Working@Duke is sharing stories of how individuals and schools, departments and units are building a positive culture at Duke. In its 2022 Global Talent Trends report, "The Reinvention of Company Culture," LinkedIn found that 40 percent of professionals cite colleagues and culture as top priorities when picking a new job.
At Piedmont Spine Specialists, colleagues build culture and community through having fun together — a crucial workplace element that increases creativity and job satisfaction, according to LinkedIn.
Before or after hours, good-natured practical jokes bring a dose of fun to the clinic on the Duke Raleigh Hospital campus in Duke Medicine Plaza. The colleagues find humor deepens trust in each other.
"You have to give your brain and your mind time to think, time to calm down, time to take a break and laugh with your associates," said Latrisha Smith, a financial care counselor at the clinic. "There is this side to working that you really need to have that moment where you're taking a breather to have fun, smile, laugh for a minute before you get back to the serious stuff."
Tom Szigethy, associate dean and director of Duke's Student Wellness Center, said laughter can be a medicine, with humor providing benefits to both physical and mental health. Laughing increases serotonin and dopamine, reduces stress hormones and helps people focus on being present in the moment and build relationships, he said.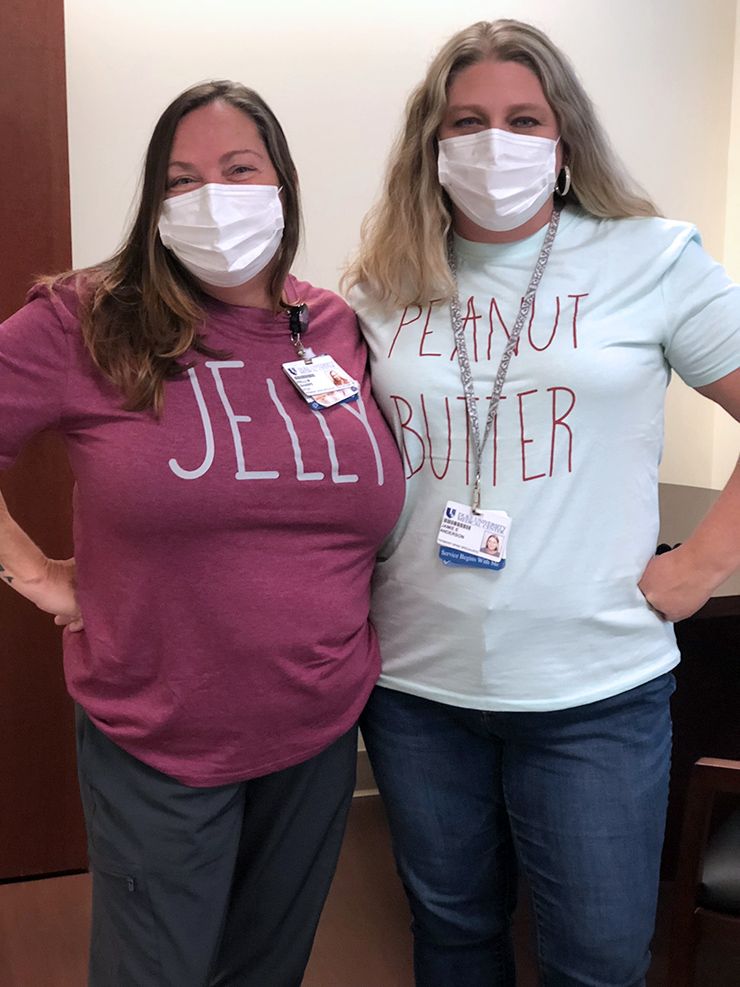 "When we're having fun, we let our guard down, and we let people see who we really are," said Szigethy, the Environment and Culture co-convener for Healthy Duke. "When you think about fun, funniness, comedy and laughter, in order to be funny, you have to be vulnerable."
At the Piedmont Spine Specialists, colleagues have learned the value of finding ways to have fun each day. They eat lunch together on Wednesdays and host paint parties, displaying art in the lobby for patients to vote on their favorite. During Halloween, you'll find colleagues in costumes, and in December, the staff members pick a day to wear holiday socks. But nothing quite compares to the practical jokes — like furry fake mice near the coffee creamer in a staff-only break room and googly eyes placed all over the office by Dr. Jon J. Wilson.
Jamie Anderson, a patient service associate who has worked at Duke for 22 years, said the ability to find levity in every day is indicative that they respect and care for each other.
"I drive an hour every day to come work here," Anderson said. "And it's worth every minute of it."
As the post-pandemic work landscape evolves, Working@Duke will share stories of how individuals and schools, departments and units are building a positive culture at Duke. Send your story to working@duke.edu.