3 Ways to Avoid Getting Overcommitted
Strategies for balancing ambitions with available time and energy
In his role as Duke Vice Provost for Faculty Advancement, Abbas Benmamoun is often approached by faculty members who tell him about a new idea they'd like to pursue, or a potential collaboration they've been asked to join.
While listening to colleagues weigh their often exciting options, Benmamoun will occasionally ask them to consider some simple questions.
Do they have the bandwidth  to take this on now, and how does it fit in within their priorities and the priorities of their academic program?
"At a place like Duke, there are so many great opportunities to collaborate with other colleagues and to get involved in various networks, and that can be a wonderful thing," Benmamoun said. "But if you're not careful, that can distract you from your core goals and obligations. It comes down to the question of whether you can do this additional undertaking well and continue to fulfill the commitments that you already have. Sometimes it's hard to strike that balance."
Whether you're considering new partnerships or projects, or trying to fit tasks onto an already crowded schedule, the challenge of balancing the work you'd like to do with a finite amount of time and energy can be difficult.
Dr. Jane Gagliardi knows this challenge well. In addition to serving as a professor of Psychiatry and Behavioral Sciences and a professor of Medicine, she has led medical student and residency training programs and interacts with and provides mentorship to clinical learners at a variety of levels in the School of Medicine and affiliated postgraduate training programs.  
She understands that the desire to do more, even when you may be stretching yourself thin, is natural. Often coming from positive motivations, it's a habit that can be hard to manage.
"Some people can have trouble setting boundaries; they may feel like they're being mean if they say no to something, or they're just so accustomed to saying yes," Gagliardi said. "They may also fear missing out on a cool opportunity. They don't want to let something pass them by because they worry they may never get that opportunity again."
With help from Duke experts and colleagues, here are some strategies that may help keep you from getting overcommitted.  
Be Honest With Yourself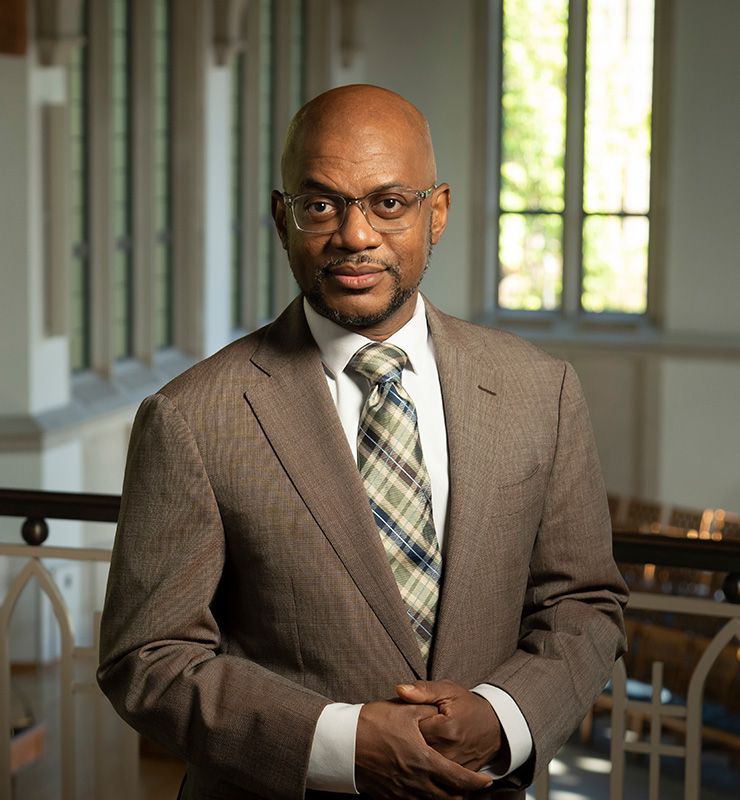 Since arriving at Duke, Norbert Wilson has taken on plenty. In July of this year, the professor of food, economics and community at the Duke Divinity School was named the new director of the World Food Policy Center. 
Throughout his career, Wilson said he's worked on maintaining balance between the work he's excited to do and limitations of his time.
"The question becomes when does taking on more become taking on too much?'" Wilson said. "I think that's a struggle that happens along every career path. A lot of us want to make people happy, or we see something that could really take off if we can figure out how to make it work. The reality is, it won't work if we don't have the time and energy to devote to it."
Wilson said, before a new commitment, take a moment and realistically consider how much you can give to it. Taking a clear-eyed look at existing obligations, and how much of your day those take up, before agreeing to do something else is a simple step, but one that can get overlooked when new ideas or opportunities are discussed.
"I think we can often be poor with planning, broadly speaking," Wilson said. "It's not that we're dishonest, it's that we struggle with being realistic with our time."
Keep Communication Open
Dr. Jane Gagliardi of the Department of Psychiatry and Behavioral Sciences often mentors students and residents who are unsure whether they have the time and energy to pursue a particular opportunity. 
One approach Gagliardi recommends is being open about both your desire to participate and your limitations. While the opportunity may not work out, the discussion may also lead to a productive way forward.
"You want to be clear about what you can do," Gagliardi said. "If you're upfront, it will create more realistic expectations." 
For Norbert Wilson, who has taken on plenty of new responsibilities with his World Food Policy Center role, being open with collaborators and colleagues about other demands he's balancing can often help him prioritize what he's working on. 
Knowing if something needs an immediate contribution, or understanding if it can wait until he has more time, can help him decide what to pursue, and give those counting on him clarity on what he can do.
"If you're going to be professional, you're always going to have multiple balls in the air, and some may not land," Wilson said. "But you've got to learn how to communicate that to the people around you. It's hard to manage everything, but you can manage expectations by being open."
Commit To Yourself
Prior to the pandemic, Stephanie Freel's workdays came with their share of meetings. But once she began working remotely during the pandemic, the director of outreach and mentorship at the Duke Office of Clinical Research in the Duke University School of Medicine, saw the amount of time she spent in virtual meetings jump considerably.
Some days, she would agree to as many as 15 virtual meetings, ranging from early morning huddles to evening strategy sessions.
"When I had to go remote, there was never a point when I felt disconnected, in fact, it was like I was hyper-connected, I was accessible all the time to everyone," said Freel, who found it tough to find time for other tasks and for herself. "It was about a year into being remote that I sat down and said 'This is killing me to do it like this.'"
Looking for a more balanced schedule, Freel began intentionally leaving certain parts of her day free from meetings, often blocking off time around midday by marking herself as unavailable in her Outlook calendar. She used the time to get caught up on other parts of her job.
Realizing that she has plenty of forces hoping to claim segments of her time, Freel said it was important to remember that she deserves a share of it, too.
"I'm still not great at it, but I'm getting better at protecting blocks of time to get things done," Freel said. "I may still schedule something during those times, but at least I have to make the decision to give that time away, which is different than just having it available for anyone to claim."
Send story ideas, shout-outs and photographs through our story idea form or write working@duke.edu.