Snap a Selfie, Show Us How You Practice Self-Care
For self-care awareness month in September, staff and faculty are invited to share a selfie to inspire other colleagues and for a chance at prizes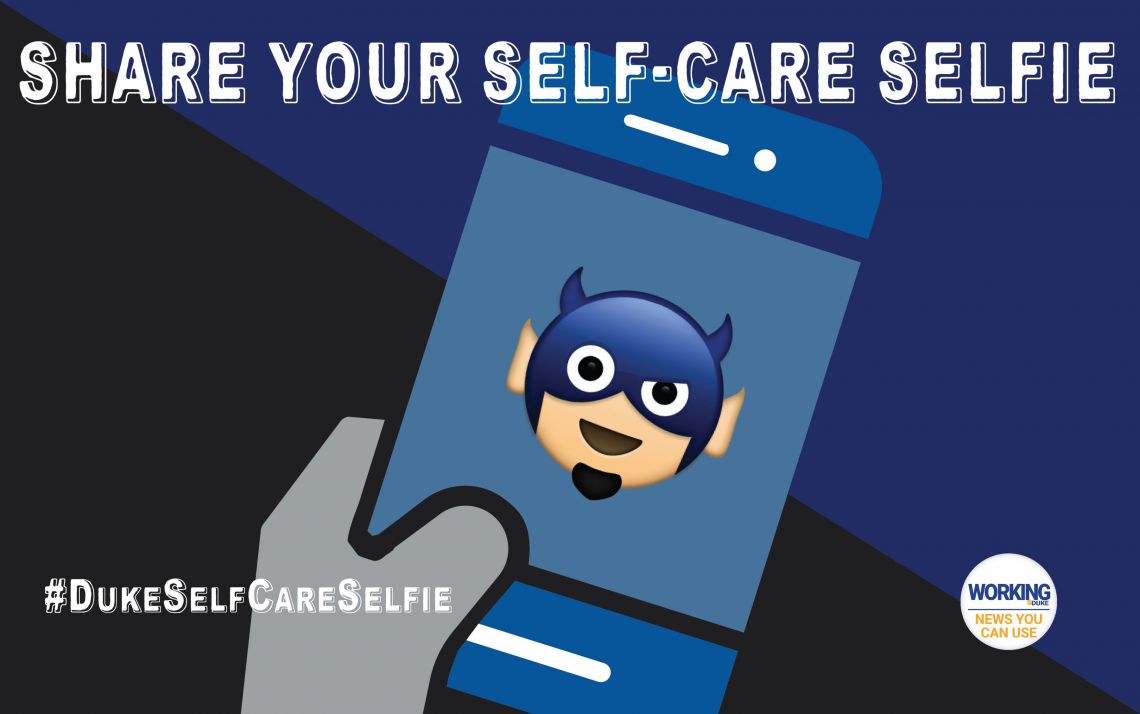 More than two years after COVID-19 was declared a global pandemic, a recent survey by the American Psychological Association (APA) shows "alarming levels" of stress for adults in the U.S.
According to polls conducted by the APA, inflation, the pandemic and war in Ukraine are among contributing factors. Some people have adopted unhealthy behaviors and habits: one in five in the APA survey noted they drink more alcohol, and nearly half of people in the survey said they have been less active than they wanted to be since the pandemic started.
For self-care awareness month in September, Working@Duke invites Duke University and Duke University Health System staff and faculty to share a selfie that shows how they are taking care of their physical and mental health.
"Your body is a little bit of a machine, and it wears down over time…" said Dr. Jon Bae, associate chief medical officer for Quality & Safety in the Duke University Health System and a mental and emotional well-being co-convener for Healthy Duke. "Trying to find time to recenter and connect, even just to take a deep breath or take a walk, to do something else, is super important, and you've got to be really deliberate about it."
Each week in September, Working@Duke will award one Duke Health & Fitness Center massage service to one current Duke staff or faculty member.
How to share your self-care selfie:
Post and tag us in your selfie photo on Twitter, Instagram or Facebook and use #DukeSelfCareSelfie. Tell us what you're doing and why the activity or practice is important to you. Remember to include #DukeSelfCareSelfie in your post, so we can find your selfie on social media.
If you're not on social media or prefer to share your picture another way, upload your selfie here.
To be eligible for prizes, selfies must be taken between Sept. 1, 2022 and 5 p.m.  Sept. 30, 2022, and shared by current University and Health System staff and faculty during the same time period.
The deadline for selfie submissions is 5 p.m. Sept. 30, 2022.
Self-care is different for everyone, so inspire your colleagues with selfie pictures of what works for you. We hope your pictures and stories inspire Duke colleagues to live their best life.
Send story ideas, shout-outs and photographs through our story idea form or write working@duke.edu.