Reboot – or Stay on Track — with Wellness Programs
Duke community members will find local food at bi-monthly markets on campus through October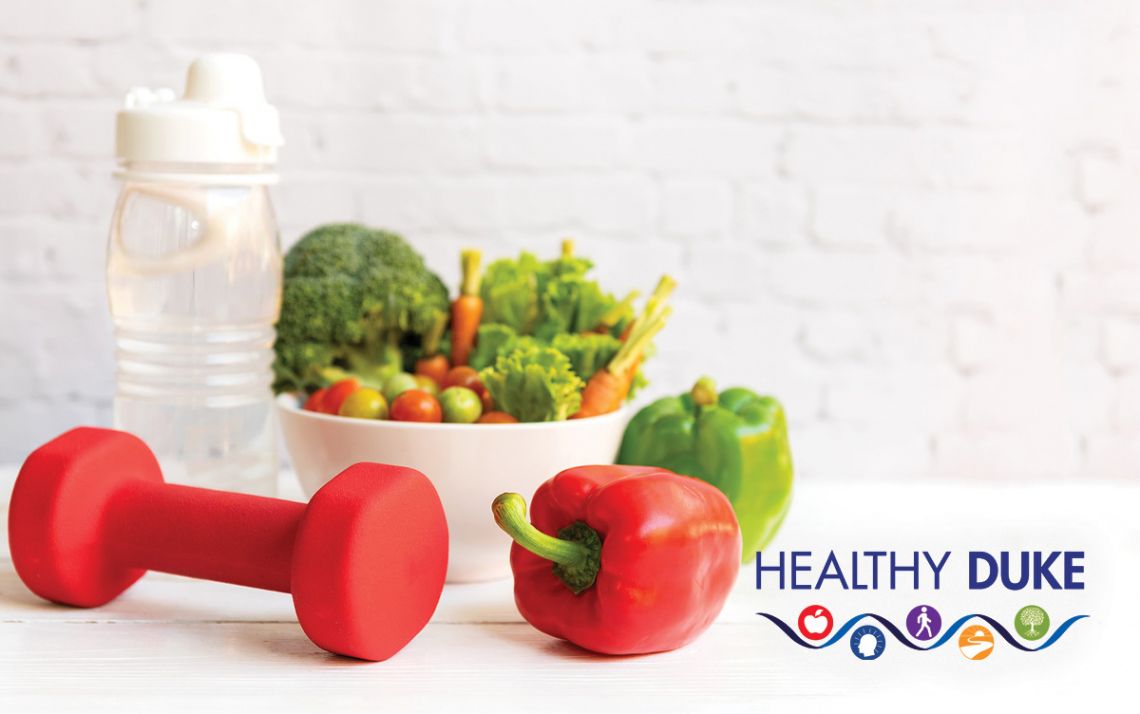 Update: Wednesday, April 27
After two years on hold due to the pandemic, the Duke Farmers Market returns May 5, reconnecting Duke faculty and staff with fresh foods and other local goods on campus.
Starting on May 5, Duke's employee wellness program will host farmers markets twice each month from 11 a.m. to 2 p.m. on select Thursdays at the Duke Medicine Pavilion Greenway outside the Trent Semans Center for Health Education.
The first market on May 5 will include local vendors such as The Produce Box selling fresh strawberries, Valley Brook Farms selling local honey and jams, and Caywood Farm selling grass-fed beef. Other vendors will have salsa, goat cheese, baked goods and handmade art and jewelry available for purchase.
The market will also offer options for lunch, including Argentinian-style cuisine from Durham's Makus Empanadas; vegetarian and non-vegetarian meals from Indian and Tandoor tradition at Nazara Indian Bistro; and tamales, salads and more from Soul Cocina.
"We're excited to bring this back on campus and interact with our population and let them know we're here for them," said Danielle Taylor, a health education specialist with LIVE FOR LIFE. "The Farmers markets were really something that faculty and staff wanted to come back."
The market runs through Oct. 27. A second market after the initial offering is scheduled for May 19.
See more information and updates about the farmers markets on the LIVE FOR LIFE website.
Original Story:
As the threat of the pandemic begins to ease, LIVE FOR LIFE, Duke's employee wellness program, is bringing back several offerings to help staff and faculty get back on track or maintain their fitness and wellness goals.
Since the start of the pandemic, U.S. adults reported that they experienced undesired weight changes; of those who experienced weight gain, the average was 29 pounds, according to the American Psychological Association.
"We know fitness and wellness routines went by the wayside through COVID," said Julie Joyner, director for LIVE FOR LIFE, which was redeployed during the pandemic to handle coronavirus response, including contact tracing. "Smoking increased; alcohol intake increased. If you look on the continuum of well-being, we are not as a community going in a good direction." 
In addition to the Duke Fitness Club, Duke Run/Walk Club, and the Smoking Cessation Program, the following programs are available with additional activities being added as conditions stay safe:
Nutrition Consultations
Whether building a plan to eat a more balanced diet or navigating dietary restrictions and preferences, nutrition consultations will help you devise an individualized plan for nutrition and living your healthiest life.
Consultations are no charge and can be done in-person at Employee Occupational Health and Wellness in the sub-basement of the Orange Zone in the Duke Clinic, virtually, or in some cases, at your on-site workspace.
At the start of each appointment, a registered dietitian asks for nutrition goals to help guide the conversation. After a 24-hour food inventory of food intake, the dietitian helps you focus on next steps and a plan to meet goals that could range from eating healthier to lose weight, or navigating new health diagnoses that require dietary restrictions.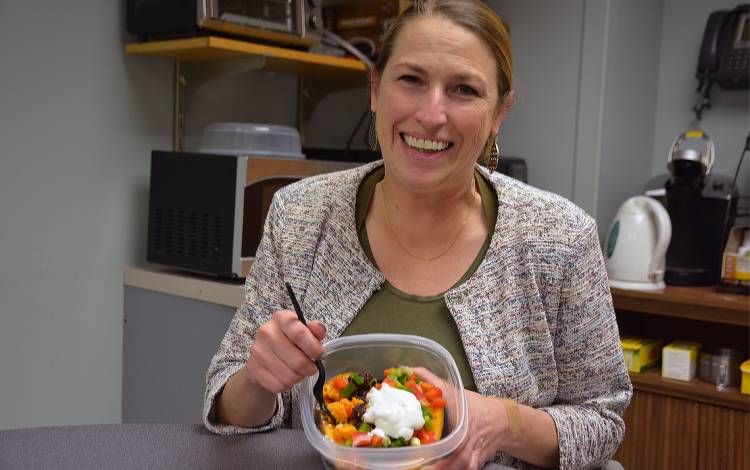 "This department is purely there to care for you, as part of a benefit of employment," said Esther Granville, nutrition program manager for LIVE FOR LIFE. "We know that if outside of your working life, if you're taking care of your body, that's also going to benefit you and the work you're able to do."
Based on needs, the nutrition staff can help lend expertise to a healthy and nutritious diet that fits your lifestyle.
"It's really an opportunity to speak with somebody who is really well-versed in the science of food and nutrition," Granville said.
Duke staff and faculty can sign up for two 60-minute sessions each year, with possible frequent check-ins by phone or email, as needed.
Fitness Consultations
New appointments are available for fitness consultations to help staff and faculty reach fitness goals, no matter whether they need a reboot or help with advanced or specialized training. Fitness consultations can be scheduled free of charge, as needed.
Typically, employees want to lose weight, lower blood pressure, or start a new activity, like getting back into running or returning to a sport. In each 30-minute consultation, a trained fitness professional helps you assess your level of fitness through a series of questions about your current activity to help inform and design actionable plans to reach goals.
"We are a springboard to enable your own increase of personal health and quality of life," said Tim Bisantz, Fitness Program Manager. "The goal is to listen and provide help … also give that extra kick and support to reaching current goals."
For someone who has been more sedentary during the pandemic but wants to get back to the gym several times each week, fitness specialists will small steps aimed to get your body back in the habit of activity, then fold in a formalized plan would build longer or more intense workouts to boost progress.
Food Matters Live Webinars
Food Matters, live 30-minute presentations hosted by LIVE FOR LIFE's dietitian staff, will resume on April 11 and April 25.
On April 11, "Habits that Stick" covers the basics of forming habits around diet that can continue beyond the pandemic. You'll learn basic ways to start a new habit with food, along with helpful tips for staying on course.
"We didn't have any accountability, and had no accountability partners during COVID-19," Granville said. "That's what got us thinking about this topic, how people build habits, how people's schedules have changed and how to build new habits into the schedule."
On April 25, "Food for Immunity" will help you with an immune-boosting diet, and steps you can take to keep your immune system functioning at its best.
"My hope is that this is a way to give people ideas," Granville said. "Sometime when it comes to food and nutrition, it's really not actually rocket science, but when people participate in these programs, what it does is it gives them ideas and may help to motivate people."
To stay up to date with all programs, sign up for the LIVE FOR LIFE email list.
Send story ideas, shout-outs and photographs through our story idea form or write working@duke.edu.