Duke in Pics: Enriching Duke's Canopy
To celebrate Duke earning a Tree Campus Higher Education designation for the 14th consecutive year, staff and students team up for tree-planting event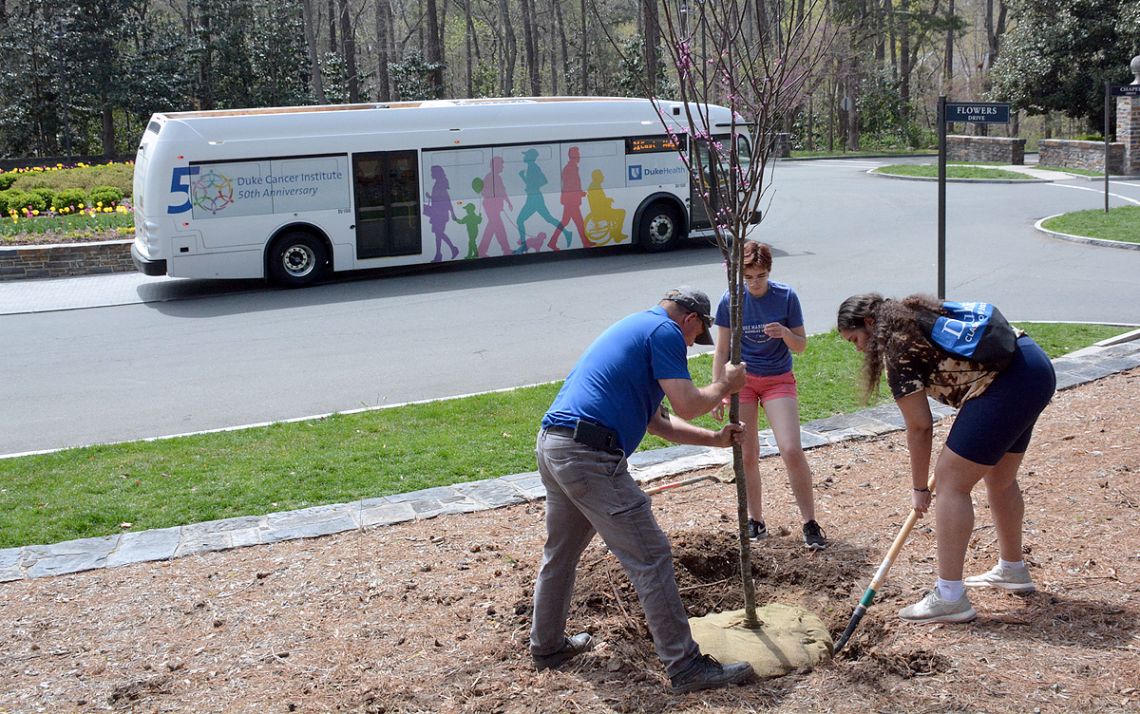 While Duke's campus is already home to roughly 17,000 trees, the small bare hillside between the traffic circle at the intersection of Chapel Drive and Duke's Office of Undergraduate Admissions was calling out for more.
Recently cleared of underbrush, and occupying a prominent spot visible to everyone venturing to and from the heart of West Campus, Duke's Landscape Services team, which is part of Duke Facilities Management, identified the hillside as a prime place for some flowering trees.
To celebrate Duke earning a Tree Campus Higher Education designation from the Arbor Day Foundation for the 14th consecutive year, staff and students teamed up for a tree-planting event last week.
"This is our way of helping reforest campus and keep everything going," said Duke Landscape Services Superintendent of Tree Management Roger Conner, who organized the event.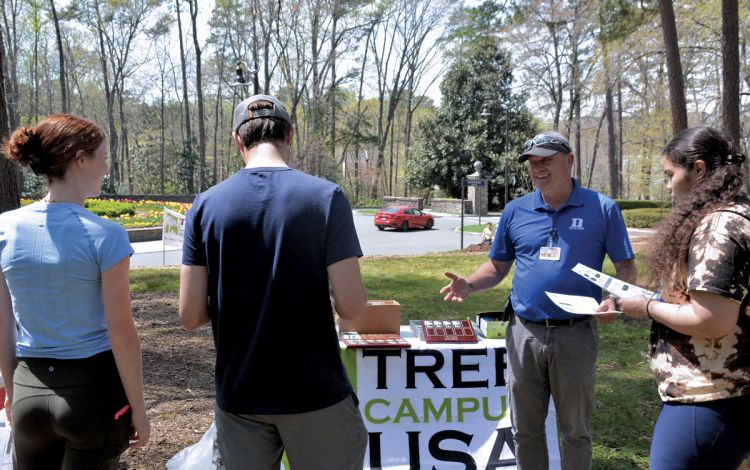 Before Wednesday's planting began, Duke Landscape Services Superintendent of Tree Management Roger Conner spoke with volunteers about how Duke cares for its trees, from looking after the health of the trees to figuring out ways to conserve water. He also explained that the species of trees selected for the April 6 event were inspired by the plans laid out by the Olmsted Brothers' landscape architecture firm, which designed much of West Campus' signature sections.
The firm was created by the sons of Frederick Law Olmsted, who is considered the father of modern landscape architecture. Born 200 years ago, the elder Olmsted left a legacy of landscapes that present a calming, approachable version of nature. His sons carried on that concept in their design of Duke's campus.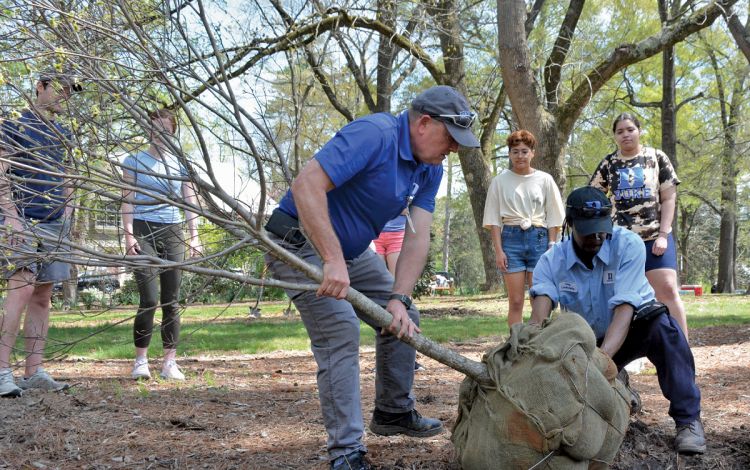 Wednesday's event allowed volunteers to help plant five redbud trees, four dogwoods and one small magnolia. The trees were placed in an area which had been affected by the recent renovations to the nearby Duke Admissions offices and had recently been cleared of ground-level plantings.
Conner and Tree Pruner Gary Atkins teamed up to get the first redbud in the ground.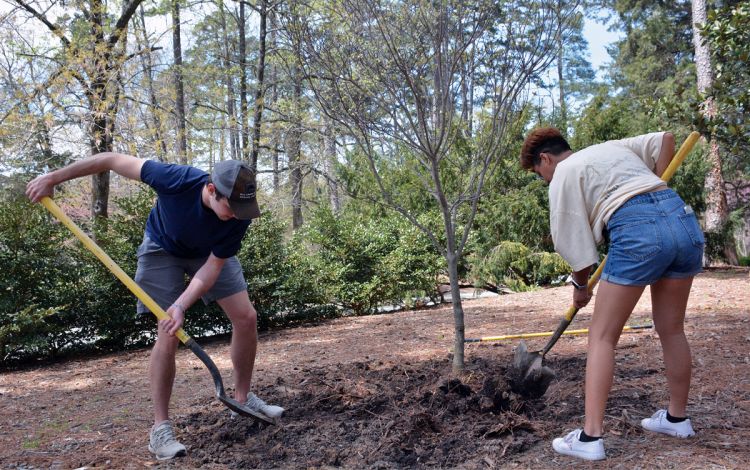 After seeing how Duke Landscape Services team members place trees in the ground, position them so they'll grow straight and healthy, and remove the burlap and metal wire packaging on the tree's root ball, Duke students Davis Jones, left, and Samantha Rubalcava finish planting one of the redbuds which will soon as a dose of color to the landscape.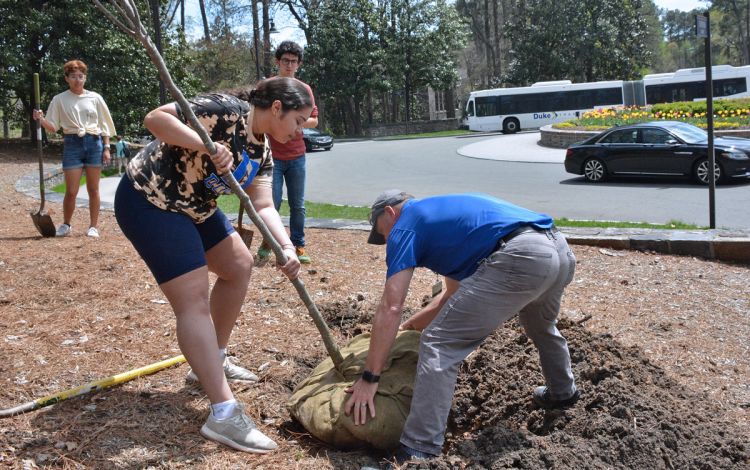 Duke student Ariel Chukwuma helped place on of the dogwood trees into its spot. She was one of around a dozen students to help lend a hand during Wednesday's event.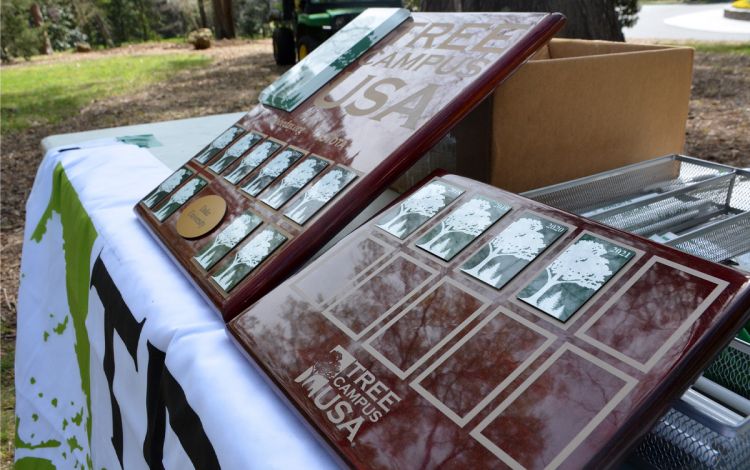 In addition to adding trees to campus and helping showcase the importance of building and maintaining a strong canopy, Wednesday event also celebrated Duke being among the Arbor Day Foundation's Tree Campus Higher Education honorees for 14 consecutive years.
"We have a lot to celebrate," Conner said.
Send story ideas, shout-outs and photographs through our story idea form or write working@duke.edu.