Two Years In: How the Pandemic Changed Our Lives
From remote work to major life developments, the COVID-19 era left its mark on Duke staff and faculty
Two years ago this week, the novel coronavirus fully took hold in the United States. While it had been in the country earlier, the second week of March 2020 was when cases spiked, and soon after, Duke University President Vincent E. Price announced in an "urgent message" that faculty and staff who could work from home should do so. 
Masking and social distancing policies became the norm while businesses, schools and offices went quiet.
As some safety measures ease, COVID-19 has infected nearly 80 million Americans and left nearly 970,000 dead. As the pandemic raged with variants, education, research and health care continued across Duke University and Duke University Health System at a high level. 
And many of us are forever changed.
"I think we, as a people, are different," said Duke Associate Professor of Medicine Jon Bae, a co-convener for the mental and emotional well-being portion of Healthy Duke. "In the last two years, people have learned different ways of working, different ways of living and different ways to take appreciation for things."
Jon Boylan is one of those.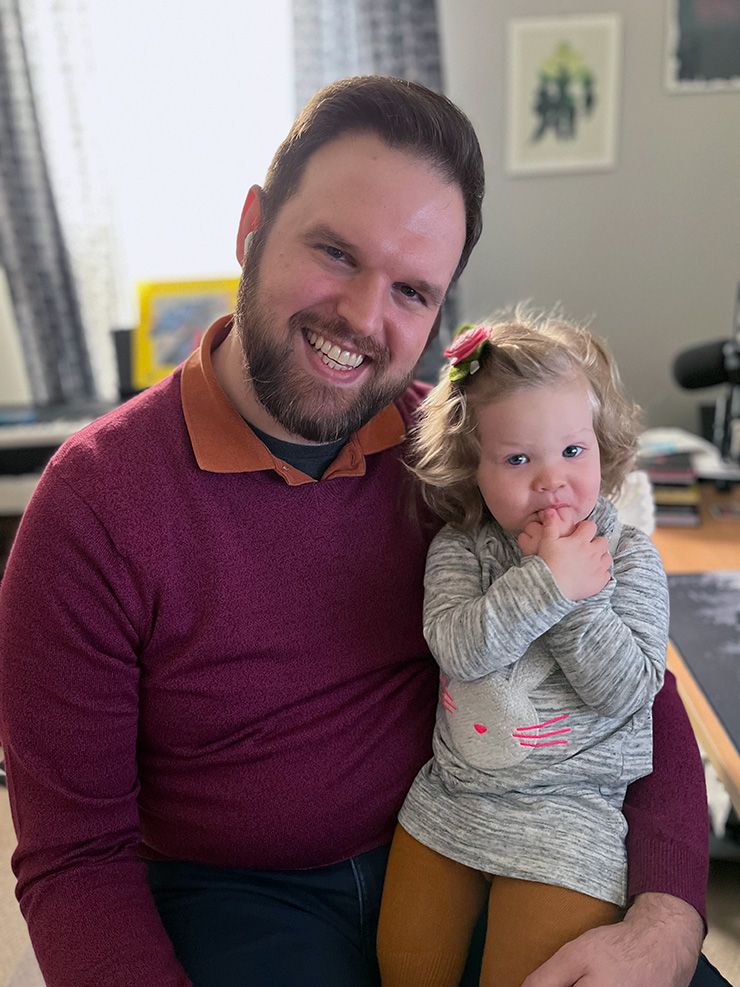 Since March 2020, Boylan went from working on-site for a health care finance company to a remote role as a Duke University Health System financial analyst. And a month into the pandemic, his daughter, Elora, was born. 
The past two years have drawn Boylan closer to his wife, Katie, a steadying influence during uncertain times. But starting a family against the backdrop of a global pandemic has given him a deeper respect for how forces outside of our control can alter plans.
"I wasn't one of those people who had time to learn how to bake bread or anything," Boylan said. "But I think in terms of personal growth, a lot happened."
We caught up with some Duke colleagues to hear how their lives are different two years into the pandemic.
Committing to Self-Care
By October of 2020, the pandemic had dragged on for seven months, and Melanie Thomas, a medical oncologist with Duke Network Services, was feeling down. She wasn't alone as data from the American Psychological Association showed that the number of American adults reporting symptoms of anxiety and depression in 2021 was more than four times as high as it was in 2019.
"For me, I thought, 'How do I have a rich, full life amid all of this and keep a positive attitude?'" Thomas said.
She decided that she needed a goal that she could work toward until the world opened up. Already with a long list of outdoors adventures under her belt, Thomas decided to plan a summer 2021 trip to Nepal to hike the summit of the 21,247-foot Mera Peak.
For the next several months, Thomas began running, working out at a socially distanced gym, and incorporating as many walks as possible into her day. While the trip to Nepal was the goal, the exercise to prepare for it became a central piece of her self-care routine.
"I just love being outside, it's very restorative," Thomas said. "And I like physical challenges, I get the rush of endorphins from that. So putting those two things together just helps me out mentally. Even just a short walk can help me focus."
Eventually, travel complications required Thomas to postpone the trip to Nepal. Instead, she flew to Spain and, over three weeks in September and October of 2021, she hiked 335 miles on the Camino de Santiago pilgrim trail.
"It was basically like a walking meditation for three weeks," said Thomas, who is now exercising with an eye toward a 2023 Nepal trip. "It's really an incredible experience."
Defining Your Purpose
Johanna Casey, who's been a clinical nurse in the Intensive Care Unit of Duke Raleigh Hospital for seven years, likes to say that ICU nurses are different. Often facing intense, heartbreaking moments, their ability to cope, and see the light in dark situations, is stronger than most.
But she said COVID-19 tested everyone's resolve.
"You just don't know how you're going to react to something until you're in it," Casey said.
In March 2020, Casey was the clinical team lead for Duke Raleigh's ICU, a managerial role with less hands-on patient care. But it wasn't far into the pandemic before Casey's desire to help patients led her to return to a clinical nurse role.
There, she saw the virus' danger up close. At one point in the summer of 2020, 13 of the 15 beds in the ICU were occupied by COVID-19 patients on ventilators. With no visitors allowed for COVID-19 patients, Casey witnessed several wrenching goodbyes said over cellphone.
Her challenges didn't end when she left work. With four children and a husband who's a police officer in Durham, at home, Casey faced stress from home schooling and a spouse also on COVID-19's front lines.
While many ICU nurses ask to be transferred to different units due to the emotional strain, Casey was inspired by seeing colleagues bravely push forward, giving comfort and dignity to patients facing dire situations. She also said that, as the pandemic wore on, the bond between ICU nurses grew stronger. 
As hard as these past two years have been, Casey, who still serves in the ICU and recently began working toward an Acute Care Nurse Practitioner certificate through the Duke University School of Nursing, said the pandemic experience has only deepened her connection to her work.
"We all faced this as a challenge, personally, emotionally and professionally, and hopefully learned to grow through it and be better if this ever happens again," Casey said.
Taking Charge of Physical Health
John Carbuccia wasn't planning on using the pandemic as the catalyst for a new healthy lifestyle. It just worked out that way.
After the pandemic required many Duke staff and faculty members to work remotely, sending Carbuccia from working in the bustling Smith Warehouse to his Mebane home, the IT Analyst with Duke's Office of Information Technology found himself making healthier choices without even thinking. 
Instead of eating lunch out or grabbing meals from events in his on-campus workspace, Carbuccia found himself eating homemade breakfasts, lunches and dinners. Scrambled eggs with vegetables, or simply prepared salmon filets are some of current favorites.
And without a commute, he has time for walks around his neighborhood before and after work.
Carbuccia saw the result of these changes a few months into the pandemic when he stepped on the scale and saw that he'd lost 26 pounds.
"When I stepped on the scale, I said, 'Holy Moses! I lost a lot of weight, and I wasn't even planning to!'" Carbuccia said.
A Better Mental Space
As a patient care coordinator with the Duke Specialty Pharmacy two years ago, Erica Herrera helped figure out insurance coverage for some of the Duke patients who needed complex medications. She did this from a workspace in Duke Clinics, where the looming threat of COVID-19 felt especially close.
And each day also involved a roughly 30-minute commute along I-85 to her home in Graham, where the heavy traffic made her feel especially anxious, leaving her tense when she arrived at work or home.
But the past two years saw her work go fully remote, and now a move to a hybrid arrangement featuring one day of on-site each week. She cherishes the time she can spend working from home, often with her two dogs – Marx, a Boston Terrier, and Duke, a rescue – lounging at her feet.
"Working at home, I feel like my mental health is in a better place," said Herrera, a wife and mother of three.
Herrera isn't alone in her appreciation of remote work.  According to a Pew Research Center report from February 2022, approximately six in 10 workers who can do their jobs from home are working remotely most or all of the time.  
Herrera said her hybrid schedule leaves her feeling mentally fresh when she begins her workday and better able to transition between work and personal life. 
"I'm happier," Herrera said. "I'm more at ease."
Learning on the Fly
Prior to the pandemic, LaKanya Roberts, a reimbursement specialist at Duke's Patient Revenue Management Organization, had worked remotely on occasion. But when she and her colleagues in the Customer Service Department had to work from home due to the pandemic, the transition was an intimidating one.
"Even though some of us had experience working remotely, it was still new," said Roberts, who's worked at Duke for nearly a decade. "Regardless of how much experience you had, I don't think we were mentally or technologically ready for that quick of a transition."
Roberts recalls PRMO leaders moving quickly to get desktops, monitors, laptops, cameras and headsets in the hands of team members. She also recalls many of her colleagues working diligently to familiarize themselves with new tools and programs, such as the collaboration platform Jabber, that were different from what was used in the PRMO offices on South Alston Avenue in Durham. 
Roberts and her colleagues also had to learn how to collaborate with one another when communication came by email and chat messages instead of a quick face-to-face conversation.
Working each day from her home in Franklinton, Roberts continues to help Duke Health patients with billing concerns. She's part of a large team that gelled amid the pandemic and kept the pace of customer support high.
With PRMO keeping colleagues connected with department meetings and team-building Zoom events, Roberts said these past two years have given her a new appreciation of the resilience of her colleagues.
"It made me proud because nobody skipped a beat," Roberts said. "Everybody took accountability. While some of our thinking and the logic behind how we normally do things had to change, I'm proud that it was still a really seamless transition for us."
Finding Flexibility
In the past few weeks, Mary Atkinson has begun spending the remaining daylight after work setting up a garden in the yard of her Greensboro home. Alongside her is her two-year old son, West, who often pokes at the dirt with a mini shovel and loads it into his toy dump truck.
"This is something that would have never happened before the pandemic," said Atkinson, a regulatory coordinator with the Duke Department of Surgery.
Like many administrators in Duke's research areas, Atkinson has been working fully remote since the pandemic began, trading in her fourth-floor workspace in Erwin Terrace for a spot at home. The change reshaped Atkinson's day-to-day routine in a drastic way, ridding her of a commute that ate up two hours each day.
Now, with more time to spend with her son, West, born before the pandemic, and her 10-month-old daughter, Iris, Atkinson, who has worked for Duke for nearly seven years, has the flexibility that allows her to feel rooted. And with more balance, she hopes to let the roots of her family, as well as the cucumbers, tomatoes and peppers that will be in the ground soon, grow strong.
"I've attempted a very small garden each year, but we have a very shady lot," Atkinson said. "But this year, we're putting it in the front, where we get a lot of sun, and West is helping me, so it's going to work."
A World of Change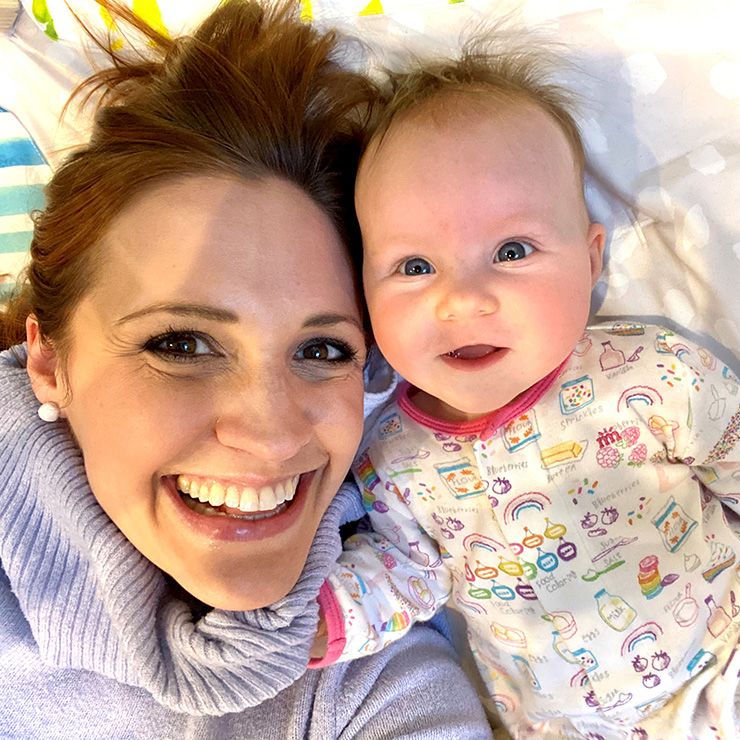 The changes and uncertainty brought on by the COVID-19 pandemic upset the order of many people's lives. But for Rachel Meyer, the director of community engagement for the Duke Divinity School's Theology, Medicine and Culture Initiative, the past two years have seen so much in her life fall into place.
In late 2019, she met Neil Gallagher at a party and hit it off. The pair dated for the next few months and, when the pandemic forced everyone to limit contact with others, they decided to keep each other in their quarantine bubble.
"It was one of those easy connections where we were really comfortable with each other," said Meyer, who shared the story of her mental health journey with Working@Duke just before the coronavirus outbreak.
Over the next several months, the pair grew closer and, by the end of 2020, they'd begun talking about getting engaged and starting a family. Those plans hit warp speed when they found out Meyer was pregnant in early 2021. Not long after, they were engaged and later married in a small ceremony in Raleigh in July of last year.
And over a few hectic days in early October, the pair closed on a house together in Raleigh and Meyer gave birth to a healthy baby girl named Maggie.
Now in a very different spot in life from where she was when the pandemic began, Meyer said she greets each day with a new feeling of purpose and strong sense of gratitude.
"I think my husband and I have been keenly aware of how odd it's been and how many blessing we've had at a time when life has been really hard for a lot of people," Meyer said.
How has the pandemic changed your life? Send us your story and photographs through our story idea form or write working@duke.edu.