Most of Duke's Workforce Fully Vaccinated
Despite 79 percent of the University workforce being fully vaccinated, COVID-19 vaccination push continues
Roughly six months after the first employees received the COVID-19 vaccine, Duke's workforce has made tremendous progress in its vaccination rate.
According to Duke's Office of Employee Occupational Health & Wellness (EOHW), as of last Friday, 79 percent of the University workforce is fully vaccinated. Across all of Duke University and Duke University Health System, 76 percent of the workforce is fully vaccinated. About 9,300 students have received vaccinations.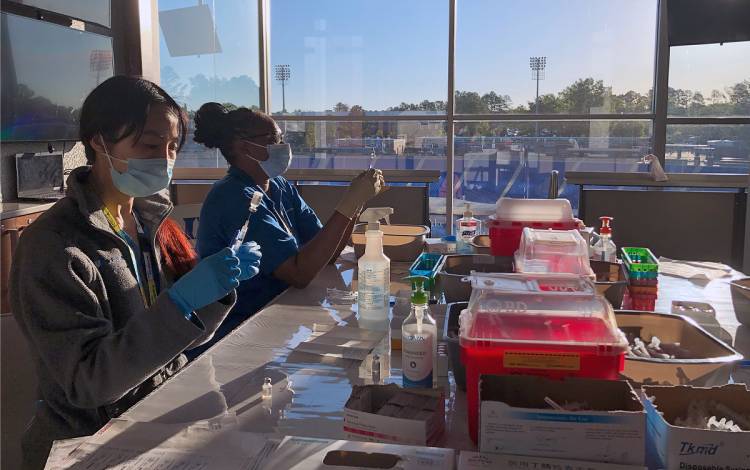 "I think that members of the Duke community are definitely paying attention to the importance of getting the vaccination," said Carol Epling, director of EOHW. "They've stepped up to not just protect themselves, but also their families and close co-workers by getting vaccinated."
Duke's vaccination numbers are higher than the national and state: nearly 42 percent of the United States population is fully vaccinated, and the North Carolina Department of Health and Human Services reports that 39 percent of North Carolina's total population is fully vaccinated.
While vaccination numbers are strong, there is still around a quarter of the Duke workforce that has yet to receive the vaccine, which experts say is essential for ending the pandemic that has killed more than 592,000 Americans and disrupted lives for more than a year.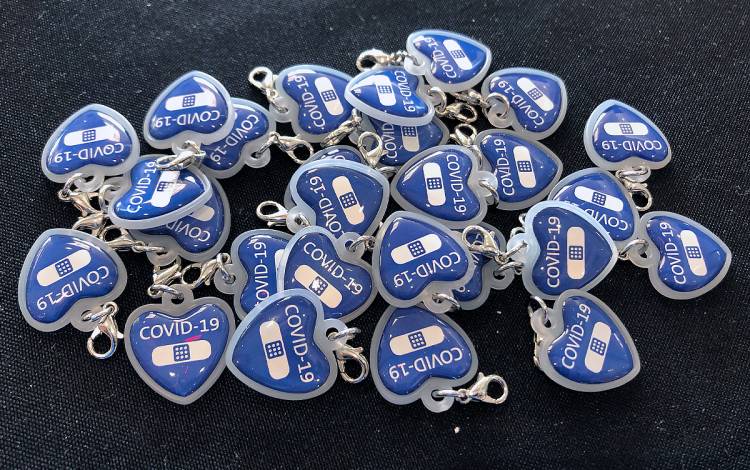 Currently, the University still requires masking and social distancing inside Duke buildings, facilities and buses to limit the potential spread of the virus in closed spaces. It is also conducting weekly surveillance testing for about 6,000 students, faculty and staff on campus this summer.

"We continue to take a comprehensive approach with safety protocols and testing," said Kyle Cavanaugh, vice president for Administration. "We have seen a decline in positive cases as our vaccination rate increases. If these trends continue, we feel like we will be able to update some of our protocols by early July as we approach the fall semester."
Duke strongly encourages staff, faculty and students to get the COVID-19 vaccine as it, and other employers, consider whether to make COVID-19 vaccinations a condition of employment similar to the influenza vaccine. A possible scenario may involve requiring that Duke community members who are not vaccinated get tested each week in the fall as part of Duke's robust surveillance program.
"We've made really great progress, but we really want our numbers to be higher," Epling said.
To get as many community members vaccinated as possible, Duke University has joined the Biden administration's "COVID-19 College Vaccine Challenge" to help end the pandemic. Participating colleges commit to three key actions to help get campus communities vaccinated: engaging every student, faculty, and staff member; organizing college communities; and delivering vaccine access for all.
To accurately capture all community members who have been vaccinated, Duke health experts are asking staff, faculty and students to submit a record of their doses if they were received outside of a Duke employee or student vaccination clinic.
How to send vaccine documentation:
For faculty and staff, upload a picture of their completed vaccination card through the confidential Duke VAXTrax online form.
For students, email a photo of your vaccination card to Student Health at covidlabresults@duke.edu after your vaccine series is completed.
If you have yet to receive your vaccination, Duke has on-campus vaccination sites at the Karsh Alumni and Visitors Center, Duke Raleigh Hospital Medical Office Building 9 and the Duke Medicine Pavilion where employees can get vaccinated without an appointment.
For much of the COVID-19 pandemic, Jessica Bailey has been part of the contact tracing operation that tracked down and alerted employees who had potentially been exposed to the virus.
During the past few weeks, Bailey has led a team of nurses seeking out unvaccinated members of the Duke workforce in an effort to eliminate the threat altogether. She said they try to give accurate information to those who may be hesitant about receiving the vaccine, and also try to eliminate hurdles, such as a lack of transportation or trouble finding a vaccination site, for those who would like to be vaccinated.
"I think it's awesome because we're helping educate people and break down any barriers they may have around getting the vaccine," said Bailey, nurse manager for LIVE FOR LIFE, Duke's employee wellness campaign.
Send story ideas, shout-outs and photographs through our story idea form or write working@duke.edu.