Day of River Fishing Among Duke Time Off Pics
Courtland Williams earns the first prize in the photo contest that runs to Aug. 9
With five kids at home, Courtland Williams is careful about how he uses his time off outside of family vacations.
But on a recent Wednesday, he treated himself to a day on the water. He took the day off work as a certified medical assistant for the Duke Neurological Disorders Clinic at Morreene Road to fish for red drum and bass on the New River. Williams captured a moment holding a red drum by setting a timer on his Samsung phone.
"Fishing has always been one of those things where I can just forget about everything else going on in my life," he said.
Williams is the first winner in the #DukeTimeOff photo campaign, which highlights fun times, hobbies, special moments and summer adventures during personal time off work. He received a Duke cooler courtesy of the Duke eStore.
To be eligible for prizes, photos must be taken between May 26, 2021, and Aug. 9, 2021, and shared by current University and Health System staff and faculty during the same time period.
Check out some other submissions from the first week of the Duke Time Off campaign.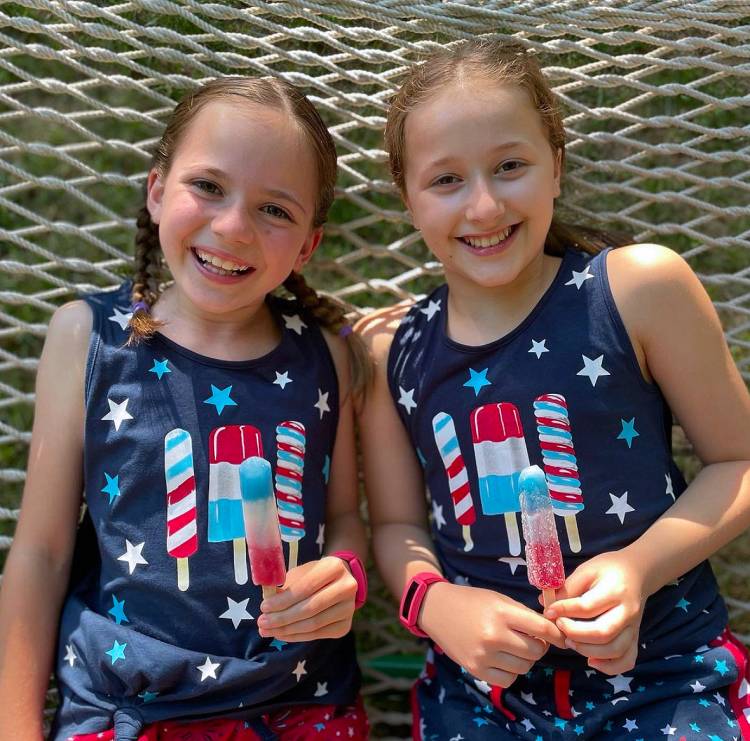 Melissa Hill, a clinical social worker for Duke Children's Health Center, captured the essence of summer with a photo of her 10-year-old daughter, Lucy, and a friend enjoying popsicles while wearing shirts depicting popsicles during a Memorial Day picnic.
Hill took the picture of Lucy and her friend between rounds on a trampoline and competitive games of cornhole.
"These two girls are the picture of summer," Hill said. "They were just so happy hanging and talking. I had a flashback to when I was little and enjoying summer with my friends."

Todd Dumke, executive sous chef for Duke Dining, caught a coastal sunrise while vacationing in Nags Head. Dumke and his wife, Laura, spent their week exploring Bodie Island Lighthouse, climbing sand dunes at Jockey's Ridge State Park and burying their toes in the sand.
"I'd venture to say that travel is our ideal way to spend time off," Dumke said. "Laura and I both enjoy a mixture of adventure and relaxation."
How to share your 2021 summer pictures:
Post your photo on Twitter, Instagram or Facebook with #DukeTimeOff. Tell us what you're doing with your time away from work. Remember: include #DukeTimeOff in your post, so we can find your snapshots on social media;
Post your photo and caption on the Working@Duke Facebook page: facebook.com/workingatduke;
Or upload your photo: hr.duke.edu/DukeTimeOff2021
We know your vacation plans will look different this summer due to COVID-19. And that's okay. We welcome pictures of your special moments and adventures that capture a reprieve from the stress of these challenging times, as long as you follow CDC guidelines to travel safe.
During the campaign, the Working@Duke editorial team will award some Duke-themed merchandise from the Duke eStore. Grand prizes at the end of the campaign include:
Overnight stay with breakfast for two at Washington Duke Inn, courtesy of the Washington Duke Inn
$100 gift certificate to the Durham Performing Arts Center
A virtual painting package for one household with their favorite lemur species. This package includes a custom-edited video of your painting session, and the winner will receive the best paintings of the bunch along with a beautiful photo of the artist(s) for display – all courtesy of the Duke Lemur Center
Got a story idea? Send ideas, shout-outs and photographs through our story idea form or write working@duke.edu.