Next Wave of Frontline Employees Get COVID-19 Vaccination
Newly-eligible Duke staff and faculty started receiving the vaccine last week
With her first dose of the COVID-19 vaccine last week, Duke University Housekeeper Carolyn Johnson moved closer to being able to visit her mother in Virginia, who she hasn't seen in a year.
 Fellow Housekeeper Margaret Bittle, who got her first dose as well, took a step toward being able to visit her daughter and two grandchildren more often.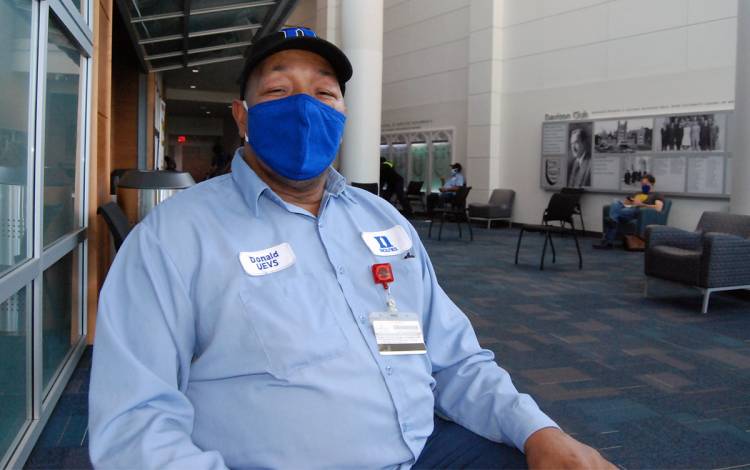 And for Duke Divinity School Housekeeper Donald Fogg, the first dose put him closer to being back behind turntables as DJ Magoo, his weekend alter-ego who, prior to the pandemic, brought R&B-flavored energy to weddings, family reunions and cookouts.
"I wanted to get this shot as soon as possible," Fogg said. "I think everybody should get it. People need to take this virus seriously and take the shot."
On March 2, the State of North Carolina announced that additional members of Group 3, the classification which includes essential workers, would be eligible for the COVID-19 vaccine. 
While Duke has been vaccinating health system employees since December, the state's change meant around 600 additional university staff and faculty members could start being vaccinated. On Thursday, the first members of that group, which include all university housekeepers, dining staff and faculty teaching face-to-face, began receiving doses at the Mary Duke Biddle Trent Semans Center.
"I am so incredibly happy for this step," said Kristen Said a physician in Employee Occupational Health & Wellness and assistant professor for Duke Family Medicine and Community Health. "It's really great to be in a position where we can start offering the vaccine to other front line folks outside of the health system. I think it's going to make a big difference both for those individuals and for our Duke community."
For some employees, eligibility isn't the only thing holding them back from receiving the vaccine. Skepticism about the safety or effectiveness of the vaccine has played a role in some communities – especially communities of color – being less likely to be vaccinated.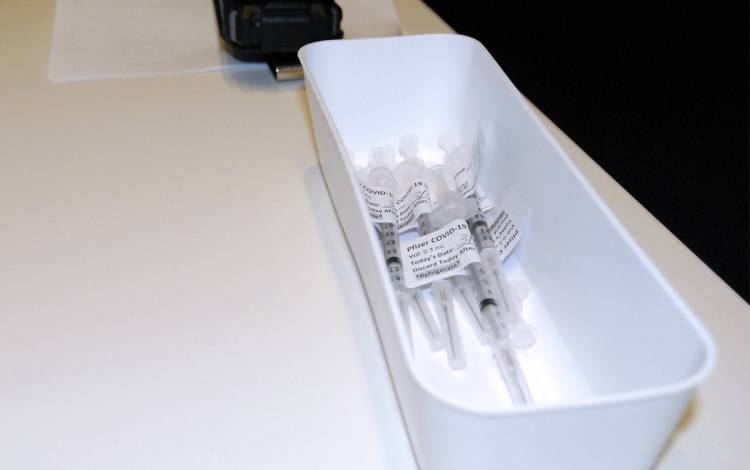 Duke's associate chief nursing officer Frank DeMarco has met in person with small groups of housekeeping, dining and front-line patient care staff members in Duke Health to address concerns about the vaccine. He answers questions about the need for boosters, the threat of COVID-19 variants, and whether the vaccine is safe for people with health concerns.
"Just being available to answer questions is the single most important thing we can do if somebody has a concern," said DeMarco, who said he's available to speak with groups from any part of the university or health system.
As of last week, roughly 21,000 Duke employees – mostly health care providers – have been fully vaccinated. 
For people getting vaccinated, though, little will change right away in the way of their behavior. The Centers for Disease Control and Prevention (CDC) recommends that vaccinated people continue to wear masks and observe hand hygiene and physical distancing. 
But with roughly 16 percent of the nation's population vaccinated, the rates of new COVID-19 cases and deaths have dropped since January, offering hope that ending the pandemic is a realistic possibility. Still, health experts remain concerned there could be another wave if people let down their guard this spring with variants in circulation.
"We still have a long way to go," said Dr. Said. "But if we keep getting vaccination numbers like we're seeing, we can make a real impact on the community and protect the people who can't get the vaccine yet."
Over the coming weeks, Duke will continue to vaccinate the new group of front-line staff and faculty on campus. The vaccine that fuels optimism is given in a large open space in the belly of the Mary Duke Biddle Trent Semans Center. Tables are scattered apart, each with Duke health care provider ready to administer a dose.
Jordan Hairston, Luke Chambers and Daniel Wohl have been administering the vaccine to Duke employees since December.
"It's been extremely gratifying to see the impact we can make," said Hairston, who was giving vaccines on Thursday.
The trio is locked in an informal competition to see who can vaccinate more people.
Hairston, a clinical research coordinator with the Duke University School of Medicine, is ahead with around 2,100 vaccines given. Regardless of where they end up on their unofficial leaderboard, they take pride in seeing the reactions of the people they help.
"People can't wait to get their shot," Wohl said. "They're anticipating finally being done with everything and feeling relieved. It's awesome to see."
"I've heard a lot of grandparents say they can't wait to hug their grandkids again," Chambers said.
As the hours passed on Thursday, more Duke employees came through the vaccination site, each with their own reason for coming.
Hours before his shift began on Thursday, Louis Owens, a floor technician who services several university research buildings, got his first dose. Owens felt relieved to be starting the process of getting vaccinated. But after seeing how dangerous COVID-19 can be – he had family members who had bouts with the virus – he hopes more people in his circle follow his lead. 
"It's better to be safe than sorry," Owens said. "I've never known anybody to come back from the dead. So it's good to protect yourself."
Jim McCormick, a parking systems technician for Parking & Transportation Services, received his second dose on Thursday.
"I'm tickled," said the 65-year-old McCormick. "I'm just glad. I don't have to worry about it. I'm also glad to see everybody else getting it. The herd immunity, we have to get there."
Housekeeper and DJ Donald Fogg knows it will still be a while before the large parties return, but with his second dose coming next, and more people getting vaccinated, the return of DJ Magoo is on the horizon.
"I'm going to be a little sluggish because I've been out of it for a minute," Fogg said about his first post-pandemic party. "But I'll get it back. And it's going to be real sweet."
Help share the proactive and extensive work being done by all Duke community members during the COVID-19 outbreak. Send ideas, shout-outs and photographs through our story idea form or write working@duke.edu.