3 Tips for Do-It-Yourself Home Fitness
These strategies can help you get the most out of your home workouts
Prior to the pandemic, Chris McLeod had found her fitness groove.
Three years removed from beating breast cancer, McLeod, director of the Osher Lifelong Learning Institute at Duke University, had become a regular at her local gym, doing spin class three times a week and weight training on most others.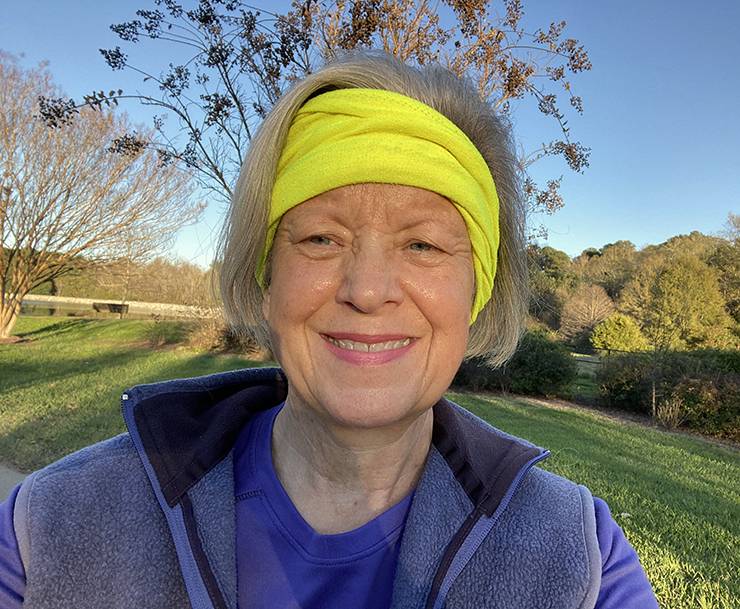 But after stay-at-home orders in March, McLeod's routine was interrupted.
"I felt lousy," McLeod said. "I realized I wasn't feeling good physically, and I wasn't as sharp mentally as I was when I was exercising intensely."
But within weeks, McLeod crafted a new workout routine at home, walking around her Durham neighborhood each morning, going for longer weekend walks at Eno River State Park or Horton Grove Nature Preserve, and practicing yoga at home.
"I feel like I have an uptick in energy on days when I exercise," McLeod said.
By adopting a few simple strategies, you too can craft your own, effective workout routine at home.
Maximize Your Home Workout
Monica Meza swapped runs around the trail on the Al Buehler Trail for virtual workouts in a makeshift studio in her living room.
From her home, Meza does virtual yoga classes and strength conditioning classes with Wellbeats, an online fitness provider with nearly 400 classes staff and faculty can access the service for $5 per month through LIVE FOR LIFE, Duke's employee wellness program. Meza also participates in the School of Nursing's free virtual yoga class, which is available to the entire Duke community every Tuesday.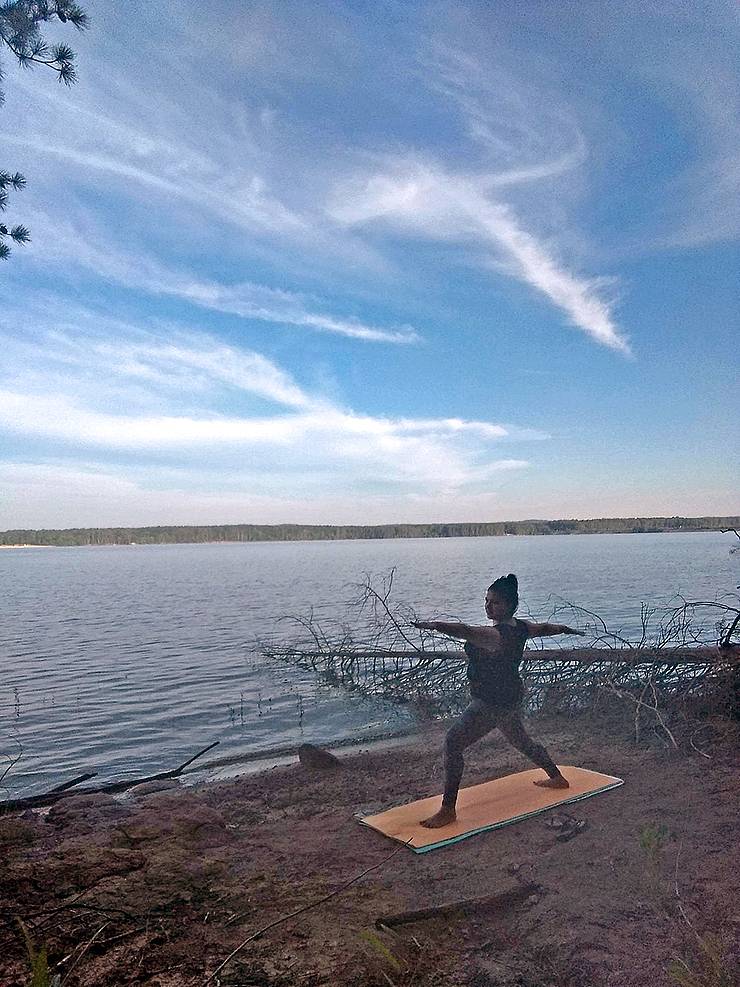 "When I switched to working from home, I worried that I would sit down too much," said Meza, clinical placement coordinator for the School of Nursing. "But I've developed a series of tricks that keep me moving."
Meza writes each exercise she completes on a calendar in her office, and she and a couple of friends text each other about workouts they've done to keep them accountable. She also exercises in her living room, so she feels like there's separation from her home office. 
Mike Tuggle, wellness program manager for the Duke Health & Fitness Center, said a challenge with maintaining a fitness routine at home is adjusting a mindset about home as a place to relax. Tuggle suggests working out in your garage, a spare room or other area where you don't work, sleep or eat.
"We don't typically think of our home as a place to exercise, which can make motivating yourself to workout challenging," Tuggle said.
In addition to Wellbeats, Duke community members can get a digital membership to Duke Recreation & Physical Education for access to live and recorded virtual group workouts. Free workouts are also available through the Duke Health & Fitness Center.
"There's magic to finding an at-home workout routine that feels similar to an in-person class," Tuggle said. "It's motivating, helps you focus and pushes the stress away."
Get Creative with Equipment
While leading a recent virtual fitness class for Duke students, Duke Recreation & Physical Education's Director of Fitness and Wellness Leigh Ann Garstecki instructed participants to grab something to hold so they could add weight to lunges, squats and curls.
In a gym, this might mean dumbbells or kettle bells. But students in dorm rooms picked up backpacks, water bottles and even a pair of boots.
"That happens all the time," Garstecki said. "Sometimes we will try to incorporate some weight, so we'll tell people to just grab whatever you have nearby."
When gyms closed, sales in home fitness equipment jumped by 170 percent. While having equipment such as dumbbells, kettle bells and weight benches at home is helpful, with some creativity, regular household items can make for adequate substitutes.
Exercises that can be done with kettle bells – such as curls, core-building swings or back-building bent-over rows – can be done with everyday items such as a jug of water, cinder block or loaded backpack.
Sturdy chairs or coffee tables can also be used to do dips or inclined push-ups, which work the shoulders, back and chest.
With COVID-19 keeping her from her gym, McLeod, the Osher director, bought small dumbbells online. She's also incorporated household objects such as a towel she grasps during upper body stretches and the dresser she uses for stabilization while doing lunges.
"Sometimes you just have to use what you have," McLeod said.
Get Outdoors
For Colin Wurster, an analyst IT with the Patient Revenue Management Organization, spending his days working at home, connected to a computer, can leave him feeling trapped. 
Luckily, he's got a simple fix.
Each day, Wurster makes a point to get outside and move. Whether running on neighborhood streets or zipping around area trails on his bike, the fresh air and sunshine always lift his mood.
"Just getting outside and seeing other people – socially distanced of course –  energizes you a little bit and reminds you that you're still in society," Wurster said.
While running, walking or biking are simple ways to get exercise outdoors, Garstecki suggested scoping out your surroundings for hills or steps that add variety to exercising outdoors.
"Finding some outdoor space that has different terrain can be good," Garstecki said. "Stairs can be very useful. You can do a whole workout right there."
Garstecki pointed out that stepping up on to an incline can work legs and hips, while standing with your feet on different steps can add new wrinkles to simple body-weight squats.
Wurster can still be found running near his Durham home in winter months, brightening his day by spending some time outdoors. 
"Just being out there and getting your blood flowing is something I've always found really beneficial," Wurster said.
Got something you would like for us to cover? Send ideas, shout-outs and photographs through our story idea form or write working@duke.edu.