Growing in New Ways at Duke Campus Farm
The one-acre working farm stays true to its mission during COVID-19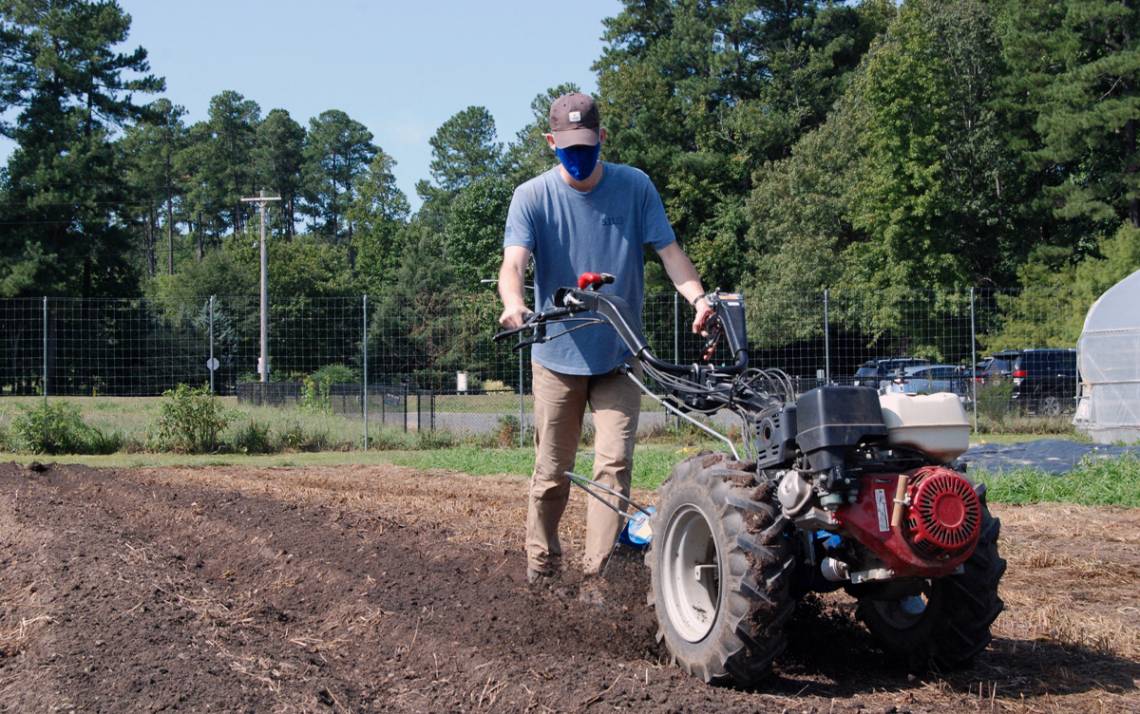 At first glance, the peaceful setting of the Duke Campus Farm, with lush rows of graceful squash vines and vivid colorful flowers, seems miles away from the stress of the pandemic.
In rethinking the role of the disrupted farm program, the students and staff of the one-acre working farm in Duke Forest, which is celebrating its 10th anniversary this month, discovered new ways to further its mission.
From nourishing struggling Durham neighbors to letting student projects take shape, the past few months have seen the farm yield more than just tomatoes and okra.
"The concept of adaptability is a central theme in farming," said Leslie Wolverton, Duke Campus Farm field education manager. "We expect adjustments because of hurricanes or bug infestations. We don't always expect them from a global pandemic."
Feeding the Community
In the early days of the pandemic, Wolverton recalls some uncertainty about the role of the farm. The suspension of in-person classes meant that most of the farm's 12 student workers were headed home. And with volunteer programs and community workdays halted, labor was in short supply.
With the farm's CSA program suspended and major customers Duke Dining and Duke Diet & Fitness Center either closed or operating in a limited capacity, there was also no clear destination for crops sprouting from the soil.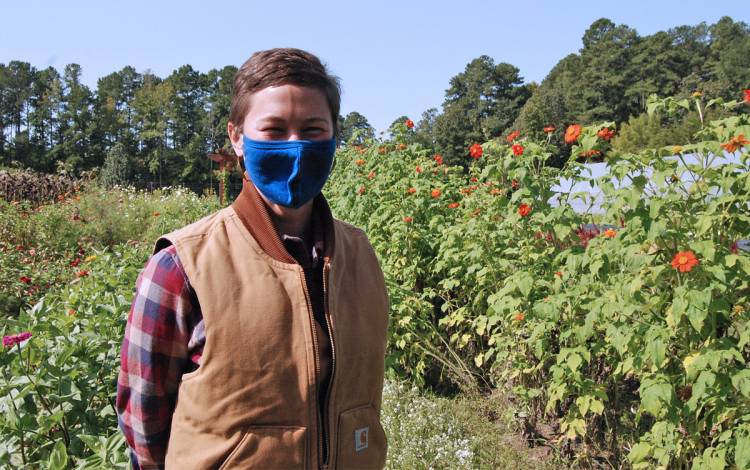 "There was so much we didn't know," Wolverton said of the mood in the early days of the pandemic. "We considered the possibility of putting the whole farm in cover crop, which would have been wild."
Eventually, three graduate students agreed to work through the summer. And in April, when it came time to move summer crops forward, the farm found a new focus.
Since 2017, when it was started by a group of Duke University School of Medicine students with help from a Sustainable Duke Green Grant, Root Causes has received around 10 to 15 percent of the Duke Campus Farm's Produce.
Normally, Root Causes provides fresh fruits and vegetables to around 30 food-insecure patients of Duke Outpatient Clinic. But in March, when the pick-up point at the clinic became unusable due to COVID-19 risk, it forced the non-profit to rethink its approach, resulting in a system of contactless deliveries.
The change was a success and, with help from grants from the American Heart Association, the Duke-Durham Fund and Bass Connections – which commissioned a project looking at COVID-related food insecurity in LatinX populations – Root Causes expanded its reach to include around 150 households.
With a drastic increase of the produce needed by Root Causes, the Duke Campus Farm saw an opportunity to help.
"They needed more produce than ever, so we thought that seemed like the right way to use our production for the spring and summer," Wolverton said.
To better serve households helped by Root Causes, the farm changed what it grew.
Gone were niche products such as radicchio, escarole and fava beans. In their place were familiar favorites such as tomatoes, beans and squash. There were also things such as radishes, cilantro and iceberg lettuce, which were selected after consulting with Latinx student groups about which products would be helpful for Latinx households.
Since June, the Duke Campus Farm has supplied 5,458 pounds of produce to Root Causes.
"I don't know how they did it on their end, but they scraped together the manpower and the energy to be one of our greatest supporters with fresh produce over the past couple of months," said Root Causes Vice President Willis Wong, a third-year student at the Duke University School of Medicine and Fuqua School of Business.
Embracing New Ideas
With a small fraction of its usual work force available during the pandemic, the Duke Campus Farm scaled back production. Right now, about a quarter of the farm slumbers underneath biodegradable ground covers.
But along the fence on the farm's South side, there are two knee-high mounds that prove that the farm's role as an incubator for sustainable agriculture ideas hasn't changed. These are an example of Hügelkultur, a method of burying thick pieces of organic material to create planting beds which will remain nutrient-rich for several season.
"We had some breathing room to allow our students to think about what interested them and invest some time into it," Wolverton said. "It's been really magical to see."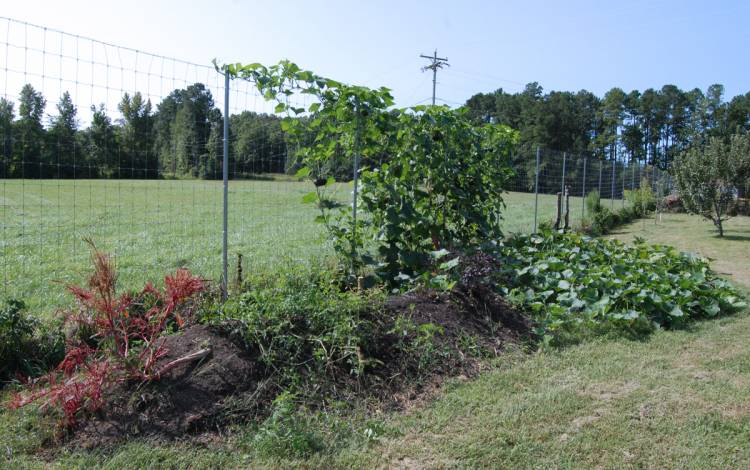 The mounds are part of a research project by Garrett Corwin, a second-year student in the Nicholas School of the Environment's Masters of Environmental Management program. After hashing out the idea with some of his fellow student workers, Corwin, who said he had more free time due to taking online classes, spearheaded the building of the mounds this spring.
He thought it could be a good use for the heavy debris – such as old fence posts, tree branches and dead vines – that had collected at the farm. It could also help stop the erosion at the lowest part of the property and make use of the soggy section filled with lumps and depressions left behind from a long-gone orchard.
"It seemed like a great way to solve a lot of problems at once," Corwin said.
Five months after they were created, one mound – which Corwin suspects isn't getting enough moisture – has given rise to a few stubborn tomato plants. Meanwhile, the other, healthier, mound lies under a tangle of vines, which helped produce a few hundred pounds of Thai Kang Kob pumpkins.
Soon, in the trees beyond the fence, another student-led project will result in a series of owl boxes, which will hopefully give refuge to predators that will remedy the farm's rodent problem.
"We weren't able to do quite the same amount of work," Wolverton said of the work of the farm in the past few months. "However, we've still had a really remarkable season."
Help share the proactive and extensive work being done by all Duke community members during the COVID-19 outbreak. Send ideas, shout-outs and photographs through our story idea form or write working@duke.edu.