Going Green in Quarantine
Staying home during pandemic encourages employees sustainable habits
Prior to COVID-19, Kathy Wright, senior assistant director of Development Special Events for University Development, was pressed to find time to wash laundry, often fitting it in between other activities. Now working from home, laundry is an unhurried chore, meaning she can dry clothes on a clothesline stretched across her back patio.
"I'm here all day so it's easy to wash laundry and hang it up," Wright said.
In addition to giving her crisp shirts, it cut down on her energy use since, according to the U.S. Department of Energy, clothes dryers consume more energy than most other common household appliances, including refrigerators, washers and dishwashers.
It's also an example of how Duke staff and faculty, and households across the nation, have built new sustainable behaviors into their more homebound COVID-19 lifestyles. Since the pandemic began, around 30 percent of office workers have started working from home or commuting part-time and grocery shoppers have increased the amount of products they buy that are touted as eco-friendly.
"The fact that people have an opportunity to try something sustainable, either out of necessity or curiosity, is a positive thing that's come from people working from home," said Rebecca Hoeffler, communications coordinator for Sustainable Duke.
Learn some of the new green habits your colleagues have picked up.
Shopping Less
Duke Integrative Medicine Nutritionist Joanne Gardner has incorporated more ingredients such as mung beans and quinoa into her diet. That's not just because they're healthy, it's also because they're already in her pantry.
Due to the threat of COVID-19, Gardner limits her grocery shopping trips to one per week. Driving less reduces her carbon footprint and requires her to be organized with her weekly menus, cutting down on food waste and food packaging.
"It's put me into a mentality of thinking about what I already have and can use rather than rushing out to buy something new," Gardner said.
Embracing Reusability
Fernando Orozco's wife Lindsay has long been trying to convince him to stop using paper towels. When Orozco, assistant operations manager for the Division of Laboratory Animals, saw paper goods become scarce, he decided it was time to finally follow her advice.
Now, the Orozco family cleans messes with terrycloth rags, which they wash and reuse in order to cut down on waste.
"I've been converted," Orozco said.
Traveling Virtually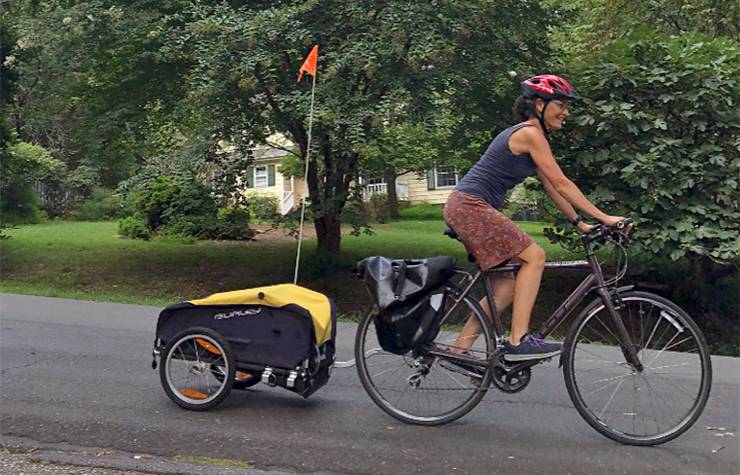 Assistant Professor of Neurosurgery Catherine Lavau often bikes or rides the bus to her on-campus lab. But COVID-19 helped shrink her footprint even more.
Recently, she planned to attend a bioinformatics workshop in Indiana and an American Association of Cancer Research meeting in California, before they became virtual events due to COVID-19, saving her a series of carbon-heavy airline flights.
"I hope that when things get back to normal, they'll keep the option to attend online and cut down on the number of people that fly in," Lavau said of event organizers. "You can get as much by attending virtually."
Have you changed a habit to become more sustainable during COVID-19? Send us a note through our story form or write working@duke.edu.