Keep Moving Safely with Duke Recreation
Disrupted by COVID-19, Duke Rec & PE offers virtual and limited in-person programs to meet health and physical distancing standards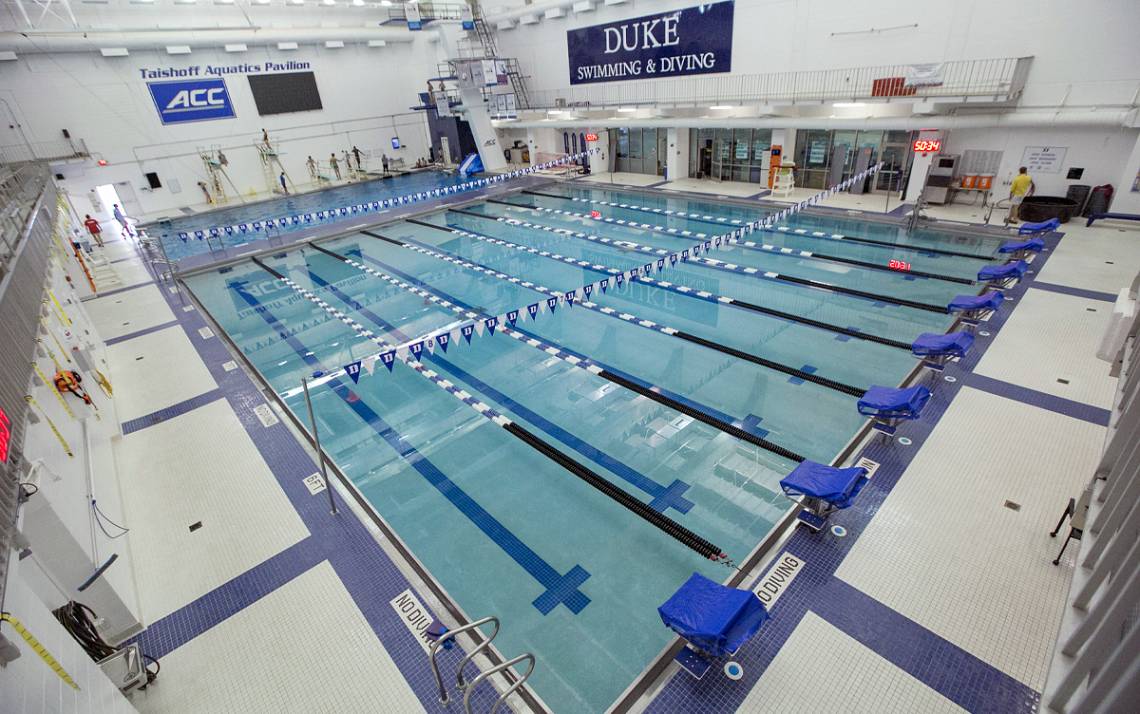 At 5:15 p.m., Christine Moorman and her husband Ed Holub leave their home office areas, change into exercise clothes, unravel exercise mats in their living room and pull up a live virtual fitness class offered by Duke Recreation & Physical Education.
They pick from their favorite offerings: Pilates, kickboxing, high-intensity interval training.
"Both of us sit for most of the day, so the classes are our signal that it's the end of the workday and time to start moving," said Moorman, the T. Austin Finch Sr. Professor of Business Administration at the Duke Fuqua School of Business. "The classes are our way to decompress together."
North Carolina is in Phase 2 of its reopening plan until at least Sept. 11, which keeps gyms and fitness centers closed, but Duke Recreation & Physical Education has found alternate ways to keep staff, faculty and students healthy and moving safely.
At Duke, the Taishoff Aquatics Pavilion will be open for limited hours to some Duke Recreation & Physical Education members, and you can still rent outdoor equipment. Duke Rec has created virtual fitness offerings and is offering a new digital membership, as well as limited in-person, outdoor programs that are on-site, like outdoor group fitness classes, to keep community members active while adhering to public health measures such as masking and physical distancing.
"For us, it's about providing healthy opportunities that are safe and accessible," said Felicia Tittle, executive director of Duke Recreation & Physical Education and physical activity and movement co-convener for Healthy Duke. "The overall health of our community is so vital. You can't have people be their best selves without resources for their physical and emotional well-being."
Here are some membership updates:
New Digital Membership: A new digital membership is available beginning Aug. 17 to students, faculty, staff, alumni and family members. It grants access to virtual fitness programs, including group fitness (live and recorded), personal training and small group programs. The digital membership is a one-time fee $60 and lasts until Dec. 31, 2020.
Duke Fitness Club: Staff and faculty who are members of Duke Recreation & Physical Education through the Duke Fitness Club by LIVE FOR LIFE, Duke's employee wellness program, will have their membership suspended until further notice. Payroll deductions will not resume until both Wilson and Brodie recreation centers fully re-open with all amenities accessible.
Limited In-Person/Digital Membership: Students living on campus who have paid the recreation fee and employees who prepaid their Duke Recreation & Physical Education membership in full for the year automatically transition to a digital membership. They also have access to limited outdoor fitness classes and the Taishoff Aquatics Pavilion.
Since Wilson and Brodie closed in March, Duke Rec has provided reoccurring group fitness classes, at-home video workouts and weekly blog posts about recreational resources. ​Duke Rec & P.E.'s social media accounts also highlight at-home workout tips and ideas for staying active. Individuals can stay connected to the Duke Community beyond the gym through apps such as Strava.
"For all of us, it was about the community and the connection," said Leigh Ann Garstecki, director of fitness and wellness for Duke Recreation & Physical Education. "People are logging onto our classes because they want to be connected to the people they know."
The relationship with fitness instructors has kept Moorman and her husband participating in virtual exercise classes almost every day since March. The couple has been a member of Duke Recreation & Physical Education for five years and will continue with a virtual membership.
"Overall, they are just world-class instructors," Moorman said. "They are so enthusiastic and give a lot of exercise adaptions. We look forward to seeing them and we can tell they care about helping us. It's a little corny, but they've become part of our daily life during the pandemic."
For an extensive FAQ on re-opening and offerings, visit the Duke Recreation & Physical Education website.
Help share the proactive and extensive work being done by all Duke community members during the COVID-19 outbreak. Send ideas, shout-outs and photographs by clicking here or write working@duke.edu.