How to Practice Self-Compassion During the Pandemic
Treat yourself with kindness, like you would a best friend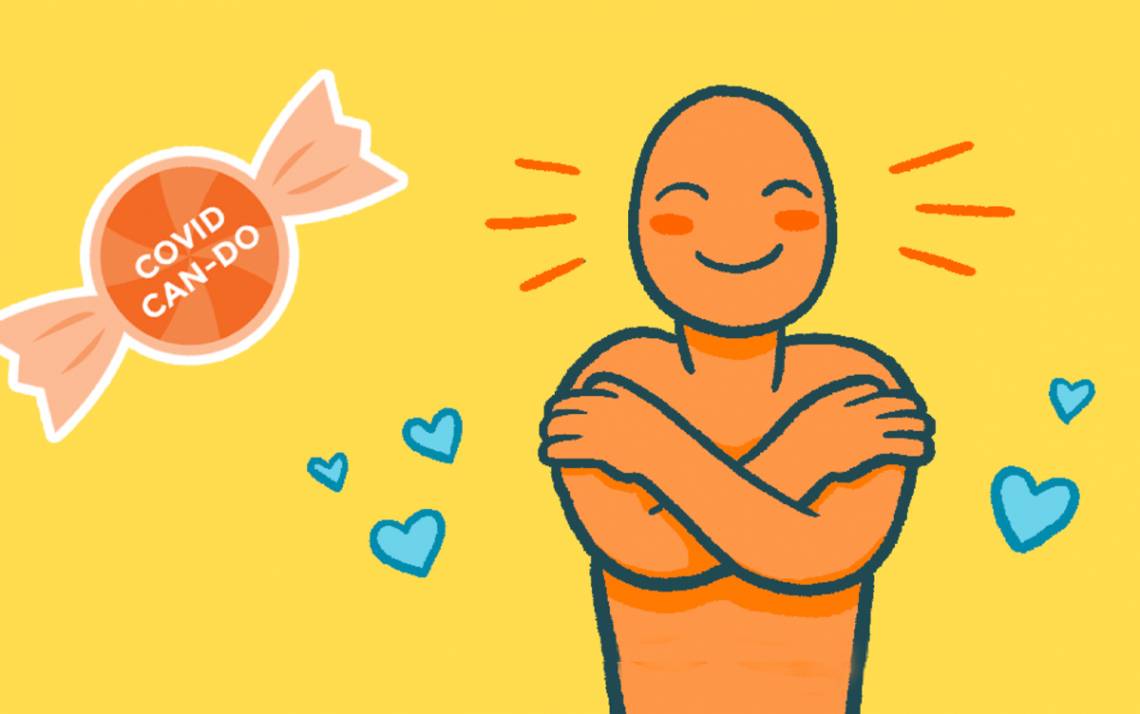 A small brown journal with a tree etched on the cover has kept Elmer Orellana rooted in positive thoughts during the pandemic. 
The journal pages contain recaps of Orellana's day, positive affirmations and hundreds of quotes he's discovered online and in books. 
He writes down quotes that resonate with him and reads a few each morning before starting the day. One of his favorites is by Black feminist, writer and poet Audre Lorde: "Caring for myself is not self-indulgence, it is self-preservation, and that is an act of political warfare."
"I'll open up my journal and will read a couple at random," said Orellana, student development coordinator for Duke's Center for Multicultural Affairs. "It keeps me grounded and affirms me in that moment of space or time. It's my way of practicing self-compassion."
Self-compassion is treating yourself with kindness and fairness, the way you would a good friend, when facing adversity, like a setback, disappointment or other trying time. During the COVID-19 pandemic, self-compassion can help manage the stress of the virus' threat, lessen feelings of loneliness and reduce the guilt of relaxing more.
Practicing self-compassion can help improve happiness, motivation and confidence while reducing anxiety, fear of failure and depression, said Carrie Adair, assistant director for the Duke Center for Healthcare Safety and Quality.
"There's research showing that when we have these really negative, self-critical reactions, they kind of paralyze us," Adair said. "Whereas self-compassionate responses help us dust ourselves off, learn from the experience, and move forward."
Adair offers three steps for practicing self-compassion when encountering a setback,  disappointment or challenging time. 
First, take a moment and be aware when you're going through a tough time. Take notice if you're experiencing negative emotions such as stress, anger or impatience. The second step is to acknowledge that you're not alone. Talking to others can squash the notion that it's abnormal to experience pain. 
Finally, treat yourself with kindness. Talk to yourself as if you are speaking with a best friend. Write down or read positive statements. Spend time doing activities you enjoy. For Adair, that includes watching her 4-month-old daughter Skylar giggle and roll on her stomach.
"A pandemic is not an ideal situation for anyone," Adair said. "This is not how we thought the year was going to go. Remember that you're not a failure if you're struggling after all this time. Being self-compassionate will make it easier. We get stronger when we're kinder to ourselves."
Duke has several tools to help you practice self-compassion:
Adair said community members can cultivate a kinder internal voice to enhance their mental and emotional well-being. When experiencing a setback or when situations don't go as planned, she suggests using a different self-talk voice such as "this is temporary"; "I will get through this"; and "I can do this." 
"We're always internally beating ourselves up and saying things we never would to a friend," Adair added. "Self-compassion is saying, 'I'm not perfect. I'm more than this one negative moment or mistake.' You learn to let the pain go rather than fixate on it."
Alyssa Cunningham, a medical laboratory scientist for Duke Health Transfusion Services, felt a huge loss of control when COVID-19 forced stay at home orders in March. She didn't see friends and her work hours shifted to overnight.
Rather than get stuck in negative emotions, Cunningham followed Adair's advice from a talk she gave to her unit. Cunningham asked herself what would make her feel better. It was talking to friends and a "Criminal Minds" drama series marathon with her roommate. 
"There are still good and bad days," Cunningham said. "Practicing self-compassion has made the bad days easier to deal with. I have an easier time accepting everything is not going to be perfect. It's less draining than fighting everything that goes wrong."
Got something you would like for us to cover? Send ideas, shout-outs and photographs at this link or write working@duke.edu.