Getting Your Hands Dirty to Relieve Stress
Gardening proves to be an effective outlet for colleagues during COVID-19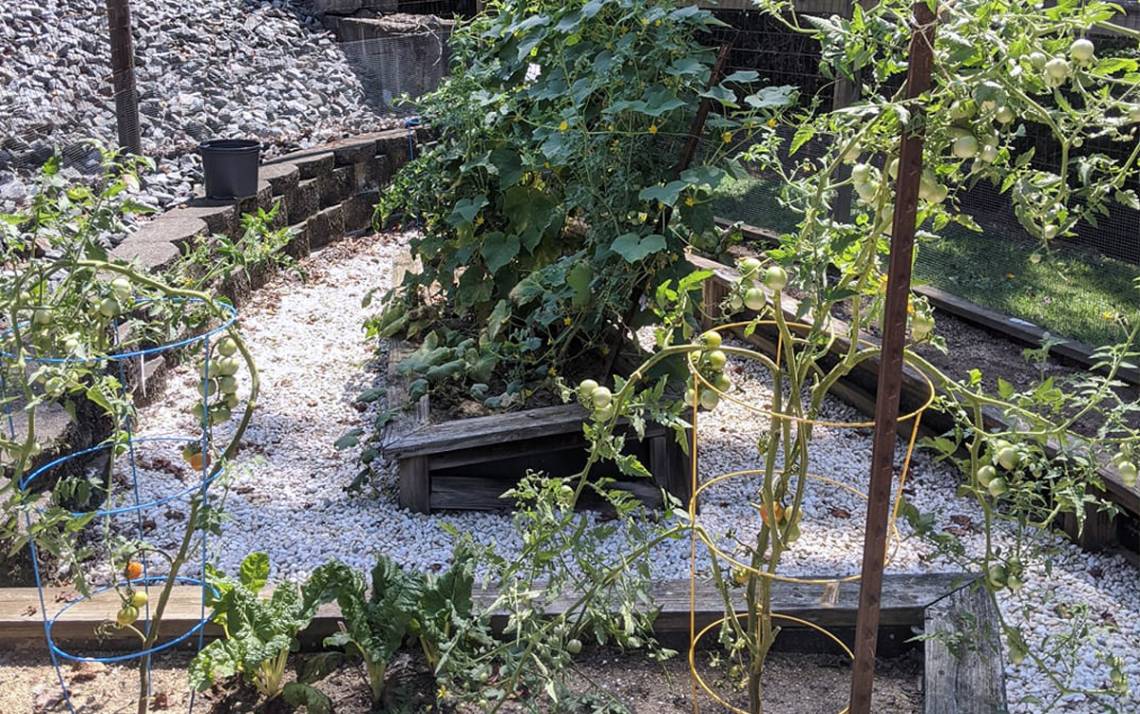 For the past 15 summers, Kelly Deal has kept a garden at her Person County home. What started as a few raised beds has now grown into an expanse of vegetables, herbs, fruit trees and bushes.
But this summer, the value of working in her garden has gone beyond fresh tomatoes, cucumbers and Swiss chard. With COVID-19 leaving many with extra stress and time at home, gardening provides a brief respite amid trying times.
"There's something about putting your hands in dirt that's good for your mental health, and I believe it," said Deal, assistant director of research for the Duke Global Health Institute. "And you do get that huge sense of accomplishment when you're eating something that you grew from a seed."
From novice gardeners to ones with proven green thumbs, this year has seen a sharp uptick in people willing to grow their own vegetables. In fact, seed supplier Burpee sold more seeds in March of this year than in any month in the company's 144-year history.
At Duke, staff and faculty have thrown themselves into the hobby as a way to control where their food comes from and as a relaxing hobby. Here are a few of their stories, as well as a peek into their gardens.
Picking up a New Gardening Skill
As an avid backpacker, Beth McKinney, a clinical nurse with Duke University Hospital, takes pride in performing such survival skills as starting camp fires or finding her way out of the wilderness. This summer, as she's grown tomatoes, cucumbers, and green bell peppers out of plastic containers in her yard for the first time, she added to her already strong outdoorsy résumé.
"I read for hours and hours in the Farmers' Almanac about what we should be doing and how we should be doing it," McKinney said.
With six large pots, McKinney has been able to produce enough to pass some of her tomatoes to her co-workers, proof that her first attempt at gardening has been a success.
"It's one more skill I can count on," McKinney said.
Finding Peace and Solitude
For Crystal Patterson, a Duke Clinical Research Institute staff assistant, the garden at her Efland home has been a place of relaxation and reconnecting, offering peaceful solitude and a break from her daily stress. But she also finds joy in working on it with others.
Crystal lives with her mother, Anita, who often lends a hand with the tomatoes, radishes, cucumbers, green peppers, jalapeno peppers, cayenne peppers, cabbage, red onions, squash, zucchini and okra.
"It's exciting to see your hard work pay off," Crystal said. "The garden has helped keep both mom and I occupied, as well as giving her a sense of pride and purpose. It has been well worth the time and effort."
And her father, Barry, who lives nearby, has also helped, providing Crystal precious opportunities to bond.
"Although we may disagree on our taste of tomato varieties, the garden lead to many heart-to-heart conversations," Patterson said.
Small Pleasures
Gardens don't need to be especially large to be satisfying. Erin Dillard, the departmental business manager at the Duke Center for International & Global Studies, enjoys tending to a small garden at home.
With her tomato plants producing and squash, okra and carrots coming soon, she can savor the joy of the work and the vegetables that result from it.
"It has been very calming to be in our small garden," Dillard said.
Family Tradition
Carmela Archual, a lab research analyst for the Duke Human Vaccine Institute, said her mother is an accomplished gardener, filling the garden at her Greensboro home with tomatoes and green beans, as well as exotic citrus from the Philippines, where she grew up.
As for Carmela, the garden at her home in Garner is her first.
"My mom said she thinks I'll inherit her green thumb," Archual said. "Thanks, mom. No pressure."
While she's been learning plenty – such as how to pollenate watermelons with cotton swabs and just how hard it can be to keep her dog away from the tender plants – the work has been a joy.
"It gives me a nice morning routine," Archual said. "I get up and check on the plants. When I take the dog out, I can go see how they're doing. Even if I checked five minutes ago, it's still nice to see them."
Sweet Success
Rebecca Brouwer, the director of the Office of Research Initiatives, is a veteran gardener. But with more time at home due to COVID-19, she's been able to keep a closer eye on her plants. And that's yielded encouraging results.
"There is plenty of time to water and weed," Brouwer said. "I have a sense of productivity and relaxation at the same time. Pandemic bonus – this is the first year I've succeeded with sweet corn!"
For more on Duke's gardeners, check out our recent Facebook story and add your story and pictures in the comments.
Got something you would like for us to cover? Send ideas, shout-outs and photographs through our story idea form or write working@duke.edu.