Finding Silver Linings in the Midst of a Pandemic
While COVID-19 creates stress and upheaval, small joys stand out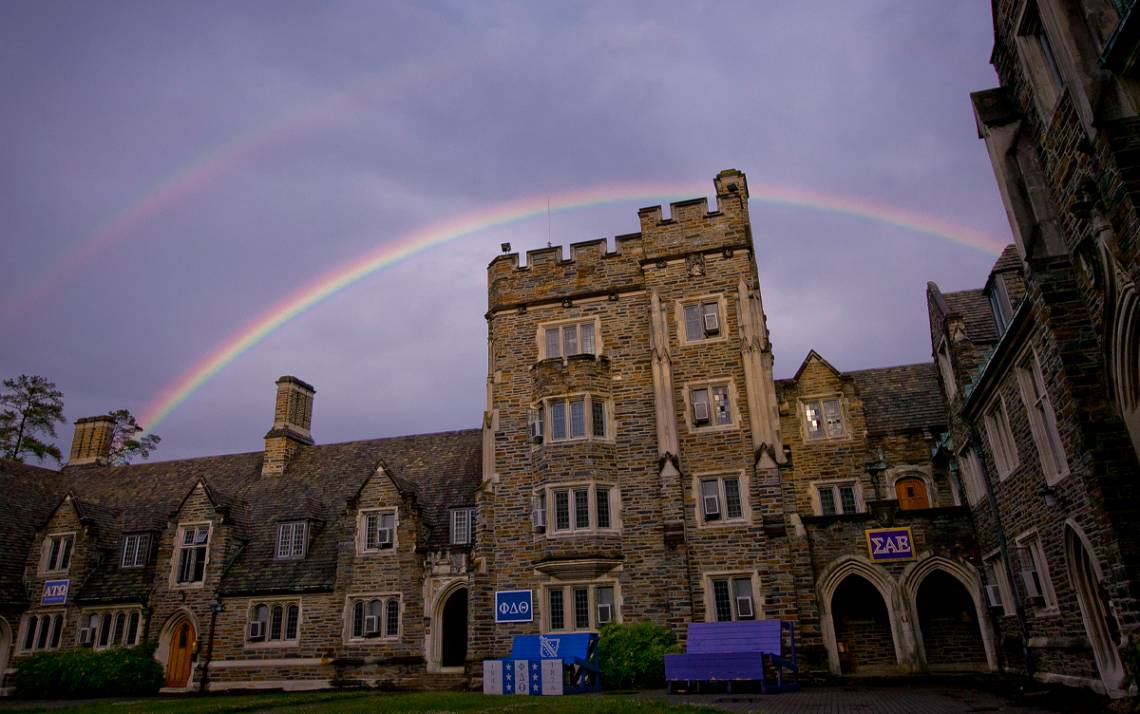 With the threat of COVID-19 keeping many Duke staff and faculty off campus, Katie Ryan, a pediatric hematology and oncology fellow, was temporarily unable to continue her benchwork in the lab with the Duke Brain Tumor Immunotherapy Program.
While the inability to do hands-on research was frustrating, there are bright spots.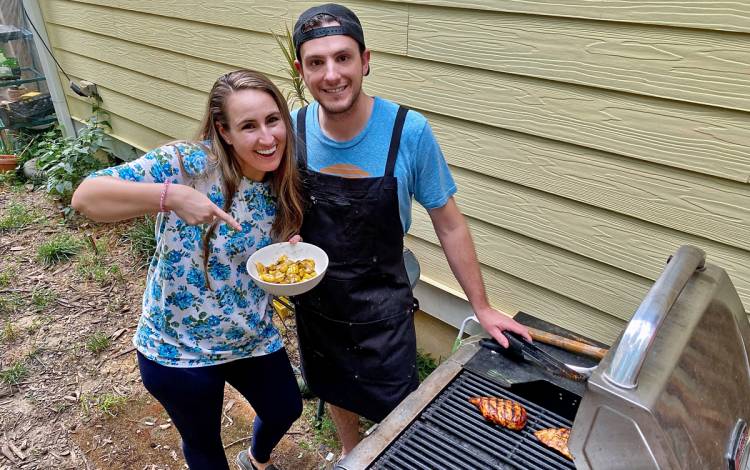 Working from home more often has allowed Ryan more time to sleep and exercise, saved her money by driving less and, with more time to plan for meals, she's eating healthier with her fiancé, dining on grilled vegetables, fish or chicken, often over salad.
"I'm grateful because I know these are stressful times for a lot of people, but my quarantine experience has been kind of nice," Ryan said.
For months, the pandemic has upended routines and provided heavy doses of anxiety and stress. Despite the unpleasantness, for many, there are small wins that have sprung up amid the uneasy new normal.
Noga Zerubavel, clinical psychologist and assistant professor in Psychiatry and Behavioral Sciences and director of Duke's Stress Trauma and Recovery Clinic, said taking a moment to acknowledge good things is important for building resilience and maintaining perspective. It's natural to feel the weight of the unsettling circumstances we're in, but Zerubavel pointed out that reflecting on those emotions can still happen while also savoring small moments of happiness.
"Our problems are always going to stick out more to us," Zerubavel said. "We've evolved in a way so that our brains notice problems more effectively than they notice lovely things. So we need to be deliberate about focusing in on and savoring these positive elements."
With that in mind, check out a few silver linings your Duke colleagues have found during the pandemic.
A Green, Quiet Place
Lindon Pearson traces his love and knowledge of gardening to the flowers and vegetables his grandparents grew when he was a young child in Atlanta.
"Long before farm-to-table was a fad, it was happening at our dinner table every night," said Pearson, a financial management analyst with the Duke Department of Surgery.
When he bought a house near Duke's East Campus 15 years ago, he saw loads of potential in the scruffy yard and got to work. Now, Pearson's backyard features a small, cozy deck, an island in a sea of flowers and shrubs that are both lush and loved.
After COVID-19 forced Pearson to work from home some days, he found more time to work on his garden,  adding several trees – dogwoods, redbuds and magnolias – this spring and filled his front yard with wildflowers. But more importantly, he's had more time to spend in his garden, enveloped by the green oasis he's built.  
"I like to just sit there and let nature provide all the entertainment," Pearson said. "I like to have a reprieve and restore myself in the garden. It's an escape."
A Road Trip for Family Time
Several months ago, before the pandemic struck, Blythe Tyrone planned on flying to Houston with her husband, Travis, to spend a few days with her parents. She started work at Duke in March as a communications strategist for Duke Learning Innovation.
But with her remote working arrangement giving her a degree of mobility, she found a way to pull off the visit.
"At first I was distressed that I may not get to see my family at all this year, but then I realized: if I'm working from home, it doesn't matter which home I work from - and made plans to drive down instead," she said.
Tyrone and her husband recently made the roundtrip drive (18 hours each way) from Durham to Houston for a weeklong visit. They took safety precautions such as severely limiting all trips outside of the house for the two weeks preceding the drive, wearing masks whenever they left the car, packing the food they'd need for the trip to limit stops and only visiting Tyrone's parents when in Texas.
Once in Houston, she worked remotely and squeezed in more quality family time than she would have prior to the pandemic. For a week, Tyrone played family board games – such as Settlers of Catan and Ticket to Ride – lounged by her parents' pool, ate her mom's fettuccini alfredo and grabbed other tastes of home such as What-A-Burger and kolaches.
"We doubled the time that I got to see my family, so that was really nice," Tyrone said. "When I was working, I felt like a kid doing homework. It was like a return to a simpler time. It was a nice, quiet week."
Dog Training to Help Others
While working from home, Sara Clark got to spend plenty of time with Minka, her German Shepherd. And much of that time had a purpose.
Minka, who is roughly a year and a half old, is from a working line of German Shepherds, meaning she can be trained to do a variety of jobs. Clark initially thought Minka might make for a good search-and-rescue dog, but after noticing her cool and sunny demeanor, Clark decided Minka would be an even better therapy dog. With their ability to calm tense situations and provide comfort, therapy dogs are often used to soothe patients in clinical settings.
For six weeks in April and May, Clark trained Minka to be a caring and unflappable companion.
"Because we were quarantined the whole time together, we could learn about each other and how each of us reacts to different situations," said Clark, Director of Communications and Guest Experience Manager for the Duke Lemur Center.
After Clark trained Minka to remain calm and affectionate in loud and chaotic situations, she took her to the evaluators at Four Paws and a Wake-Up, a therapy dog service based in Wilmington. Tested in a simulated clinic, Minka wowed evaluators and easily earned the therapy dog certification.
"She is ready to go," Clark said. "Unfortunately we can't do a lot now. But as soon as places open up, we can go out and really start working."
Expanding Her Range
Away from work, Stephanie Turner enjoys being a part of the Triangle's theatre scene. Appearing in productions with various companies including the Cary Playwrights Forum, the Dinner Detective, and the OdysseyStage gives Turner a creative outlet and puts her in touch with people who share an appreciation of performing. 
But when COVID-19 put live theatre on pause, Turner used the opportunity to build her skills.
Already taking voice classes over Zoom with Bull City Music and, more recently, Russell Lacy Music for her alto singing voice, in recent months, Turner added acting lessons to her routine.
"It's something I always wanted to do, but I was always busy," said Turner, Public Relations Specialist for the Duke University School of Nursing. "Now that things have slowed, I figured now would be a good time to learn some actual technique."
Through Zoom teleconferencing, she has worked with  teacher Jess Barbour from the Raleigh Little Theatre and is currently taking a class through Raleigh's Back-To-One Acting Studio under the instruction of Dana Marks.
And she's been able to keep her skills sharp through performing in Cary Playwrights Forum's virtual plays, which can be seen online, and reading scripts with local group The Rejects.
"With so much uncertainty around when in-person performing and training will resume, it is comforting to know that I still am able to engage with the craft while learning new skills and meeting new performers along the way," Turner said.
Busy Hands, Quiet Mind
Katrina Greely started crocheting last fall, learning how to use yarn and hooks to make small hats for babies. But it wasn't until the spring, when the pandemic left her with more time, that her crocheting habit kicked into high gear.
The combination of pretty weather and increased down time has led to Greely, a new patient coordinator with Duke Thoracic Surgery, spending evenings on her back deck, listening to nature and crocheting increasingly ambitious items. Recently, she's gone from making simple caps for infants to making baby blankets for a new mother, and later a larger lap blanket for a friend.
Now she's making blankets thatwill get donated to families whose children receive care at Duke.
"It's been very soothing to get into that repetitive crocheting pattern of motion," Greely said of crocheting. "You can turn your brain off for a couple of minutes and it's just a great way to reset your mind, decrease stress and help you feel peaceful."
Do you have a silver lining you'd like to share? Share it in our Facebook story here:
Have a story to share? Send ideas, shout-outs and photographs here or write working@duke.edu.