Ways to Save on Groceries During the Pandemic
From digital coupons to checking unit prices, Duke health experts share strategies for efficiently cutting food bills
Even during a pandemic, Carmela Archual and her husband are clipping coupons and searching for grocery deals on apps such as "Ibotta" before buying butter lettuce, protein, fruit and yogurt.
Doing research ahead of time saves her money and reduces the amount of time she spends inside a grocery store.
"Couponing helps me have a clear idea of what I need when I walk into the store," said Archual, lab research analyst for the Duke Human Vaccine Institute. "I'm trying to get in and out of the grocery store quickly during this time we're maintaining physical distancing."
Archual was among about 80 employees who attended last week's live webinar "Food Matters," which covered various ways to eat well on a budget.
"It all comes down to planning," said Esther Granville, manager of health coaching and nutrition programs for LIVE FOR LIFE, Duke's employee wellness program. "Find out what's on sale and assess the items you already have before stepping into the store."
"Food Matters," a weekly webinar series hosted by LIVE FOR LIFE dietitians, provides grocery tips and healthy guidance during stay-at-home orders and social distancing. The next webinar on May 13 will cover healthy snacking strategies. Sign up here to participate.
For now, here are ways to save while making the most of your shopping.
Plan before you shop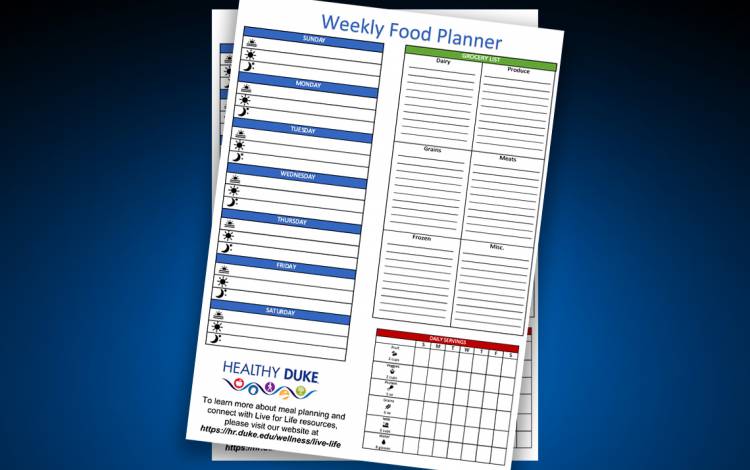 During these distancing times, you want to make the most of your grocery store visit, so the prep begins at home. Take stock of what food you have on hand and write a meal plan and grocery list for the week based on that plan to avoid impulse buys.
On Saturdays, Annie Scott, a LIVE FOR LIFE dietitian, creates her weekly meal plan, which includes the ingredients she'll buy when she shops on Sunday.
"Making a grocery list forces you to assess the items in your fridge and pantry," Scott said. "You're not going to waste money on things you already have."
Of the participants who attended last week's "Food Matters" webinar, 89 percent make a grocery list, including Belinda Wisdom, administrative coordinator for faculty affairs at Duke Divinity School.
"I try not to venture off my list because I know everything that's on it is going to keep me fed for the week," Wisdom said. "If I were to buy anything off the list, then it would be a waste of money because I know it's not essential for me."
Shop for best value

One of Scott's top saving tips is to examine unit price when deciding how much of an item to buy.
An item's unit price, typically found next to the actual cost on the shelf, shows an item's price based on cost per ounce, pound or other measurement. Buying in bulk is cheaper because it requires fewer materials and labor to package items. For example, it's less expensive to buy one large container of yogurt than individual containers if you eat yogurt often, Scott said.
"If your goal is to get the biggest value of what you're buying, then unit price can really help you with that," she said. "You're getting more product for the money."
Pat Krieg typically buys rice, dried pasta and meat in bulk when she shops for her and her husband. She buys 3-to-4-pound packs of chicken thighs and freezes all but 1 pound for a later date.
"Our freezer will be stuffed," said Krieg, strategic services associate for Duke University Health System. "That means we're doing a good job saving."
Go generic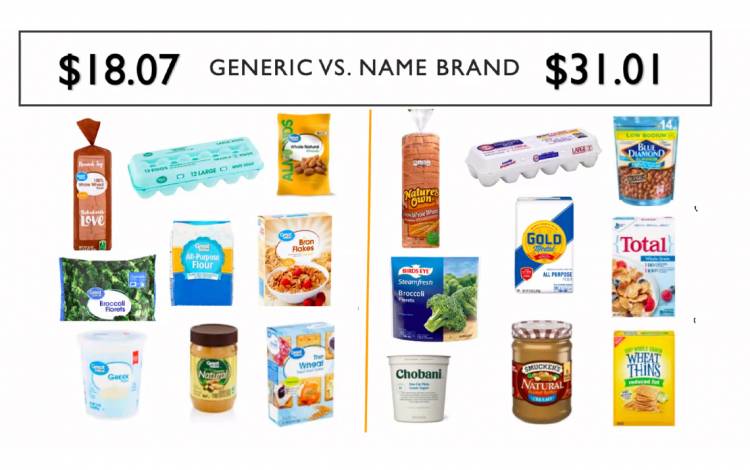 Choosing store-brand items over name-brand equivalents can accrue hefty savings.
Granville, the LIVE FOR LIFE manager of health coaching and nutrition programs, ran a recent experiment to test a theory: she compared a list of nine of the same name-brand and store-brand items at Walmart. The list of generic items was nearly $13 cheaper than the list of name brand items.
While prices differ, Granville said, the nutrition is nearly identical. Esther buys store-brand flour, frozen fruit and vegetables, salt, ketchup and tomato sauce. However, she remains loyal to Smucker's "Natural Creamy Peanut Butter."
"People can be really funny about their brands," she said. "There have been studies that show store brand items are as nutritious and taste the same as name brands."
When Belinda Wisdom shops, she examines ingredients in a brand-name item and store-brand equivalent to see if ingredients match. If they do, she selects the cheaper item.
"Most of the time, the ingredients are the same," said Wisdom, the Divinity School administrative coordinator for faculty affairs. "I've learned that if I take my time at the store and do my research then I'll save."
Use digital coupons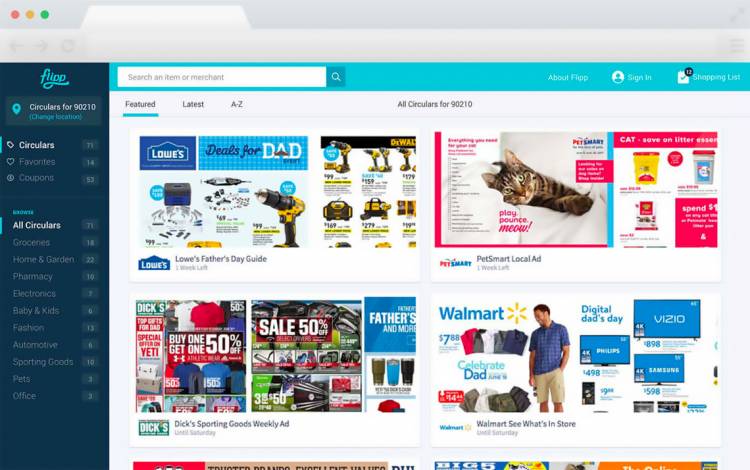 Save money by researching apps and websites that provide online coupons and price comparisons.
For coupons, Scott and Granville recommend "Flipp," a website and app that provides hundreds of ads and coupons based on zip code. "Flipp" lets users search for deals based on specific items. Granville tested the function by searching for Granny Smith apples and got a coupon to save at Sprouts.
Granville also uses the mobile app "Basket" to save. "Basket" allows you to create a shopping list and instantly see the price comparison between grocery stores in real-time.
"You can see which stores have sales on the items on your grocery list," Granville said. "It may help you decide which store to visit on that shopping trip."
Archual, the lab research analyst for the Duke Human Vaccine Institute, uses "Ibotta" and "InboxDollars." "Ibotta" and "InboxDollars" are programs that publish coupons every week. When you use a coupon, you earn cashback.
"My husband and I always wait to make our grocery list until we see the coupons," Archual said. "We make a grocery list based on deals."
Help us share the proactive and extensive work being done by all Duke community members during the COVID-19 outbreak. Send ideas, shout-outs and photographs here or write us at working@duke.edu.