A Half Century of Helping 50,000 Clients Live Healthier
Duke Diet & Fitness Center celebrates 50 years of health and emotional wellness
On a trip to Emerald Isle over Labor Day Weekend last year, Lesley Looper got a compliment from her niece that stuck with her.
"She said I looked happier," said Looper, Duke University Libraries' team lead for shelf preparation. "She wasn't the only one that implied that I looked healthier, brighter."
Looper, who has battled weight issues for most of her adult life, had just finished a week eating nutritious food, exercising and learning about healthy habits at the Duke Diet and Fitness Center. The comments from her family validated the progress she was making.
"I feel more empowered. I have more tools to take care of my health," said Looper, who has seen her weight drop because of healthier eating habits and an increase in physical activity.
Looper's success story is one of the roughly 50,000 that have come from the Duke Diet and Fitness Center, which is celebrating its 50th year of bringing clients to Durham to help them take control of their health. In the world of weight loss, where fad diets come and go, the center's longevity is proof that its physician-led formula of addressing nutrition, exercise and emotional wellness works.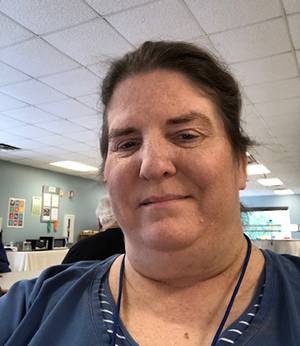 "The reason why we've been around as long as we have is because of our approach," said Client Relations and Admissions Manager Dina Lumia. "It's not a gimmick, it's not a quick fix. We have something that's research based. We know it's safe. We have different ways of helping people lose weight and live a healthier life. And this is an uplifting environment. It's an environment full of hope. That can go such a long way."
The Duke Diet and Fitness Center's story began in 1969, when the Duke Dietary Rehabilitation Clinic opened in the Marshall I. Pickens Building. The clinic's work was based on teaching clients about a low-calorie, low-sodium diet. Exercise wasn't yet a major part of the equation.
The program eventually incorporated specially prepared meals, exercise plans and behavioral therapy.
In 1982, the program, which had become known as the Duke Diet and Fitness Center, moved into a former YMCA facility on West Trinity Avenue. There, with ample exercise space and a swimming pool, the fitness component of the center's approach flourished.
And in 2008, when the center moved to its current location on Douglas Street near Duke University Hospital, it benefitted from an expanded kitchen and dining room, as well as more classroom space for nutritional education and cooking demonstrations, which help clients learn habits they can take with them.
Clients, who pay a program fee and provide detailed health information prior to their visit, experience the center in different ways. Outpatient options include medical, behavioral health, exercise and nutrition consultations. Once under the care of a provider, outpatients may purchase personal training sessions with an exercise physiologist.
There is also the immersive residential program that Looper attended, which brings clients to the center from one-to-four weeks, or sometimes longer.
During the residential program, clients stay at nearby hotels and spend their days at the center, taking part in fitness activities, eating meals designed especially for their needs and learning that will make them healthier at home."
"What we want to do is change someone's life, and there's more to that than just dieting," said Duke Diet and Fitness Center Business Manager Bobby Cale, who's been on the staff for 29 years. "This program is built around giving people the tools and knowledge that will help them be better at home. That's the focal point."
While the facilities and exact strategies may have changed through the years, the common thread has been the positive and caring environment the Diet and Fitness Center's staff has created.
Duke Diet and Fitness Center Program Director William Yancy said his team of dietitians, behavioral therapists, exercise physiologists and medical providers bring an upbeat and encouraging attitude for the 40-60 clients who work at the center each week.
"Everyone on our staff is really well-versed in helping people make a lifestyle change in a non-judgmental way," Yancy said. "They're very empathetic and supportive."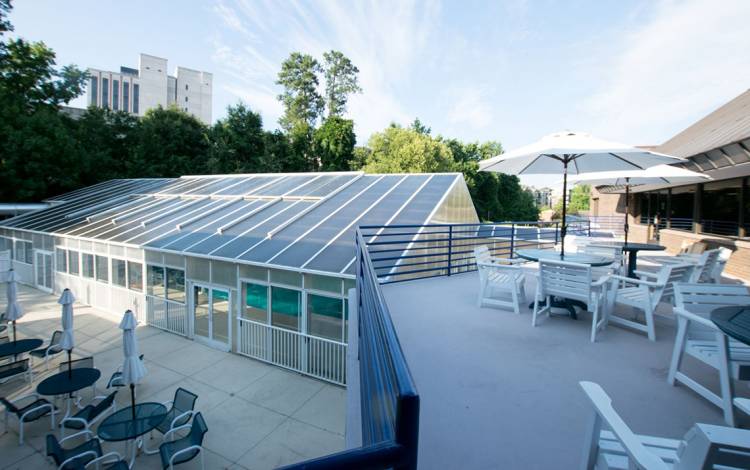 And that culture of support extends to the clients themselves. Nutrition Director Elisabetta Politi, who's been with the center since 1997, said that clients often expect the staff to be supportive. But they're often surprised by just how much they connect with their fellow participants.
She said it's not uncommon for clients to strike up friendships that extend beyond the center and even schedule return visits together.
"Many clients call this environment magic because they think it provides something that's very hard to find in their day-to-day life," said Politi. "But I think it's just a healthy environment. Here they have time, support, healthy food and a place to be active. So I think that is really the magic of this place."
For Looper, of Duke University Libraries, the Diet and Fitness Center's approach has paid off.
After completing two of the four weeks at the center – she returns in May and June – Looper said she's lost her taste for unhealthy foods she used to enjoy. She points to a recent night out when she happily chose steamed broccoli over french fries. She's goes on hikes in William B. Umstead State Park, noting that each one is longer than the one before.
"I feel stronger," Looper said. "It's been really helpful. Everything they do is geared toward helping you after the program, when you return home."
The Duke Diet & Fitness Center's 50th anniversary celebration, initially scheduled for late March, has been postponed due to coronavirus. No make-up date has been set. Current and former staff members and clients wishing to take part in the eventual celebration can contact Dina Lumia at lumia002@mc.duke.edu for more information.
Have a personal health success story or other news to share? Share it with Working@Duke.