Blue Devil of the Week: A Champion for Inclusion at Duke Recreation
Nathan McKinnis creates programs for all body types, abilities and ages
Name: Nathan McKinnis
Title: Managing Director of Recreation Programs, Duke Recreation & Physical Education
Years at Duke: 7
What he does at Duke: Nathan McKinnis oversees several programs within Duke Recreation & Physical Education including Intramural Sports, Outdoor Adventures, Sport Clubs and marketing departments. He searches for inclusive opportunities – programs that are friendly to all body types, abilities and ages, and meets with student groups, staff and faculty to learn what health and wellness means to them.
"People who don't grow up with outdoor activities are intimidated by the thought of rock climbing, kayaking or hiking," he said. "I started meeting with students in small groups to talk to them in more detail about the programs. You don't have to be some superstar athlete to find your niche for physical activity and movement."
McKinnis carries out his goal of recruiting more people to physical activity through Duke's Adaptive Climbing Program, which is operated by Duke Outdoor Adventures. He started the program over six years ago with the help of two Duke students to provide monthly rock-climbing sessions at Wilson Recreation Center for children, teens and adults with physical disabilities. About 250 people participate each year in the program, including Kyle Long, who placed second in the USA Climbing: Adaptive National Championship last year.
"We can't just expect everyone to come to our spaces," he said. "That means getting out of our chairs and talking to the community. We have to actively meet people where they are."
What he loves about Duke: Encouragement and support to push the bar. McKinnis sees the cranes over the Duke skyline as an example of this.
"It's a reminder that everything around me is growing," McKinnis said. "Duke Is always up for the challenge of staying current and cutting edge."
Memorable day at work: Duke Rec's biggest event of the year is RecFest, a carnival-style party during First Big Week, a collection of events and opportunities for students at the start of the semester.
The entire staff works together to showcase different Duke Rec & PE programming and services available to the community, along with giving out free food and enjoying live music. About 2,500 people attend the event.
"It's where Duke Rec & PE gets to showcase everything we have to offer," McKinnis said. "Our team carries the momentum of the event through the rest of the year. It gets us fired up and ready to go."
Special object in his workplace: A former student McKinnis worked with at Towson University sent him Tibetan prayer flags. The multi-colored flags are rectangular cloths that promote compassion, strength and peace.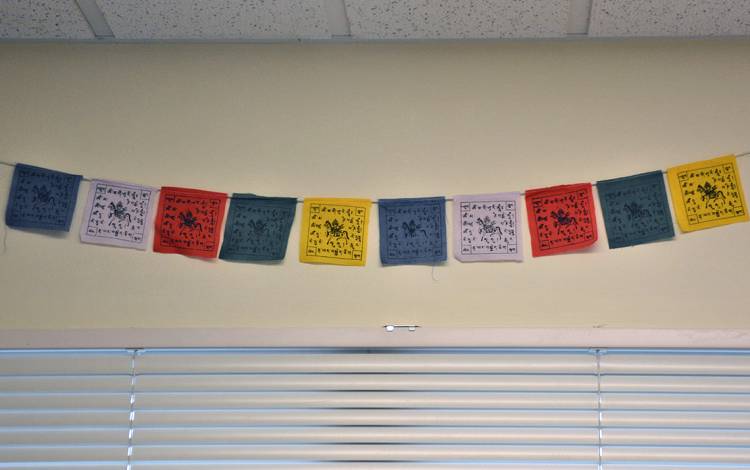 "She was on the other side of the world and thought enough about her experience in a recreation program to send the prayer flags to me," McKinnis said. "That's the constant reminder of the impact we can have on the students."
Best advice he's received: McKinnis' former boss at Towson told him to "Know what you know and know what you don't know."
McKinnis takes this advice as a reminder to listen to feedback.
"Allow yourself to be vulnerable," he said. "You can't build trusts and relationships if you're not listening to input."
First ever job: McKinnis delivered the Sacramento Bee newspaper from his bike in Sacramento, California, during summers in elementary school.
"It gave me a good throwing arm," he said.
Something most people don't know about him: McKinnis slept in a tent and hiked nearly 100 miles over the course of 30 days while participating in an Outdoor Educator course offered by the National Outdoor Leadership School after he graduated college.
The program, held in the Cascade Mountain Range in Washington, taught McKinnis leadership, camping, mountaineering and rock climbing skills.
"It built my mental strength and gave me the confidence to work with anybody," he said.
Is there a colleague at Duke who has an intriguing job or goes above and beyond to make a difference? Nominate that person for Blue Devil of the Week.