Why You Should Stay Home with the Flu
Limit the flu's reach by staying home when symptoms hit
Changzheng Du, a research scholar with the Duke Department of Pathology, was among the steady stream of employees who passed through the pop-up flu vaccine clinic at Duke North.
With a fresh bandage covering the spot where he got the vaccine, Wu explained why it's so important that he and his colleagues take a small step to avoid the virus.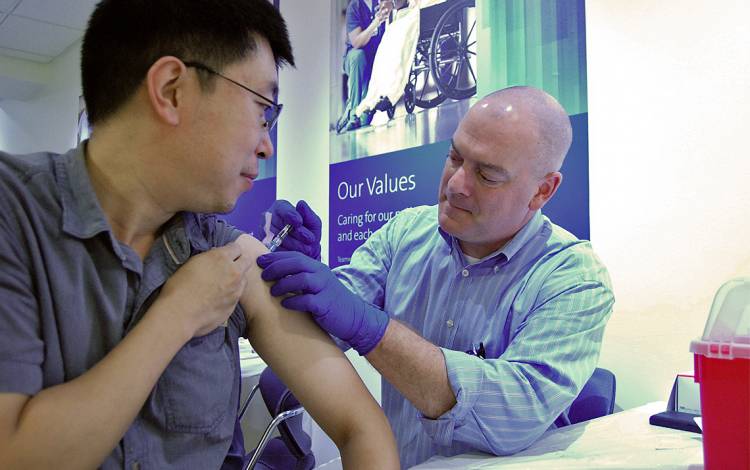 "If everyone gets the vaccine, our community will be much healthier," Wu said. "We have to do what we can to protect ourselves and protect everyone else, too."
There's another step we all can take to keep the flu virus from spreading. Staying home when flu symptoms hit is a surefire way to limit the spread of the virus.
"I think that hard working people, like our Duke population, want to be at work," said Carol Epling, director of Duke Employee Occupational Health and Wellness. "They have the drive to come in and keep going. They really are concerned about the burden of their absence on other co-workers. But when a person develops flu-like symptoms, especially if they have a fever, we want them to stay home and take care of themselves. That's the best thing they can do to not infect other people."
Seasonal flu activity often begins as early as October and can continue to occur as late as May. Flu activity most commonly peaks in the United States between December and February.
Preliminary data from the Centers for Disease Control and Prevention said that there were between 37.4 million and 42.9 million cases of flu illness in the U.S. during the 2018-19 flu season. North Carolina had 208 flu deaths during the 2018-19 season, according to the N.C. Department of Health and Human Services.
As we head into the time of year when flu does its most damage, here are some things to keep in mind should the virus touch you.
What to Look For
Some flu symptoms mirror those of the common cold, a milder respiratory ailment. A sore throat, persistent cough and runny nose can be signs of a common cold. But when those symptoms come on suddenly and are combined with a fever (chills), fatigue, muscle soreness and headaches, it could be a case of influenza, and thus, a good reason to stay away from work.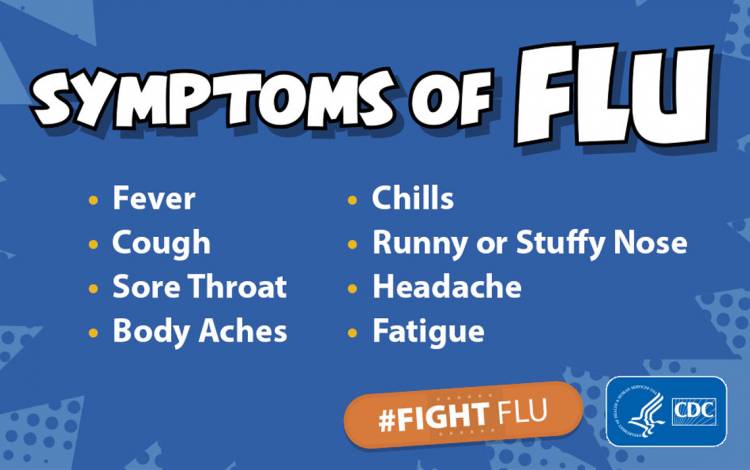 "If you're waking up with not just a cough, but a cough and decent fevers, muscle soreness and bad headaches, that's not the kind of time to be at work," said Cameron Wolfe, Duke associate professor of medicine who studies the way infections can spread through environments. "To be honest, if I shared a desk with you, I'd want you to go home."
The Vaccine Doesn't Make You Invincible
During the 2018-19 flu season around 34,000 Duke employees received the flu vaccine, the highest number ever among the Duke workforce.
While getting the flu vaccine is smart – and, barring an accepted medical or religious exemption, a condition of employment in the Health System and for many School of Medicine employees – it isn't perfect. You can still contract the flu even if you did get the vaccine.
"You may still get the flu, but hopefully if you got the flu shot, your course of the symptoms will be less severe," Epling said.
Flu vaccines are available at locations around campus and at Duke Employee Occupational Health and Wellness (EOHW). Vaccines will be available at the EOHW clinic from 7:30 a.m. to 4:30 p.m. Monday through Friday. The office is located in the Orange Zone Sub-Basement of the Duke Clinic.
Duke is offering either the quadrivalent vaccine, which protects against four strains of flu viruses, or an egg-free option for individuals with specific allergies.
It's Not Just About You
Deciding to take a sick day isn't an easy decision. For many, staying at home likely means important tasks go undone. But when dealing with a contagious virus such as the flu, it's important to remember that your health isn't the only issue.
Coming to work with the flu increases the likelihood of spreading it to community members, who could likely miss time. And the people you've exposed to the virus could then go on to expose others.
"There's a bit of a social contract, if you ask me, as to what our responsibility is," Wolfe said. "We work at a big institution with lots of students, lots of patients, lots of people who depend on us to do the right thing. There's a fine balance that we all try and strike. We all try hard not to be that guy who leaves colleagues with more work because you're out sick, but at the same time, you really don't want to leave your colleagues worse off, by hanging around and making them sick, too. My take is if you're asking yourself are you well enough to be at work, you probably need to stay home."
Have a story idea or news to share? Share it with Working@Duke.