Test Out a Gym for Free
Duke employee wellness program offers free visits to nearly 40 gyms this fall
As a Duke staff and faculty member, you can sample gyms around the Triangle area for free with a special pass this fall.
The "Duke Fitness Club," which is managed by LIVE FOR LIFE, Duke's employee wellness program, is a network of about 40 gyms that offer discount membership rates to Duke employees. Gyms include Wilson and Brodie Recreation Centers, O2 Fitness and the YMCA of the Triangle.
"From individualized classes to family amenities, there's something for everyone," said Katie MacEachern, fitness program manager with LIVE FOR LIFE.
Through Oct. 31, each pass allows for three or seven visits at no charge to each gym, depending on the facility. To get a pass, fill out this form.
After trying out a gym, employees and their spouses, partners and dependents can join a gym by enrolling in Duke Fitness Club through LIVE FOR LIFE. Deals include a lower monthly rate or waived enrollment fee, depending on the gym. Monthly membership fees can be made automatically through payroll deduction.
PRIME Fitness and Athletic Institute, in Durham, the Southeast Raleigh YMCA and Wellbeats, an on-demand digital fitness provider, are some of the newest additions to the Duke Fitness Club.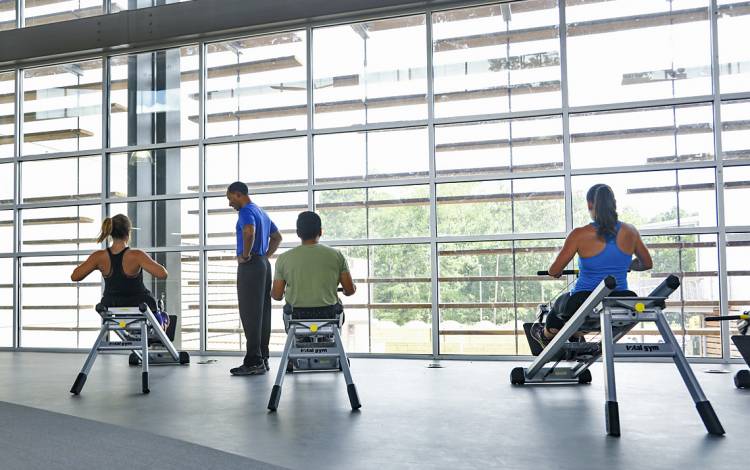 Julie Kephart joined the YMCA last winter and had her enrollment fee waived through the Duke Fitness Club. Kephart, a senior regulatory coordinator for GU Medical Oncology, visits the Chapel Hill-Carrboro YMCA so her 1-year-old son, John, can take swimming lessons.
Julie and her husband, Travis, join John during the lessons to help him learn how to enter the pool, float on his back and kick his legs. The Kephart parents also swim laps in the pool, workout on the elliptical or run on the indoor track.
"I love that this benefit includes my family," Julie said. "That's a big plus to working here."
Have a story idea or news to share? Share it with Working@Duke.